- Take 5, relax and enjoy a read...
Check-in on our New Zealand travel blog for latest news, events and updates - along with a splash of personality from the whole team at Bella Vista!
#TrustBellaVista
Eat Your Way Through Ashburton's Best Restaurants
---
Posted by Bella Vista on
---
For a charming little town, at the heart of the "food basket" of New Zealand … Hakatere. there are so many great places to eat in Ashburton.
Whether you're staying for one night or a few, there's plenty of variety to keep you well-fed and watered. Here's our foody guide to a few of Ashburton's best restaurants, cafes, and cheap eats.
Best hearty Fare in Ashburton
Although a short drive away, Ashburton proudly claims the Panther's Rock as its own because this Mayfield-based restaurant, open for weekend brunch and weeknight dinners, consistently receives five-star reviews. Named after an alleged sighting of a big cat which made national headlines, the Panther's Rock serves up big mouth-watering flavours. Cuts of prime Canterbury Porterhouse steaks and Ribeye with homemade mushroom sauce, locally caught Salmon, green-lipped mussels and pulled-pork burgers feature on the menu. With lovely rural views, cosy fireplaces and friendly owners, head here for one of the best things to do in Ashburton.I would rather focus on restaurants in town .
Cleavers Corner Gastro Pub: Delivers impressive service and is a popular choice in town. The food is full of flavor, tasty and presented well. This is a delight .
Speights ale House: Casual, comfortable dining with awesome staff that take pride in what they do. A great space to enjoy a meal out with friends or family with quality food . A 10% discount on showing your bella Vista Key.
Lake House: Ashburton is so fortunate to have the lake House on their doorstep. Excellent service and a lovely outlook over the water makes it a relaxing setting. The food is excellent and the deserts are extra yummy!
The Fine Lion: The location and ambience is rather special. The first floor location and extensive balcony dining is unique in Ashburton. Service is attentive, The food is superb with great attention to detail.
For the best Asian food in Ashburton
Close to the motel is The Formosa, a tasty twist on Taiwanese cuisine in the heart of Ashburton. From the minute you walk in you are made to feel welcome in this beautiful designed restaurant. Food is supeb, the desserts are beautifully presented and very favoursome, Excellent service.
Miyabi Top in Town: Indian /Japenese authentic cuisine and beautiful people that take good care off you . The Best Indian in town and offerng a 10% discount showing BV key.
Koji Japanese: This is a little gem, not far from BV. The food is just delicious, fresh and tasty. The staff is always friendly and accommdation. It has a nice feel to it because they have decorated the entire walls with bamboo to give it atmosphere
Ton Thai: The atmosphere is delightful with friendly supperb service. The food is tasty, plentiful and delivered quickly. A great place to take your family or group of friends.
While not a new restaurant in Ashburton, its Sweet and sour chicken, orange pork, and Kumara fries tossed in plum powder are local favourites. Small plates include Teriyaki sushi, Spicy chicken bao or pulled pork buns.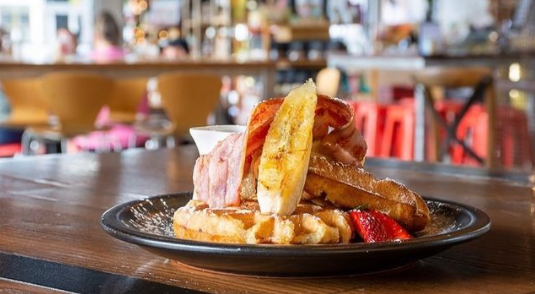 For the best cafés in Ashburton - We love our coffee here, and our local cafes make it easy for us to indulge
Visit the Somerset Grocer's Café for delicious cabinet food, a varied menu, even a Kapiti ice cream bar making this one of the more kid-friendly places to eat in Ashburton. While you eagerly await your Big Breakfast or Nourish bowl – a tasty blend of chicken, avocado and zesty orange dressing, browse the gourmet goods and gifts on offer.
Robert Harris: Easy and Handy location, just along the road, heaps of parking, great coffee, Breakfast is the best allowing chargback arrangements to the Motel for corporate customers
Millhouse Kitchen: Love the outdoor space here especially in the summer, Great coffee, charge backs to the motel an option, Good parking and only 00m from BV
Triangle Espresso: Offering a lovely space to enjoy a coffee and either chill or work at the window seat has a uplifting feel, right down to inspirational quotes and lovely prints of nature and plants on the walls, I just love ! Happy friendly staff that love what they do .
For the best bakery in Ashburton
While there are other bakeries vying for the best places to eat in Ashburton, Harvey's Bakehouse takes the cake. The mark of a great baker are their pies and Harvey's has a reputation for light, flaky pastry and yummy fillings like pepper steak, smoky beef and BBQ bacon. This friendly home style bake house also serves up traditional sweet treats like Rocky Road, custard-piped brioche and black-forest cheesecake. Truly a great Ashburton cheap eats option just a 10-minute jaunt from the motel.
For the best takeaway in Ashburton
Local chip connoisseurs think the Creek Road Fish and Chip Shop serve up the best in Ashburton hands down, as good as the double-fried chips found in Belgium. Place your order over the phone as this spot gets busy on the weekend and best of all it's only a 2-minute drive from the motel! A great choice for all your fast-food favourites.
While we've hopefully whetted your appetite on the best places to eat in Ashburton, restaurant menus might be limited to take-out service at Covid Alert level 2. Please ask the Bella Vista Motel team for up-to-date information and local dining recommendations.