- Book Direct & Earn with Bella Vista Rewards
Earn Bella Vista Rewards every time you stay with our Bella Vista loyalty programme. Bella Vista Rewards is FREE to join so simply pick up a card at participating Bella Vista's or join online now.
The Bella Vista loyalty programme has been designed to thank our loyal guests who book direct by enabling you to collect rewards when you stay. We're also giving away a FREE continental breakfast when you sign up.
To keep up to date with bonus offers, promotions and free stuff, we recommend you download the app in the Apple or GooglePlay stores. Search for 'Goody Card'
JOIN ONLINE NOW by entering your email address in to the box opposite.
If you are already a member, you can sign in and check your balance.
For more information about the Bella Vista Reward scheme see below.
#TrustBellaVista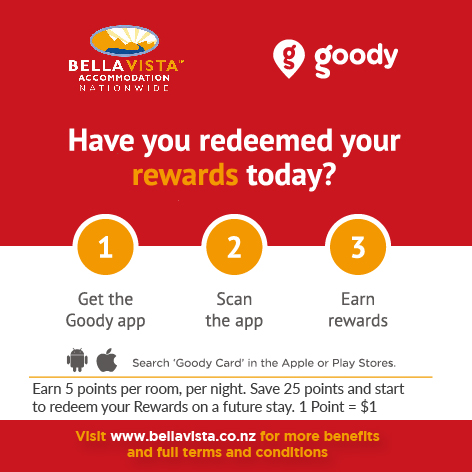 1. JOIN!
Simply download the Goody App or grab a card at participating Bella Vista Motels.
2.  SCAN
Scan your card or your smartphone on the Goody tablet at reception when you stay and start earning rewards. 
3.  EARN
Book Direct and you will earn 5 points per room, each night, each stay.
To qualify you must book direct on the Bella Vista website, via telephone, email or onsite with your host. 
1 Reward Point = $1. Bella Vista Rewards are valid for 12 months and will then expire.  
How to claim your rewards
You can redeem your rewards as full or part payment at any Bella Vista motel nationwide. All you need is a minimum of 15 points to start spending. The redemption amount must be in 5 point increments. Just present your card or Goody smartphone app to one of our friendly hosts and they will process the transaction for you.
There are some important Terms & Conditions and not all Bella Vista motels are participating, so please check them out.