- Experience Dunedin for the weekend
Discover and enjoy our nation's most Scottish city. With beautiful architecture, adventure and impressive landscapes, Dunedin's southern charm will win you over as soon as you arrive.
Robyn and Garry are looking forward to hosting you.
#TrustBellaVista
Dunedin is the perfect place for your weekend escape, and with this suggested itinerary you'll know the city inside out come Sunday. And remember, it doesn't have to be a weekend to enjoy a terrific break to Dunedin.
Friday Afternoon
Check into your home away from home Bella Vista Motel Dunedin, relax, breath – you're here, you've arrived! Your accommodation in Dunedin is located on Great King Street; it's an easy walk to the Octagon, University of Otago and the city centre highlights. There is plenty of off-road free parking and Bella Vista Dunedin provides unlimited free wifi, so you can stay connected while you're there.
We suggest kick-starting the weekend off with a brewery tour and dinner at Dunedin's iconic Speight's Ale House, located within the historic Speight's Brewery. You'll get a true sense of being in Dunedin when you arrive here, this working brewery offers a really fun and interactive tour where you'll see and learn all there is to know about Speight's 'pride of the south', plus of course sampling a few while you're at it.
Friday Night
After completing the Speights tour enjoy a three course set brewery meal with options such as Highland Lamb or Drunken Steak. From there you can carry on into the night and visit one of the Octagon's many bars, or head back to your motel accommodation in preparation for the big day tomorrow.
Saturday Morning
This morning get up early and get yourself acquainted with the city. Stroll down the road and take in the sights of the University of Otago, the beautiful buildings and their surrounds are sure to impress and maybe even bring out the genius in you!
From there it's onto the Octagon (an eight sided plaza bisected by the city's main street) do the obligatory loop and then sit down at one of the Octagon's well-known cafes. Nova Café for your morning coffee and a hearty brunch is highly recommended.. There's always a welcoming smile and buzzing atmosphere at Nova, and make sure you order up large as you'll need the energy at the next stop, the world's steepest street.
Saturday 11am
Baldwin Street – The world's steepest street. This residential street will earn your respect when you make your way from the bottom to the top. Get some fresh air in the lungs and the heart pumping as you make your way up the 350 metres to the top. Enjoy the street art, get your certificate and of course pose for the photo with the street sign. Baldwin Street is a bit of fun that's well worth a visit when you're in Dunedin. * If you do have your own car, you can usually drive to the top and there's a place to turn around when you get there.
Saturday Afternoon
We're now suggest heading out of the city to the beautiful Otago Peninsula to take in all the wildlife hotspots.  This can be done either by self-drive and exploring on your own, or through one of the many wildlife tours on offer. Times for tours may vary so check with reception. They can also book your tour as required.
A visit to this breathtaking peninsula will see you getting close to Hooker's Sea lions, Yellow-eyed Penguins, Blue Penguins, a breeding colony of New Zealand Fur Seals and a variety of other sea bird colonies. Plus you may be lucky enough to see the Royal Albatross flying about the headland, or while you're there visit the Royal Albatross Centre where you'll learn a little more about these beautiful creatures, see the breeding colony, Albatross in full flight, chicks in their nests and being fed, plus much more. As the sun goes down over the peninsula and you've had your fill of amazing scenery and nature at work, head back to the city for some well earned dinner.
Saturday Evening Dinner & Beyond
For dinner tonight head to Bacchus Wine Bar & Restaurant, housed in one of Dunedin's oldest and most impressive buildings. You'll eat delicious locally sourced (where possible) food and enjoy a comprehensive wine menu featuring many top Central Otago wines. If you can, book a table by the window so you can watch Dunedin's nightlife unfold as you dine.
After dinner if you're still feeling upbeat, try out Pop Bar for retro inspired cocktails or Pequeno in the Savoy Building for a wonderful lounge bar experience.
Sunday Morning
After checking out of your Bella Vista Dunedin accommodation. You have a few hours left to appreciate this wonderful city.
You may choose to relax and enjoy another of the fabulous cafes – some of our favourites are: The Perc, Vogel St Kitchen or Morning Magpie. Or perhaps take in one last Dunedin attraction? If you've decided on the latter, our top picks are:
Olveston Historic Home - Giving you a glimpse into early 20th Century living, take your time and enjoy the 1-hour tour of this 35-room mansion.
Toitu Otago Settlers Museum  - For an interactive and fun exploration of the Otago region, from pre-European times through to today.
Larnach Castle - If you choose to head out of the city one more time, Larnach Castle is bound to wow you. Tour the lovingly restored castle with impressive ballrooom, tower and wonderfully kept gardens.
Dunedin Street Art Trail – this is a fantastic way to spend a few hours discovering the city's street art scene.  Artists from all over the world have transformed 28 city walls into fabulous works of art (trail and walk takes around 90 minutes)
St Kilda & St Clair BeachDrive or bus out to the beautiful beaches of St Kilda and St Clair for a swim, surf, walk on the beach or simply to relax in one of the cafes. St Clair beach even has an outdoor hot salt-water pool if you're brave.
All good things must come to an end, and it's now time to say goodbye to the heritage city of Dunedin. But we're fairly confident these farewells will not be for long, as this little itinerary will have given you quite a taste and Bella Vista accommodation Dunedin will be ready and waiting for your next visit.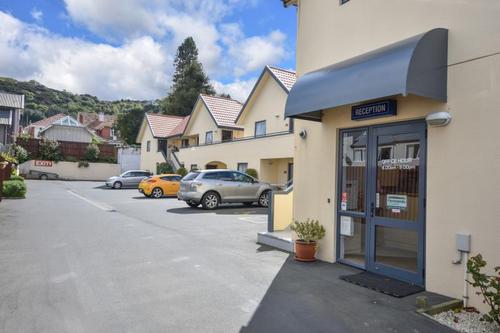 Bella Vista Motel Dunedin
Bella Vista welcomes you to the southern city of Dunedin on the eastern coast of New Zealand's scenic South Island.