Christchurch
- Centrally located motel and apartments in Christchurch city
Bella Vista Motel Christchurch
Overview
Emma & Fidel welcome you to Bella Vista Motel Christchurch
We offer high quality Christchurch accommodation near the city centre.
Newly renovated, our property has been assessed by Qualmark (independent accreditation) as 4 star quality accommodation, and we have also been awarded a Qualmark Enviro Silver Rating for our sustainable tourism practices.
Christchurch is the hub of the Canterbury region and the perfect base for your adventures. From the moment you arrive you'll enjoy the convenience of being located in close proximity to the Christchurch CBD for business, shops, entertainment and other activities. At Bella Vista Motel Christchurch we cater for all your business or recreational needs.
We are easy to find on Bealey Avenue. Our great location makes it an easy walk to the city centre, Casino and Southern Cross hospital, tourist attractions, the information office, restaurants, bars and entertainment.
We have ample safe parking so you can leave your car and explore the city on foot.
Our superior smoke free motel in Christchurch includes a variety of studios and one to three bedroom units and apartments. Our purpose built access units have been designed with parking at the door for your convenience. You have a choice of king, queen or single beds with electric blankets for the cooler nights.
Free wireless internet is available with a spacious work desk in every room. Our accommodation options vary from just tea and toast making facilities to those with cooking facilities. We offer continental breakfasts and evening meal charge back facilities, dine in or dine out.
You can be assured of a warm welcome at Bella Vista Motel Christchurch where we will assist you in every way possible.
Contact us for more information on availability, rates and rooms at Bella Vista Motel Christchurch.
Distances from Motel
| | |
| --- | --- |
| Christchurch International & Domestic Airport | 10km |
| Hagley Park & Botanical Gardens | 1.5km |
| Christchurch Convention Centre | 1.2km |
| Shops and Restaurants | 1.2km |
| Cathedral Square | 1.3km |
| Arts Centre | 1.6km |
| Christchurch Casino | 1.2km |
| Cardboard Cathedral | 1.5km |
At a glance

Check-in 2.00pm

Check-out 10.00am

Office hours 8.00am to 8.00pm

On-site parking Onsite parking free of charge. EV charger available for a small fee.

Breakfast service Continental on request

Available on request Cot, high chair

Value adds Free WIFI, plunger coffee, guest laundry & BBQ area

Email Email motel

Address 193 Bealey Avenue, Christchurch

Phone +64 3 377 3363
Room Options
Facilities
The Christchurch Bella Vista Motel and Apartments is Qualmark 4 star endorsed and offers 23 self-contained and fully serviced units to choose from depending upon your accommodation needs.
Kitchen or kitchenette facilities
Eftpos and credit card facilities
Spa bath units
Access units
Continental Breakfast service available
Secure off street parking (some with garaging)
High speed (secure wireless) WiFi internet access in all rooms
Sky Movies, Sky Sport One, Sky Sport Two, Discovery, Sky News
All units smoke free
Guest barbeque area
Telephone
Modern guest laundry
Local sightseeing information and bookings
Good heating and electric blankets

Type 2 EV chargers. Please pre-book.
Local Attractions
As the gateway to South Island, Christchurch remains a must-do on any traveller's New Zealand bucket list. The city has bounced back following the 2010-2011 earthquakes and has seen the rise of an innovative range of attractions, from the Re:Start Mall (made out of container crates) to the Cardboard Cathedral and other interesting art projects.
Christchurch retains its reputation as the Garden City. Here is a run-down of some of the many fabulous sightseeing options
Christchurch Botanic Gardens
An oasis in the center of Christchurch, these gardens are the perfect place to come and relax for a while. Take a stroll around the well laid out gardens and along the Avon River. Admire the various gardens, exotic plants, the indoor conservatory, and enjoy a coffee at the onsite café.
Christchurch Gondola
Jump aboard Christchurch Gondola and make your way up Mt Cavendish in the Port Hills. The ride up is exciting and the views when you reach the top are spectacular. There's a gondola shuttle bus that leaves from Canterbury Museum for those without their own transport.
International Antarctic Centre
Within close proximity to Christchurch International Airport, the Antarctic Centre is the closet most of us will ever get to Antarctica. This interactive attraction whisks you away as if you were in Antarctica, see Little Blue Penguins, experience an Antarctic storm, learn factual information about what life is like in Antarctica and Scott Base, plus enjoy a Hagglund ride. A great day out for young and old.
Hagley Park
A beautifully maintained, large city park with something for everyone – gardens, a lake, tennis courts, sports fields and great walking and running tracks. Pack a picnic, relax and watch the world go by.
Canterbury Museum
Located in Christchurch's Cultural Precinct, Canterbury Museum is housed in a beautiful stone building that first opened in 1870. The Museum is well known for its focus on natural and human history collections, plus it has an ever-changing programme of exhibitions and events, as well as a comprehensive offering of permanent displays.
185 Chairs – Earthquake Remembrance Art Installation
Whilst this artwork has not yet found a permanent location, it is currently located at St Paul's Trinity Pacific Presbyterian Church site on the corner of Cashel and Madras Streets. This creation is a moving tribute to the 185 victims of the Christchurch earthquake.
Quake City
An insight into the devastating Canterbury earthquakes of 2010 and 2011, you'll learn what it's like to live through a quake, read personal stories of bravery and sadness, have the opportunity to see some of Christchurch iconic artifacts up close and learn of the plans for the future and recovery of Christchurch.
Cardboard Cathedral
A temporary structure (although created to last 50 years) was built to be a transitional cathedral because of the unusable and severely damaged Christchurch Cathedral. Unique in architecture and design, the Cardboard Cathedral structure epitomizes the stoic and carry on attitude of the people of this city.
Avon River
The picturesque Avon River flows though the centre of Christchurch and is a popular choice for runners, walkers, picnickers and day-trippers. One popular option is punting on the Avon; this is an iconic Christchurch activity where you'll find yourself gliding along the Avon River assisted by charismatic punters dressed in traditional attire.
Port Hills Walk
One of the most popular walks in Christchurch, this track is steep in parts but the view at the top overlooking Christchurch, Lyttelton, Banks Peninsula and beyond makes it well worth it.
Christchurch Art Gallery
Housed in a beautiful building the gallery showcases a range of artists from around New Zealand and the world. It's an interesting and thought provoking place to visit.
Orana Wildlife Park
Only 15 minutes drive from Christchurch Airport, Orana Wildlife Park is a fantastic option for all. With over 80 hectares of land, you'll get up close to a range of animals – Gorillas, Rhinoceros, Giraffes, Lions and New Zealand's iconic Kiwi.
Willowbank Wildlife Reserve
A wonderful place to bring the family to visit, if you're lucky you'll get the opportunity to feed and stroke a variety of animals and birds. Highlights include the Maori Cultural Experience and the Kiwi Nocturnal House.
Air Force Museum of New Zealand
Explore and learn about New Zealand's aviation history, see restored planes, medals, memorabilia, the cockpit for children to explore and the flight simulator.
Christchurch Tramway
This is the ideal way to get out and see the city; the friendly and knowledgeable drivers provide an interesting commentary on local landmarks and attractions. If you purchase an all day ticket you can get on and off the tram as often as you like.
Riccarton House & Bush
A wonderful New Zealand heritage site that comprises of two historic buildings set in beautiful park surroundings and bordered by the Avon River. Join a guided tour of Riccarton House, visit the Deans Cottage, enjoy a coffee or stroll through the native bush.
Ferrymead Heritage Park
Take a trip down memory lane and see for yourself an early 1900s (Edwardian) township, with exhibits such as houses, picture theatre, school classroom, church, jail, railway station, lodge hall, post office, printers, tobacconist, general store, lawyer's office and more.
Cycling in Christchurch & Beyond
Christchurch's flat and grid like layout makes it the perfect city to explore by bike. Alternatively you could enjoy one of the many on or off-road trails around the region; The Port Hills, Alps 2 Ocean Cycle Trail, Kaikoura cycle & mountain bike trails, Hurunui, St James Cycle Trail, plus many more.

Skiing Canterbury
There are a number of ski fields within close proximity to Christchurch:
Skiing at Mt Hutt
Elevation: 2,086m, 683m vertical drop
365 hectares
Terrain: 25% beginner, 50% intermediate, 25%
Methven Heliskiing
Runs for all standards of heliboarder and heliskier, beginner to expert
Over 1,000 square kilometres of mountains to roam
Over 200 named heli-skiing runs across 3 mountain ranges
Average vertical drop approx. 850 vertical metres
Also try: Porters Ski Area, Ohau Ski Area, Mt Dobson Ski Area, Roundhill, Ski The Tasman, Broken River, Mt Cheeseman Ski Area, Craigieburn Valley Ski Area or Mt Olympus.

Day Trips
Akaroa
With a 1 hour 20 minute journey time from Christchurch, the small French settlement of Akaroa is a quaint and charming seaside destination. You'll enjoy strolling through town and appreciating the rose covered cottages, French Street names and the charming cafes and shops. Akaroa is a wonderful day-trip with overnight accommodation options also available.
Kaikoura
A 2 and a half hour drive from Christchurch, Kaikoura offers a range of nature loving activities for visitors. Try swimming with the dolphins, Fur Seals, whale watching and viewing other seabirds or albatross. While you're there try some of the delicious seafood on offer. If you would like to overnight in the area, book into Bella Vista Kaikoura.
Rangitata Rafting
This rafting experience has been described as Lord of the Rings scenery meets white water exhilaration. Rafting trips are a guaranteed fun day out with grade 1 – 5 trips available.
TranzAlpine Train Trip
Running daily between Christchurch and Greymouth, the TranzAlpine is one of the world's great train trips. Enjoy rich farmland, cross over gorges and traverse the Southern Alps. The scenery is breathtaking and there are a number of fantastic photo opportunities. Make this a daytrip or stay overnight at Bella Vista Greymouth.
Coastal Pacific Train Trip
This scenic train journey runs between Christchurch and Picton. ** Please note due to earthquake damage this train journey has been suspended until further notice**
Hanmer Springs
Located only an hour and a half drive from Christchurch, Hanmer Springs is an alpine resort town well known for it's thermal pools. Hanmer's beautiful surroundings see mountains and forests every way you look, it's a wonderful place to visit for the day or overnight at Bella Vista Motel Hanmer Springs.
Lyttelton
Only 45 minutes drive from Christchurch is the port town of Lyttelton. It's a great place to come and visit to learn about the importance of the port to the surrounding areas. While you're in town stroll around the quirky shops, enjoy the local beaches or dine at one of the cafes.
Arthur's Pass
A 2-hour drive into the heart of the Southern Alps is where you'll find Arthur's Pass. Here you'll see NZ scenery at its best with rivers, mountains, farmland and waterfalls. Try one of the many walks or hikes available in the area; from easy walking tracks through to multi-day expert tramps.

Bella Vista Christchurch will happily offer local advice on any of these activities and will gladly facilitate complimentary reservations should an activity require a booking
Gallery
Deals
There are plenty of eating choices when staying at Bella Vista Christchurch. The city centre is only 1.km from your accommodation and within the rejuvenated environs of the CBD, you will find an outstanding array of delicious menu delights. Restaurants abound on Oxford Terrace creating a vibrent gourmet piazza. As short distance further, the eclectic food choices at the popular Riverside Markets will capture your attention either for a light bight or evening nibble. A little closer to your Christchurch accommodation is Pomeroy's Old Brewery Inn - great for a distinctive ale and equally attractive for a morning brunch. Even closer still is the popular Thai Container, a hangover from when pop-up food venues appeared following the 2011 earthquake, still serving great asian food.
With all these options at hand it is hard to make a choice, but if you are seeking more simple, traditional fare, look no further than the pub once known as the Bealey Avenue Ale & Steak House, just a short 5 minute stroll along the road.
10% Off Food & Beverage at The Bealey
Named after Samuel Bealey, The Bealey establishment combines a charming sense of history with sumptuous gourmet pub grub. At The Bealey you will feel right at home. The charm of a great pub is embodied in the comfort of it. An uncomfortable pub is like a shoe that doesn't fit – you can't wait to get out of it. That is why the team at The Bealey go out of their way to make you feel at home.
Simply show your Bella Vista key fob when you arrive at The Bealey and you will enjoy this exclusive discount available to Bella Vista customers.
"Food was beautiful, service friendly and fast. Enjoyed our dinner here, massive portions for mains!"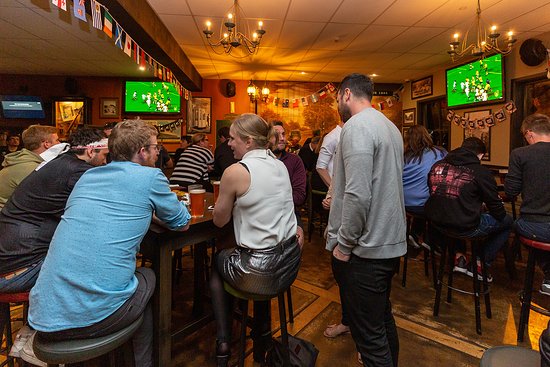 Location
Directions to Bella Vista Christchurch Motel
From the North:
Exit the Northern Motorway (SH 1) into Christchurch on to Main North Road (SH 74). Follow the Main North Road (heading South, South-West) through Redwood. Follow marked signs towards City. Turn left at lights into Cranford Street. Follow Cranford Street as it slows into Sherborne Street which continues to Bealey Avenue. Make a left into Bealey Avenue. Bella Vista Motel is located at 193 Bealey Avenue, almost immediately on your left.
From the South:
Follow State Highway 1 (Main South Road) into Christchurch. Take the Blenheim Road (City Centre) exit at the roundabout. Drive along Blenheim Road for a distance of approx 5 km. Follow the signage 'City Centre' and taken a right turn onto the new overbridge which leads to Moorehouse Avenue. Travel through several sets of traffic lights along Moorehouse Avenue, taking the left hand lane until Montreal Street (one way street). Travel the length of Montreal Street until Bealey Avenue. Turn right into Bealey Avenue, taking the left hand lane. The Bella Vista Motel is approximately 800m on the left hand side. We look forward to seeing you.
193 Bealey Avenue, Christchurch
Travel distances in kilometres to Christchurch
From:

Ashburton

88 kms

Blenheim

310 kms

Dunedin

361 kms

Fox Glacier

405 kms

Franz Josef Glacier

382 kms

Greymouth

243 kms

Hanmer Springs

134 kms

Hokitika

248 kms

Invercargill

567 kms

Kaikoura

181 kms

Mosgiel

375 kms

Nelson

415 kms

Oamaru

248 kms

Queenstown

486 kms

Te Anau

644 kms

Wanaka

428 kms

Westport

330 kms
Loading