Wanaka
- Location location location
Overview
Tom and Melissa welcome you to the Bella Vista Motel Wanaka.
This property has been independently assessed by Qualmark as 4 star quality accommodation.
Our motel in Wanaka is easy to find on Dunmore Street, located just 150 metres from Lake Wanaka and just a one minute walk to shops, restaurants, galleries and wine bars - you couldn't ask for a better location. We have ample safe parking, leave your car and explore on foot.
Wanaka is the perfect base for a holiday in the Southern Lakes. Ski at Treble Cone, Cardrona or Snow Park in winter. Tramp, swim, fish or enjoy many of the activities that are available throughout the rest of the year.
Our superior smoke-free Wanaka motel accommodation includes a variety of studios and one-bedroom units. Our purpose built access units have been designed with parking at the door for your convenience. You have a choice of king, queen or single bed configurations and newly installed heat-pumps are available in every room.
At our motel in Wanaka, wireless internet is available with a spacious work desk in every room. Units vary from just tea and toast making facilities to those with cooking facilities. For business travellers we offer the option to chargeback meals and with plenty of takeaway outlets and restaurants within an easy walk, you can choose to dine in or dine out.
You can be assured of a warm welcome at Bella Vista Motel Wanaka where we will assist you in every way possible.
Contact us for more information on availability, rates and rooms at Bella Vista Motel Wanaka.
Distances from Wanaka Motel
| | |
| --- | --- |
| Airport | 10km |
| Town Centre | 1 minute |
| Queenstown | 68km |
| Arrowtown | 56km |
| Ski Fields | 21km |
At a glance

Check-in 2.00pm

Check-out 10.00am

Office hours 8.00am to 7.00pm

On-site parking Onsite parking free of charge. EV charger available for a small fee.

Available on request Interconnecting rooms, cot, high chair, daily newspaper.

Value adds Free WIFI, guest laundry, ski drying room, activity booking service, lock up garage for mountain bikes / motorcycles.

Email Email motel

Address 2 Dunmore Street, Wanaka

Phone +64 3 443 6066
Room Options
Facilities
18 fully serviced modern REFURBISHED studios
Wireless Internet available
Ski drying room and ski storage available
Lock up garage for motorcycles/mountain bikes
Guest laundry available
Satin head shower jets
FREE off street parking
Flat screen LCD TVs in all rooms
Type 2 EV chargers. Please pre-book.
Local activity booking center
All units are non smoking
Eftpos and major card facilities
Local Attractions
Wanaka is a wonderful place for relaxation and recreation. With warm summers and winters cool enough for ski-ing on the nearby ranges, any time is a good time to visit. The combination of lake and mountain scenery and wide open spaces offers many trails and walks and is a perfect spot for those who love the outdoors.
Local Walks
---
Mount Iron
Mount Iron Summit offers panoramic views of Lake Wanaka and Hawea and the peaks of Mount Aspiring National Park. Round Trip: 1.5 hrs
Mount Roy
The 360 degrees panoramic view from the top of this mountain is magnificent. The track is closed from Oct to Nov for lambing. Round Trip: 6-7 hrs
Outlet Walk
This scenic track follows the Clutha River from the Lake Wanaka outlet to Albert Town. Suitable for either walk or mountain bike. Outlet to Albert Town: 1hour
Diamond Lake
This loop track to the Summit of Rocky Hill offers superb views over the glacier-carved landforms. Round Trip: 3 hrs
Rob Roy Glacier
Starting from Raspberry Creek, this easy hike leads to an area of spectacular alpine scenery. After crossing a swing bridge over the West Matukituki River, the track climbs through beech forest to alpine meadows at the head of the valley with views of Rob Roy Glacier. Kea is often seen! Round Trip: 3.5 hrs
Mt Aspiring National Park
Nearby Mount Aspiring National Park attracts day-trippers, hikers and mountaineers. Tracks and hikes of varying terrain and skill levels - Gillespie Pass Circuit, the Wilkin Valley, Aspiring Hut, Rob Roy Track, Liverpool Bivy and Cascade Saddle.
Skiing Wanaka
Less than an hours drive from Wanaka are three of New Zealand's best skiing locations – Cardrona, Treble Cone & Snow Farm.
Cardrona Skifield
Base Elevation: 1260m Highest Lifted Point: 1860m Vertical Rise: 600m Terrain: 345 hectares Terrain 25% Beginner 50% Intermediate 25% Advanced Operating hours: 9am to 4pm daily Season: late June to early October (may vary year to year)
Treble Cone
The largest ski field in the area.
Base Elevation: 1260m Lift elevation: 1960m Summit elevation: 2088
Terrain: 550 hectares
10% Beginner 45% Intermediate 45% Advanced
Operating hours: 9am to 4pm daily
Season: late June to early October (may vary year to year)
Snow Farm
Base Elevation: 1520m Highest Point: Mt Pisa 1965m
Terrain: 55km of trails, 10km Snow Shoe trail
40% Beginner 20% Intermediate 40% Advanced
Operating hours: 9am to 4pm daily
Season: late June to early October (may vary year to year)
Attractions
---
Paradiso Cinema Wanaka
This small classic movie theatre located in Wanaka is a real find. Comfy old sofas, an old Morris Minor, a cafe & bar serving delicious meals before, during or after the movie. Homemade ice-cream, world-famous hot cookies fresh every intermission.
Puzzling World Wanaka
Stuart Landsborough's Puzzling World is a world unique attraction specialising in puzzling eccentricity. For over 35 years this remarkable business has entertained and amazed visitors of all ages attracted to this beautiful part of the world.
Lakeland Adventures
Jet Boating at its Best! An exciting 60-minute adventure beginning with a 10-minute jaunt across the lake before entering the mighty Clutha River. Here, the New Zealand designed and built craft is truly at its magnificent best, skimming over rocks and sandbars, powering through rapids and giant pressure waves of New Zealand's largest river. Scenery and Excitement.
SkyDive
Wanaka

A New Zealand skydiving experience that stands out from the rest
Considering skydiving while you are in New Zealand? Discover why Skydive Lake Wanaka is the NZ skydiving experience everyone is talking about.
Wanaka Speights Ale House
The Wanaka Speight's Ale House is situated on Ardmore Street next to Bullock Creek and across the road from Lake Wanaka. The outdoor decks afford all day sun with a picturesque view of the lake. As a top Wanaka restaurant, the Speight's Ale House offers a great range of speciality beers, indoor/outdoor dining and a wide variety of meals. The Speight's Ale House is operated by the owners and is a very popular meeting place for locals, holiday-makers, skiers and tourists alike.
Waterfall Climbing via ferrata
At Wildwire Wanaka you can climb Wanaka's iconic Twin Falls using the via ferrata system (protected climbing route), A family-friendly activity suited to all regardless of fitness level or experience.
Horse Trekking Wanaka
Backcountry Saddle Expeditions has over 30 years experience in trekking through old Gold Mining areas and high country Cadrona Valley farms. Riding on Appaloosa horses, which are bred for this terrain. The local, highly skilled guides provide an enjoyable 2-hour trek.
4WD Adventures
Ridgeline Adventures offers something for the more adventurous – Local, highly trained 4WD experts will take you off the beaten track and into the high country locations – including rivers, lakes, glaciers, peaks and privately owned alpine mountain farms.
Bella Vista Wanaka will happily offer local advice on any of these activities and will gladly facilitate complimentary reservations should an activity require a booking.
Gallery
Deals
Wanaka offers a host of enjoyable attractions and excursions. Whether it is time on the lake, a walk up Mount Iron, a bike ride on some of the many trails by the end of the day you are going to want to relax and enjoy some good old fashioned Kiwi hospitality. There are a number of bars and eateries close to the Wanaka Bella Vista all offering excellent fare but take our advice and keep it simple. You literally can't go much further than the Wanaka Speights Alehouse.

10% Off Food & Beverage at Wanaka Speights
Well priced and an absolute favourite with Wanaka locals, Wanka Speights Alehouse offers a range of specialty beers, indoor/outdoor dining and a wide variety of gastro meals. A short walk from your Wanaka accommodation, it offers all the Kiwi favourites set next to Bullock Creek and across the road from Lake Wanaka. The outdoor decks afford all day sun with a picturesque view of the lake.
To secure your 15% discount, be sure to show your Bella Vista key-fob when you arrive at the bar.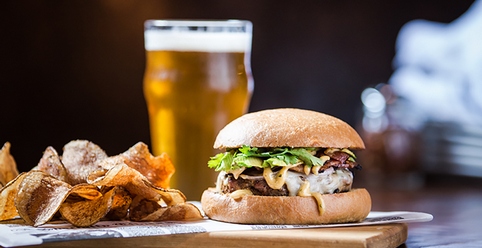 Location
Location - Location - Location
Right in the heart of Wanaka
150 metres from Lake Wanaka
1 minute walk to shops, restaurants, galleries and wine bars
Travel distances in kilometres to Wanaka
From:

Ashburton

339 kms

Blenheim

730 kms

Christchurch

427 kms

Dunedin

276 kms

Fox Glacier

261 kms

Franz Josef Glacier

284 kms

Greymouth

457 kms

Hanmer Springs

554 kms

Hokitika

419 kms

Invercargill

243 kms

Kaikoura

601 kms

Mosgiel

262 kms

Nelson

743 kms

Oamaru

229 kms

Queenstown

70 kms

Te Anau

228 kms

Westport

557 kms
Loading