Greymouth
- Close to the town centre and local attractions
Bella Vista Motel Greymouth
Overview
Chris and Nic welcome you to the Bella Vista Motel Greymouth
This property has been independently assessed by Qualmark as 4-star quality accommodation.
Greymouth is a great base for all your West Coast adventures. From the moment you arrive, you'll enjoy the convenience of being located in close proximity to the town centre for business, shops, entertainment and other activities. At Bella Vista Motel Greymouth we cater for all your business or recreational needs.
We are easy to find on High Street, 100m from the Aquatic Centre, new sports stadium (Basketball / Netball) Tennis and Hockey Turf. We have ample safe parking so you can leave your car, avoid parking issues, walk to work or explore on foot.
Our superior smoke-free Greymouth motel accommodation includes a variety of studios and one-bedroom units. The purpose-built access units have been designed with parking at the door for your convenience. You have a choice of super-king, king, queen or single beds with electric blankets for those cooler nights.
At our motel in Greymouth, wireless internet is available with a spacious work desk in every room. Units vary from just tea and toast making facilities to those with cooking facilities. We offer continental breakfasts and evening meals charge back facilities, dine in or dine out.
You can be assured of a warm welcome at Bella Vista Motel Greymouth where we will assist you in every way possible. Experience true West Coast hospitality at its best.
Contact us for more information on availability, rates and rooms at Bella Vista Motel Greymouth.
Distances from Greymouth Motel
| | |
| --- | --- |
| Town Centre | 1km |
| TranzAlpine Rail | 1.4km |
| Monteiths Brewery | 600m |
| Shantytown | 11.3km |
| Punakaiki | 45km |
| Franz Josef Glacier | 171km |
Photos: Captur8 Photography
At a glance

Check-in 2.00pm to 8.30pm

Check-out 10.00am

Office hours 7.30am to 8.30pm & 8.00am to 8.00pm weekends

On-site parking Free of charge

Breakfast service Continental breakfast available on request.

Available on request Interconnecting rooms, cot.

Value adds Free and unlimited WiFi, free newspaper daily, & guest laundry.

Email Email motel

Address 33-35 High Street, Greymouth

Phone +64 3 768 7199
Room Options
Facilities
18 superior smoke-free units
Studio & family units with kitchenettes
Super king, king, and queen-size beds
Spa bath units
Free abd Unlimited WiFi
Access units
Electric blankets/heating
Quiet units back off the street
Local Attractions
TranzAlpine Train
This is one of New Zealand's most scenic train journeys. Join the train from Greymouth and travel through some unbelievable scenery, out of your window you'll be up close to the Southern Alps, Waimakariri River, Arthur's Pass, Canterbury Plains and so much more. Your train will depart Greymouth in the afternoon, you can overnight at Bella Vista Christchurch and jump back for the return journey in the morning.
Brunner Mine Site Walk
Located about 11 km out of town, take your time and explore one of the country's first industrial sites where coal was mined. Enjoy a short walk around the historic coke ovens, brick factory and the remains of tunnel entrances. Allow approx. an hour.
Lake Brunner
A wonderful West Coast lake – Lake Brunner and the surrounding area are popular for world-class fishing (lake and river), stargazing, glowworm grottos, bird watching and the rainforest ecosystem.
Moana Township
Situated at the north end of Lake Brunner, this tiny west coast town is 37 kilometres inland from Greymouth. You can get to it by car, the TranzAlpine train or a daily shuttle service, the town is well known for its fishing.
Woods Creek Track
This is a short (1.1km loop) forest track to enjoy; you'll pass by tailraces and dams and through tunnels built by gold miners back in the 19th century.
Point Elizabeth Walkway
This walk is great for the whole family, taking you along a coastal walkway and through the forest to a stunning cliff-top viewing platform. Duration approx.: 1 hr 45minutes
Greymouth Breakwater
An interesting spot to visit, here you can witness the intensity of the river as it meets the sea. Stop for a moment and respect the moving memorials to lives lost crossing the river bar.
Left Bank Art Gallery
Located in a historic bank building, the gallery and shop are home to a range of contemporary paintings, prints, photography, sculpture and crafts, with the emphasis on local talent.
Punakaiki
Head north along the wild west coast and visit the Punakaiki Pancake Rocks and blowholes. The blowholes operate at high tide and are best on a blustery day.
On Yer Bike
Off Road adventures. Quads, Go-Karts, Argo, Hot Tracks and Hagglunds. True off roading through Native rain-forest, mud, water & Scenery. Excellent attraction.
Little Earth Model Village
Also situated at the On Yer Bike Site. This is an indoor & outdoor model village of the gold mining town of Waiuta set in the 1930s.
Montieths Brewery's
Tours 7 days a week showing the history and making of our wonderful beer. Tours take approx 1 1/2 hours with a tasting season at the end.
Shantytown
Step back in time and gain a sense of the past. Gold panning, steam train rides, a timber mill and a township, make up the recreated 19th Century pioneer attraction.
Croesus Track
Dating back to 1881 this miner's track allows an insight to what life was like back then, with the ability to overnight in the historic Croeses Top Hut or by taking a look at the Garden Gully Hut. The walk is approx. 18km and takes 1 – 2 days.
Regent Greymouth
Greymouth's historic (built in 1935) cinema that has been recently renovated, head along to catch the latest new release movies.
Glowworm Tubing, Zipline & Abseil
New Zealand Discovery Adventures will take you to a location that's as good as it gets - a rainforest canyon! You'll find yourself floating through a world of glow-worms. The tour starts with a short bush walk, then onto a 30m abseil down a rainforest covered cliff and into the river below, enjoy the bulge rock hydroslide and onto the cave entrance. Not for the faint hearted. Combine this also with ziplining and abseiling.
Horse Trekking
Another wonderful west coast adventure, you'll ride your horse into the waves, and perhaps chat with the local gold miners who are happy to share their knowledge and show you the sparkling gold in the sand.
Aquatic Centre
The newly built Aquatic centre is only 100met up the road and features Lap pool, Toddlers, learners, Hydrotherapy pools. Spa pools and 2 Hydro slides along with a Courtyard and playground.
Wild Wests Adventures
For all Black-water Glow-worm Caves, canyons, Tubing and white water rafting.
Arts & Crafts
Jade Boulder, Stuart Nimmo Photography, Left Bank Art Gallery, & Shades of Jade all centred in the Hub of Greymouth.
Walks
Lots of Bush walks to choose from as well as the Lovely beach just a short distance away.
Bella Vista Greymouth will happily offer local advice on any of these activities and will gladly facilitate complimentary reservations should an activity require a booking.
Gallery
Deals
New Zealand's West Coast is known for its warm hospitality, great hosts, good food and a refreshing beer. When in Greymouth you need look no further than the famous Montieth's Brewery. Monteith's Brewing Co. is an iconic craft brewery known for its strong tasting, full-bodied ales, rich and silky stouts, and classic brews. Brewing for over 150 years, an easy 10 minute walk from Bella Vista Greymouth will have you on the doorstep of this West Coast institution. Beyond the fine brews, you can enjoy a full talking and tasting tour experience to remember your visit to the brewery.
10% Off Food, Entry and Drinks at the Monteiths Brewery
Book to stay with Bella Vista Greymouth and enjoy 10% off entry, food and drinks at the celebrated Monteith's West Coast Brewery, Greymouth's #1 visitor attraction.
To secure your 10% discount, simply show your Bella Vista room key fob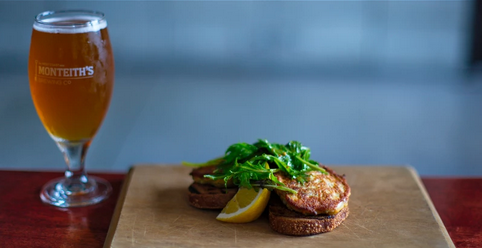 Location
1km south of town centre
2nd closest motel to town
150m from Restaurant and Aquatic centre.
33-35 High Street, Greymouth
Travel distances in kilometres to Greymouth
From:

Ashburton

271 kms

Blenheim

324 kms

Christchurch

241 kms

Dunedin

544 kms

Fox Glacier

196 kms

Franz Josef Glacier

173 kms

Hanmer Springs

214 kms

Hokitika

39 kms

Invercargill

697 kms

Kaikoura

327 kms

Mosgiel

558 kms

Nelson

287 kms

Oamaru

431 kms

Queenstown

525 kms

Te Anau

682 kms

Wanaka

457 kms

Westport

100 kms
Loading