Hokitika
- Just 5 minutes' walk to Hokitika town centre & beach
Bella Vista Motel Hokitika
Overview
We welcome you to Bella Vista Motel Hokitika.
This property has been independently assessed by Qualmark as 4 star quality
accommodation. From the moment you arrive you'll enjoy the convenience of being located in close proximity to the Hokitika CBD for business, shops, entertainment and other activities. At Bella Vista Motel Hokitika we cater for all your business or recreational needs.
We are easy to find on Fitzherbert Street, just an hour and forty minutes from Franz Josef Glacier and 30 minutes from Greymouth. From our motel, Hokitika shops, restaurants arts and crafts studios and the beach are all a five-minute walk away.
Hokitika has many attractions on offer, see the many talented artisans at work, including the jade factories, Gold Room and glass-blowing studio. A visit to the Historical Museum is a must.
Take a leisurely stroll along our wild beach and enjoy an amazing sunset at Sunset Point. Take a short drive to Lake Kaniere and the Dorothy Falls and then on to the picturesque Hokitika Gorge where you can enjoy great bush walks.
At out Hokitika motel we have ample safe parking so you can leave your car, avoid parking issues, walk to work or explore.


Now with Sky Guest Select, our superior smoke free Hokitika accommodation has over 50 channels of television viewing. We have a variety of studios and one bedroom units. The purpose built access units have been designed with parking at the door for your convenience. You have a choice of king, queen or single beds with electric blankets for those cooler nights.
Wireless internet is available with a spacious work desk in every room. Units vary from just tea and toast making facilities to those with cooking facilities. All rooms have microwave ovens. We offer continental breakfasts and evening meals charge back facilities, dine in or dine out.
You can be assured of a warm welcome at Bella Vista motel Hokitika where we will assist you in every way possible.
Contact us for more information on availability, rates and rooms at Bella Vista Motel Hokitika.
Distances from Hokitika Motel
| | |
| --- | --- |
| Franz Josef Glacier | 134km |
| Greymouth | 40km |
| Hokitika Gorge | 33km |
| West Coast Treetop Walkway | 17km |
| Hokitka Beachfront | 5 mins walk |
| Shops & restaurants | 4 mins walk |
At a glance

Check-in 2.00pm

Check-out 10.00am

Office hours 7.00am to 9.00pm

On-site parking Onsite parking free of charge. EV charger available for a small fee.

Breakfast service Continental breakfast available on request

Available on request Portacot and high chair

Value adds Unlimited free WIFI, Sky Guest Select (over 50 television channels), free newspaper on request, guest laundry, secure motorbike & bicycle storage

Email Email motel

Address 52 Fitzherbert Street, Hokitika

Phone +64 3 755 8047
Room Options
Facilities
Guest laundry facilities
Unlimited free Wifi
Sky Guest Select with over 50 viewing channels
Secure garaging for motor bikes & cycles.
Children under 2 free
Free parking
Type 2 EV chargers. Please pre-book.
Continental breakfast on request
Non-smoking units throughout
Units serviced daily
Access units
Cot/highchair available
Local Attractions
West Coast seaside town to experience the thrill of these days. The town today has embraced a slow-paced artisanal vibe and having the beach and bush right on its doorstep provides a plethora of activities, adventures and experiences you won't want to miss.
Sunset Point & Hokitika Beach
There's no better place in New Zealand to view some spectacular sunsets than on the West Coast. Head to Sunset Point at the entrance to the Hokitika Harbour. Sit back and watch the dazzling display as the sky turns shades of pink and orange.
The Hokitika Beach is a fantastic place to scour the beach for Pounamu (NZ Jade) and let the kids scramble over the rocks or hunt for pieces of driftwood. There's an iconic monument to the large amount of driftwood that the beach collects which is the Hokitika Sign!
Glow Worm Dell
The Glow Worm Dell is a must see, located just north of the town, a 50 metre track leads to a natural fern grotto by day and a magical world of glow worms by night. Take a torch and the coolest thing is that is free!!
Arts and Crafts
Hokitika is home to many artisans. Pounamu (NZ Jade) and gold is sourced locally and feature in many of the works. Take time to meander around town and visit these craft shops to watch the artists at work – discover the art of jade carving and glass blowing. It's interesting even for the kids! They can even have a go at carving their own jade or bone piece.
Visit the Wildnerness Gallery, featuring the award-winning photography of Juergen Schacke, His photography exquisitely captures New Zealand's wildlife and stunning landscapes and is complemented with other unique handcrafted art and crafts from local artists. A great place to find your own little spirit of the coast to take home!
Hokitika Museum
The Hokitika Museum is a great place to browse if you are interested in delving deeper into fascinating history of Hokitika. The museum covers much of the town's unique past including the days of the gold rush era, the thriving whitebait industry, stories about the early pioneers and more. Housed in a beautiful old building and open daily, it's a great way to spend a few hours.
National Kiwi Centre
Situated in the heart of Hokitika, the National Kiwi Centre is the place to go to get up close and personal with some of our country's icons. Learn about our national bird, the Kiwi, as you watch it scurry around its custom-built nocturnal home. Feed the biggest eels in the world or view New Zealand's 'oldest dinosaur', the Tuatara.
Lake Kaniere
A beautiful lake located 30km southwest of Hokitika amongst lush native bush featuring waterfalls, great picnic and fishing spots plus it's a wonderful spot for birdwatching! Lake Kaniere is a great place to explore by way of the many trails. From short walks like the Kahikatea Forest Walk amongst the 'Giants of the Forest', New Zealand's tallest forest tree; to a longer historic Kaniere Water Race Walkway. Take a picnic and easily amble away the day.
Hokitika Gorge
The Hokitika Gorge can be combined in a scenic loop with Lake Kaniere and Dorothy Falls. The bright blue-green waters of the Hokitika gorge against the surrounding bush and rocky outcrops make a stunning contrast and are well worth the visit. There's an easy walk to take in the gorge in all its splendour, with viewing platforms, an impressive swing bridge and curving boardwalks.
Hokitika Heritage Trail
The heritage trail is an 11km loop around the town that takes in interesting Goldrush sites, buildings, statues and views. There are information panels along the way that bring the history to life.
Goldsborough and Tunnel Terrace Walk
Just as the name suggests Goldsborough is known for its goldmining history and scenic surrounds. Get the kids out searching for gold on some of the great little walks in the area. The 20-minute Tunnel Terrace Walk is starts and ends through old goldmining tailrace tunnels. The track meanders through a regenerating forest and through old gold workings.
Treetop Walk & Café
Located 15 minutes south of Hokitika, experience an exhilarating treetop adventure amongst a canopy of mature Rimu forest on a 450-metre-long elevated steel walkway, viewing tower and gently swaying cantilever. Take a moment to listen to the native bird song and life amongst the trees. Spectacular views can be had of nearby Lake Mahininapua, the surrounding forest and the Southern Alps.
Lake Mahininapua
Lake Mahinapua is located just 10km south of Hokitika and the scenic reserve has a number of short walking tracks around the area. A local favourite among these is the Mananui Tramline walk. It's an easy 2-hour stroll which follows an old logging tramline along boardwalks, through a forest and past an old sawmill site from the 1800s. Try and spot some of the birds that live around the lagoon such as black swans, grey ducks and mallard ducks while the surrounding bush provides a habitat for species such as parakeets and tui.
West Coast Wilderness Trail
The West Coast Wilderness Trail is one of New Zealand's most stunning cycle rides featuring rugged coastlines, wild landscapes and dramatic alpine views. It is easy Grade 2 riding on smooth trails with just a few short climbing sections.
It starts in the town of Ross, comes up through Hokitika, heads east through the mountains before turning north towards Greymouth. The whole trail is 132 km in total which can be completed over 4 days or just opt to do a day ride. You can be shuttled out to different parts of the trail along with hiring any bike/equipment.
Wild Food Festival
If you are daring and brave enough to try some wild and weird West Coast delicacies – check out the Wild Food Festival in Hokitika. From Huhu grubs or horse protein shots to whitebait fritters and gorse flower wine there is an array of food on offer to entertain your taste buds. Live music, stage performances, buskers, a huge kiddie corner and the "Feral Fashion' contest bring a great vibe to keep you entertained all day long. Feel free to dress up in your wildest attire and immerse yourself in this unique festival.
Punakaiki Rocks/ Arthurs Pass
A trip up to Punakaiki (Pancake) Rocks or Arthurs Pass are good options for sightseeing further afar. The Pancake Rocks are an easily reached 1 hour 15-minute drive north of Hokitika. They're a natural limestone landscape of pancake-shaped rock formations, blowholes and surge pools. And don't let any rain stop you. When the sea is stormy, you'll see the blow holes in full action. Arthur's Pass is approx. 1 hour 30 mins inland in the heart of the Southern Alps.
Bella Vista Hokitika will happily offer local advice on any of these activities and will gladly facilitate complimentary reservations should an activity require a booking
Gallery
Deals
Hokitika is a small community that prides itself on offering all visitors a warm, welcoming stay. Throughout the town you will enjoy the friendliness of locals whether it is browsing the interesting shops, taking in a movie at the Hoktika Regent Theatre, visiting the town centre supermarket or enjoying a social occasion and meal amongst the many popular Hokitika hostelries. It's a place where West Coast hospitality is writ large, and it is all on the doorstep of Bella Vista Hokitika. A short stroll across State Highway 6 and you're in town. A few metres more and you're at the beach.
If you want to get a guaranteed feel of how it's done on the Wests Coast, rather than crossing the main road into town, Bella Vista Hokitika recommends a venue just around the corner where good food and company combine, plus the added advantage of a guaranteed saving on your bill.
15% Off Food & Beverage at the Pioneer Hotel
The Hokitika Pioneer Hotel is an old style country pub just 450 metres from Bella Vista Hoktika, providing enjoyable old-fashioned dining and character. Don't be fooled by building's unassuming exterior, the menu is a delight for the eyes with Kiwi pub favourites including West Coast fish & chips or you might choose to try the Pioneer Burger.
To secure your 15% discount, be sure to request a meal voucher when you check in at Bella Vista Hokitika.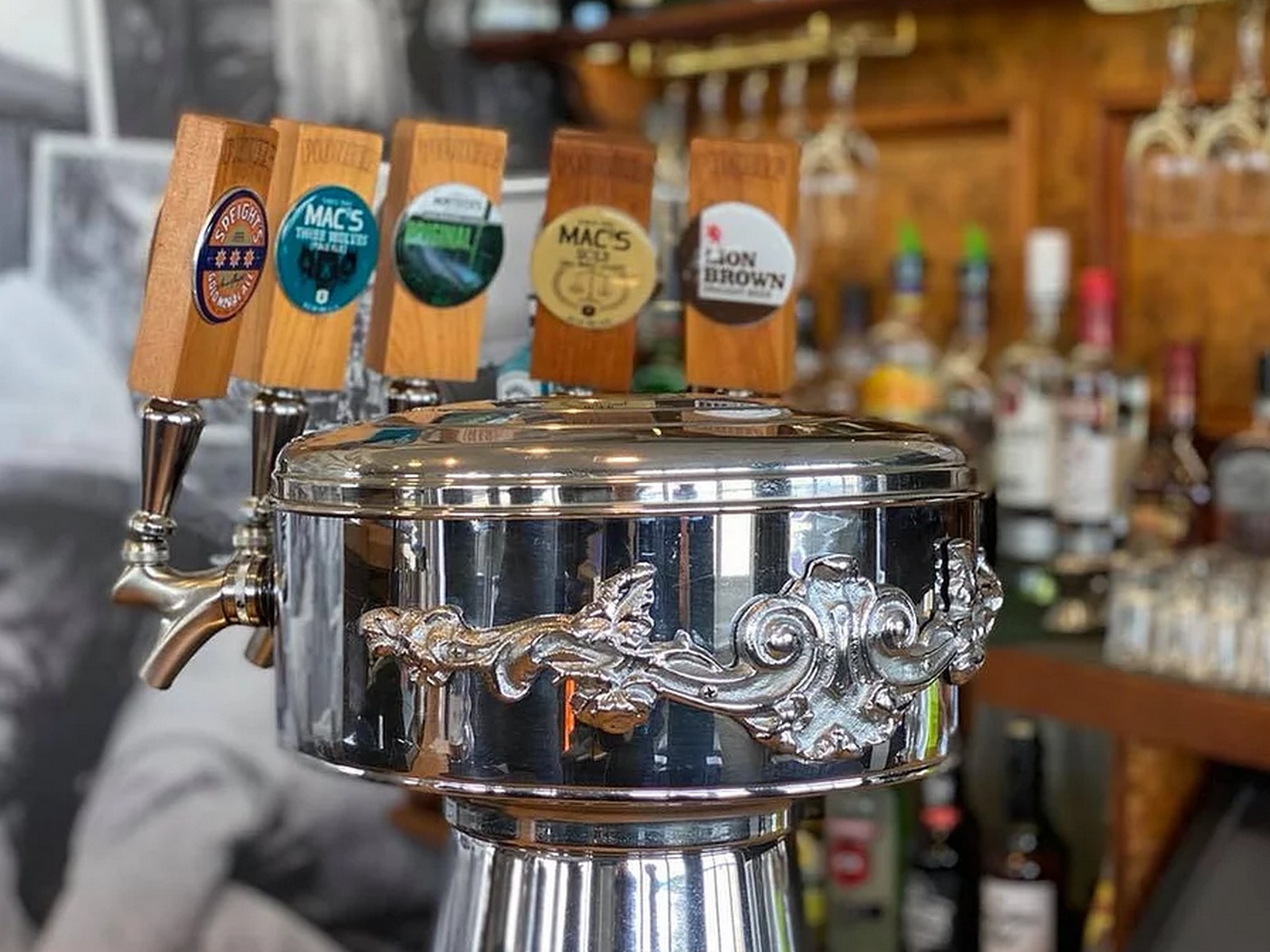 Location
The motel is a flat 4 minute walk to Hokitika's shops, restaurants, art and craft studios and beach. Closest motel to Cass Square and Plymouth Court rest home.
52 Fitzherbert Street, Hokitika
Travel distances in kilometres to Hokitika
From:

Ashburton

276 kms

Blenheim

362 kms

Christchurch

245 kms

Dunedin

549 kms

Fox Glacier

158 kms

Franz Josef Glacier

135 kms

Greymouth

39 kms

Hanmer Springs

253 kms

Invercargill

659 kms

Kaikoura

365 kms

Mosgiel

563 kms

Nelson

325 kms

Oamaru

436 kms

Queenstown

487 kms

Te Anau

644 kms

Wanaka

419 kms

Westport

139 kms
Loading