Palmerston North
- Modern motel only three blocks walk to the CBD
Bella Vista Motel Palmerston North
Overview
We invite you to experience our friendly service at our modern motel in Palmerston North central, offering quality accommodation and conference centre at competitive rates.
For business or pleasure - whatever the reason for visiting Manawatu's capital, Bella Vista can fulfil your Palmerston North accommodation and conference requirements. A great location with 18 superior units and conference facilities.
Along with great accommodation, Bella Vista Motel Palmerston North also offers free WiFi.
We are a short stroll from Palmerston North's Square and the vibrant city centre which offers many cafes and restaurants, and a busy shopping and business district. Live theatre, international shows and sporting events also feature in the city regularly.
Our motel in Palmerston North is ideally located close to three major wedding venues - Caccia Birch, Wharerata, and Chalet On The Lake.
Our fully self-contained conference room is available for up to 30 people and we are able to provide for all catering needs. It is ideal for small meetings, interviews and showcases. The daily rate for hire is $150.
Palmerston North is a vibrant, youthful city with an active student population. Internationally recognised education centres cater to a wide range of interests, learning requirements, and career opportunities.
The city is easily accessible with regular flights from all major centres and is within an easy drive from Wellington, and other central and lower North Island destinations.
You can be assured of a warm welcome at Bella Vista Motel Palmerston North where we will assist you in every way possible.
Contact us for more information on availability, rates and rooms at Bella Vista Motel Palmerston North.
Distances from Palmerston North Motel
| | |
| --- | --- |
| Palmerston North Airport | 5.8km |
| Wellington | 142km |
| Taupo | 244km |
| Massey University | 4mins |
At a glance

Check-in 2.00pm-7.00pm

Check-out 10.00am

Office hours 8.00am to 8.00pm

On-site parking Onsite parking free of charge. EV charger available for a small fee.

Breakfast service Continental breakfast available on request.

Available on request Interconnecting rooms, cot, high chair & daily newspaper.

Value adds Free WiFi, Conference Room for up to 30 delegates (catering available on-site) coin-operated guest laundry.

Email Email motel

Address 172-174 Fitzherbert Ave, Palmerston North

Phone +64 6 354 2216
Room Options
Facilities
18 superior, self-contained, fully serviced motel units
Conference room onsite for up to 30 people
Fax and copying facilities
Sky TV - Movies 1 & Rialto, Sport 1, 2, 3, and 4
Free WIFI
Large off-street parking ideal for small trucks/towing vehicles
Lock-up garage for bikes
Charge-back facilities for local restaurants - dine in or delivered to motel
Close to major wedding venues
Modern guest laundry
EFTPOS and credit card facilities
Qualmark 4 Star Rating
Wheelchair access units
Continental breakfast delivered to your room
Portacots and highchairs available

Type 2 EV chargers. Please pre-book.
Conference Room
Our dedicated self-contained conference room is available for hire on a daily rate. Capacity is 30 people in theatre style or 18-20 in boardroom style. Close to Palmerston North CBD, it offers a private and quiet room perfect for meetings, interviews or showcases. The conference facility offers a fully functioning kitchen. Outside catering can also be provided if required. There is plenty of off-street parking, free of charge for delegates. Please contact us directly on 06 354 2216 or [email protected] for rates and availability. Unfortunately we are unable to host social gatherings or parties in this room.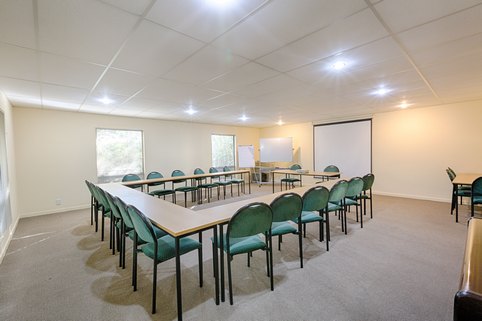 Local Attractions
Victoria Esplanade Gardens
A great option for those that wish to picnic or walk through the woodland area, appreciate the rose gardens or go for a ride on the esplanade scenic railway. The playground and café serves a good coffee.
Robertson Holden International Speedway
If you enjoy the speedway or stockcars and are in town on a night of a meet, then this is where you need to be. The speedway provides great entertainment, plenty of noise and a safe environment for the family.
Palmerston North Clock Tower
A unique landmark in the centre of town that serves as the perfect place to stop and watch the world go by. Have a coffee, enjoy the duck pond or come back at night to watch the clock change colour.
Lido Aquatic Centre
A fabulous swimming complex offering a fun day out for all ages, make the most of the indoor and outdoor pools, hydroslides, sauna and spa.
Centrepoint Theatre
The only professional theatre in New Zealand outside of the main centres, Centrepoint Theatre provides a range of shows and dinner options to entertain its visitors. From comedies through to serious themed plays, it's a gem of a theatre. Find out what's showing today!
The Medical Museum
Run by volunteers and open only on certain days for a gold coin donation, the Medical Museum is interesting and informative. Learn about NZ's medical history with a particular focus on Surgery, Nursing, Pharmacy, Dental and the war efforts.
Cathedral of the Holy Spirit
Standing proud and tall, the cathedral features stunning stained glass windows and a welcoming atmosphere. With daily services, the cathedral is the heart of the Palmerston North Diocese, and also hosts a range of community concerts, events etc.
Giant Chess
Take on an opponent in this super sized game of chess; located in The Square (in the South western corner) it's a fun way to spend an hour of your day.
The Herb Farm
This is an eco and feel-good experience in a rural retreat setting. Indulge in a refreshing walk through the gardens or purchase healing and chemical-free body products made onsite. If arranged in advance, you can make your own. Facilities include a beauty retreat and a cafe.
Drive the Country Road
The Country Road, Manawatu takes you off the main highways, away from heavy traffic and through diverse landscapes. Driving the Country Road is equivalent to driving the 'back roads' - but with purpose. You can make a stop for afternoon tea, pop in to see a boutique mill and enjoy the spectacular views.
Stormy Point Route - A great alternative to travelling SH1 between Taupo and Wellington. It's a very scenic route with great lookout points over ancient river terraces, and connects you with the townships of Feilding and Palmerston North City.
Peep-O-Day Route - Aptly names after the Peep-O-Day point, which is the first place in the area to see the morning sun.
Pohangina Valley Route - A vast valley located at the foot of the Ruahine Mountain Ranga featuring wetlands, small communities, Totara Reserve Regional Park and an abundance of walking tracks on Department of Conservation land.
Iron Gates Experience - A secluded section of northern Manawatu with horse trekking, hiking, camping, a popular country pub, and many natural attractions. Named after the Iron Gates Gorge, which has sheer cliffs and a powerful river pulsing through it.
Te Apiti Windfarm
You'll find this interesting windfarm on the Saddle Road between Ashhurst and Woodville. Learn how they work, get up close and take in what they do and how they do it.
Palmerston North Arts & Sculpture Trail
There is a fantastic range of art freely available to view in Palmerston North – Pick up a brochure from the i-SITE and get all the information you need.
Palmerston North Heritage Trail
See and learn about the local heritage and find some real gems you'd never know about otherwise. Information on the self-guided trail is available at the i-SITE. While some of the locations are easily accessible to those on foot, others you may need to get hold of a bike or use the city busses.
Manawatu Golf Club
A good little Golf Club with a proud history, casual golfers can book a tee time on this challenging, yet fair course.
Manawatu Gorge Track
This track is located approx. 12km from Palmerston North and can be started from either Ashhurst or Woodville. There are a few different track options to choose from, DOC has all the relevant information required.
Manawatu History and Culture
Stories of New Zealand's heritage and culture are told well in Manawatu. Feilding's Steam Train Museum, Horse Drawn Era Museum and Homeprint are run by local enthusiasts.
Te Manawa
A cultural museum of art, science and history. It showcases and stores the Manawatu region's nationally significant taonga, contemporary art, science and heritage collections.
The New Zealand Rugby Museum
Home of New Zealand rugby heritage and culture - the sport that shaped a nation. See some of the world's rarest rugby artefacts and test your kicking, tackling, leaping, sprinting and pushing skills at the 'have a go' area.
The Coach House
A horse-drawn era museum giving insight into the life of our early pioneers through their stories, photos and the transportation they used to settle Manawatu and New Zealand.
Rangitikei River
Have fun white water rafting, kayaking and jet boating on the Rangitikei River. The River is also home to Gravity Canyon, the highest bungy jump in the North Island, highest tandem bridge swing and fastest flying fox in the world.
Feilding Saleyards
Learn the fascinating history of selling livestock - one of New Zealand's oldest traditions - on a guided tour of the saleyards, a hive of activity and one of the largest saleyards in the Southern Hemisphere. The best day of the week to visit is Friday.
Owlcatraz
​A wildlife park featuring rare and interesting animals set amongst native bush and farmland. You can see native New Zealand Owls (morepork or ruru), as well as get up close and personal with pigs, donkeys, ostriches, deer, bulls and alpaca.
River Valley
Offering white-water rafting, hill country horse trekking and hikoi (walks) with a restful stay at the riverside lodge. Adventure down New Zealand's fourth-longest river with Mangaweka Adventure Company (MAC), offering a wide range of river activities, accommodation and facilities.
Bella Vista Palmerston North will happily offer local advice on any of these activities and will gladly facilitate complimentary reservations should an activity require a booking.
The Charm of Small Towns
Manawatu's rural settlements are famous for their character and friendliness. Here's a quick run-down of some of the towns which are in easy reach of Bella Vista Palmerston North.
Kimbolton is an enchanting rural township set high above the Manawatu Plains. It offers wonderful views of Kapiti Island and is home to world-renowned rhododendron gardens.
Feilding has been named New Zealand's most beautiful town many times and has one of the largest stock sale yards in the Southern Hemisphere. It also has great cafés and a farmers' market every Friday.
Taihape is the 'gumboot capital of New Zealand', which explains the giant corrugated gumboot icon that marks the town.
Norsewood is proud of its Scandinavian heritage. The township features an award-winning organic goat cheese factory, the Norsewear clothing factory shop, antiques, a museum and the unique Troll Stroll.
Woodville is home to the Gottfried Lindauer Replica Studio - a unique collection featuring one of New Zealand's most celebrated artists.
Dannevirke's Fantasy Cave is a must for families with young children.
At Mangatainoka you can tour the famous Tui brewery, easy to find because its high-rise brewing tower can be seen for miles.
Bulls is a charming rural town named after an English settler. Here you'll find quaint cafes and unique shopping, as well as the 'relieve-a-bull' toilet!
Gallery
Location
5 minutes' walk to Palmerston North city centre, 30 minutes' walk to Massey. Public transport bus stop adjacent (free with student ID)
Situated on the main throughfare to Massey University, International Pacific College, Fonterra, and Linton Army Base.
Fitzherbert Park Hockey Grounds and Lido Swimming complex are also a short drive away or walk away.
Located close to three major wedding venues - Caccia Birch, Wharerata, and Chalet On The Lake
Walking distance to Arena Manawatu stadium
172-174 Fitzherbert Ave, Palmerston North
Travel distances in kilometres to Palmerston North
From:

Gisborne

387 kms

Hamilton

397 kms

Napier

178 kms

New Plymouth

233 kms

Rotorua

337 kms

Taupo

252 kms

Wellington

144 kms

Whangarei

687 kms
Loading