- Take 5, relax and enjoy a read...
Check-in on our New Zealand travel blog for latest news, events and updates - along with a splash of personality from the whole team at Bella Vista!
#TrustBellaVista
Epic Hokitika Walks and Wonders
---
Posted by Bella Vista on
---
Hokitika crams so much of New Zealand's best into one cute little town. Stunning ocean sunsets, greenstone artistry, great tasting seafood, and Franz Josef Glacier, just 40 minutes down the road. And what better way to experience the best Hokitika attractions, then on foot or bike! We've rounded up the best cycle trails and short walks in Hokitika for avid hikers, bikers and nature lovers.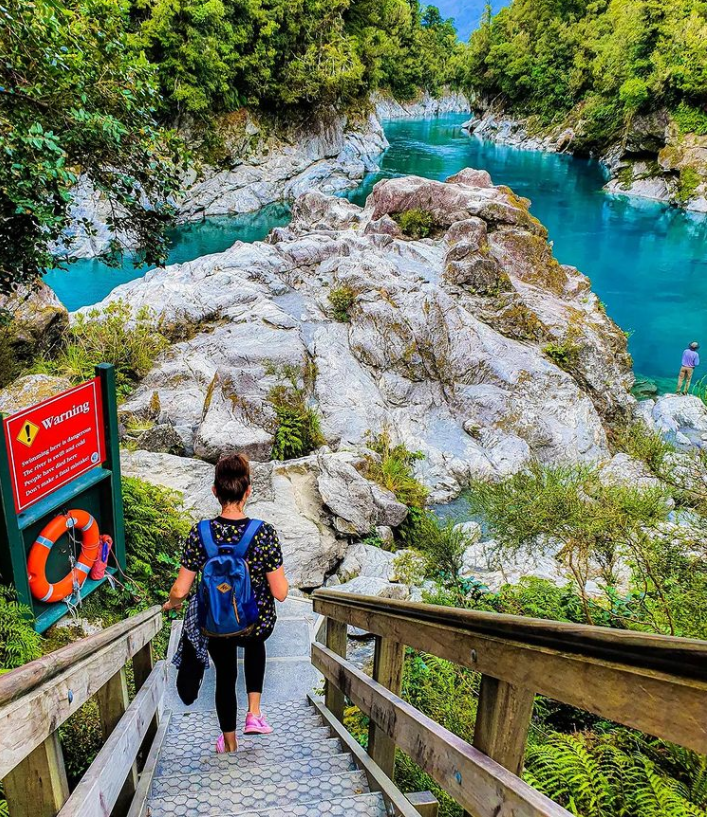 Hokitika Gorge (1-hour loop track)
Just 30 minutes east from the Bella Vista motel, is the gorgeous Hokitika Gorge, one of the most stunning walks near Hokitika. This gentle and popular track packs in not one, but two suspension bridges, allowing expansive views of the gorge and the glacier-fed turquoise waters which flow through it. (Don't jump in however, as the Hokitika River is swift, cold, and dangerous all year round!)
The trail reveals a surprise at every turn, jam-packed full of natural beauty and manmade marvels from impressive native trees, expansive views, a swing bridge to bounce across and curving boardwalks. A large rocky outcrop provides a perfect spot to snap photos with the aqua-tinted river and gorge walls, as your backdrop. Photo's pop best on a clear sunny day when the water sparkles with a backlit effect. You'll enjoy spectacular views from the 90-metre suspension bridge of the upper Hokitika valley and the Southern Alps before entering a forest canopy of towering Miro, Rimu and Kamahi trees. This accessible two-kilometre track is one of the best things to do in Hokitika and a visitor highlight.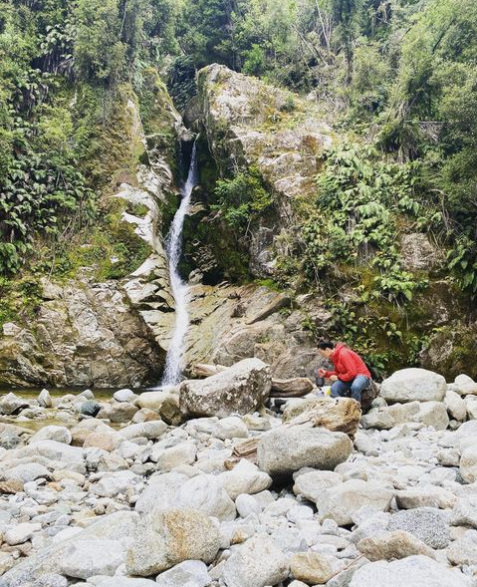 Dorothy Falls Track (2-minutes – that's right!)
For waterfall fans, combine the Hokitika Gorge walk with a detour to the impressive Dorothy Falls for a refreshing dip in its natural plunge pool. Don't let the winding gravel entrance road put you off as it's likely you'll have this natural treasure all to yourself. And best of all, it's only a short two-minute trek to the Falls from the carpark. Afterwards, head to a picturesque picnic spot on nearby Lake Kaniere, one of New Zealand's most beautiful lakes and a popular spot for both water sports and birdwatching.
The Treetop Walk
Head 15-minutes south from the Bella Vista motel and you might spot a tall metallic nest peeking above the dense forest canopy. Turn off the highway and you'll realise it's not a disused air traffic control tower, but the highest vantage point of the Hokitika Tree Top Walk. This Meccano-like series of interconnecting steel bridges and forest viewing platforms, is one of the top things to do in Hokitika and a West Coast must-do.
The nearly half-kilometre walkway starts with a gentle ascent into a canopy of Rimu and Kamahi trees bursting with native birdlife. Along the way, informative panels provide insight on the rainforest and West coast ecosystem, a natural habitat for many endangered species. The cherry on the top is the aforementioned 'Hokitika Tower', a spiral 100-step staircase up to a 40-metre viewing platform. Here you'll enjoy expansive views of nearby Lake Mahinapua, the ocean and snow-tinged Southern Alps.
The next stop is the Mahinapua Springboard, a cantilevered viewing platform, to view the black swans, mallard ducks and white herons, peacefully gliding on the lagoon below. Look out for parakeets and tui too, in the surrounding forest.
This enjoyable 45-minute canopy walk is one of the best walks near Hokitika, revealing timeless native trees from on high and a slice of New Zealand's under threat rainforest. While future generations may miss out, you don't have too so add this unique attraction to your 'Hokitika to do' list.
West Coast Wilderness Trail
Hokitika is the main gateway to The West Coast Wilderness Trail, so hire a bike, grab a gourmet sandwich from the Hokitika Sandwich Shop and hit the track for a day ride from the Bella Vista Motel. The Trail is part of the national Great Rides network and can be bitten off in short chunks or ridden over four days. You'll cycle east from Hokitika into the surrounding hills on a smooth, well graded trail towards Greymouth and enjoy views of wild landscapes, the rugged coastline and Southern Alps.
We can help book daily shuttles to different sections of the 132-kilometre trail and assist with your bike hire too. After a full day's cycling, you can return to the comforts of the Bella Vista Motel Hokitika and a well-deserved good night's sleep.