- Take 5, relax and enjoy a read...
Check-in on our New Zealand travel blog for latest news, events and updates - along with a splash of personality from the whole team at Bella Vista!
#TrustBellaVista
Everything you need to know about Whangarei Falls
---
Posted by Bella Vista on
---
If you search for photographs of Whangarei or waterfalls in New Zealand, Whangarei Falls is guaranteed to make an appearance! The picturesque Whangarei waterfall is a drawcard all year round—for families, couples and those travelling solo—and this goes for locals as well as tourists. So if you're planning your first visit there and you're not quite sure what to expect, read on to find out everything you need to know.
Location of Whangarei Falls
Otuihau/Whangarei Falls can be found just a ten minute drive from town and from our Whangarei motel. Located at 6 Ngunguru Road, Tikipunga; the fastest route from Bella Vista Whangarei is to travel north up State Highway One then turn right onto Puna Rere Drive, which eventually becomes Twin Coast Discovery Highway. After about four or five minutes drive you'll turn right onto Boundary Road and then left into the Whangarei Falls main car park.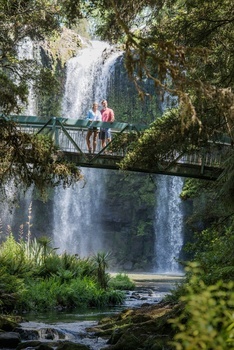 History
Whangarei Falls was traditionally a productive eeling spot for local Maori and was known as an area for healing. But it became private property in the late 1920s after Mr Archibald Clapham brought the property—apparently as a preventative measure to stop the area becoming a commercial watermill. The scenic Whangarei waterfall then became public domain in 1946.
Natural features
It's not the tallest Whangarei waterfall, but it comes pretty close at 26 metres high.The traditional 'curtain' waterfall spills from the Hatea River, which eventually empties into the Whangarei Harbour. Whangarei Falls is surrounded by lush New Zealand native bush and attracts a variety of birdlife including the Kukupa/Native Wood Pigeon,Tui and Riroriro/Grey Warbler.
Accessibility
From the car park at the entrance to the Whangarei Falls, you'll only need to walk a few minutes before reaching the first viewing platform at the top of the waterfall. This makes it ideal if you're looking for scenic walking tracks in Whangarei that are quick and easy to navigate. The base of the waterfall is just a ten-minute walk and you can complete the loop that stretches around the falls within 20-30 minutes. There is a flight of steps on the walk, so while the loop isn't difficult, unfortunately it's not suitable for prams or wheelchairs.
Swimming
Plenty of people swim at Whangarei Falls, but it's not always a great idea! It can be contaminated by livestock and wildfowl from time to time, so keep an eye out for swimming warnings, questionable smells, and discoloured water.
Facilities
There are picnic tables on toilets on site, so why not bring your lunch and make a few hours of it?! There's nothing like enjoying refreshments in good company alongside this majestic Whangarei waterfall.
Nearby attractions
From Whangarei falls, you've got easy access to AH Reed Kauri Park, home to some of the best walking tracks in Whangarei. The easy walk between the Park and the waterfall follows the Hatea River. There are some short steep climbs, but the track is suitable for all ages and it's a great place to get some exercise.