- Take 5, relax and enjoy a read...
Check-in on our New Zealand travel blog for latest news, events and updates - along with a splash of personality from the whole team at Bella Vista!
#TrustBellaVista
Hokitika - A Cool Little Town
---
Posted by Bella Vista on
---
Have you ever found a destination and wanted to stay longer or booked an extra night to continue exploring and enjoy your time away? Let us introduce you to Hokitika. It's an absolute gem. A delightful West Coast town with plenty on offer to see and do.
Naturally, we'd recommend you base yourself at the Bella Vista Hokitika motel accommodation, situated only 5 minutes' walk from the town centre shops and the beach – a superb location! And with off-street parking, you can leave the car and walk or get out exploring on your bike.
The great thing about Hokitika is that it is so close to the NZ native bush, its steeped in history from the Gold Rush and has many attractions and activities that are free. It's a destination that won't break the bank, will guarantee full days visiting attractions and activities and give you the chance to put your feet up at the end of the day and enjoy a sundowner.
Friends recently had 4 nights at their Hokitika accommodation (they originally booked 3 nights) and their hosts Dale and Claire at Bella Vista were fantastic offerings some great tips about the local area and attractions. Dining was also easy as the Bella Vista rooms all have kitchenettes and the supermarket is a 2-minute drive away. A popular fish'n'chip shop, pizzeria, bakeries and other great restaurants are also only within a 5-minute walk.
Here are some of the attractions they managed to tick off the list and some they have marked for a return holiday in the future.
Sunset Point & Hokitika Beach
The West Coast gets some spectacular sunsets and what better place to view one than from Sunset Point at the entrance to the Hokitika Harbour. While you watch the sky turn shades of pink and orange, the kids can scramble over the rocks, collect driftwood, scour the beach for Pounamu (NZ Jade) or hang out on the replica of the 'Tambo' shipwreck.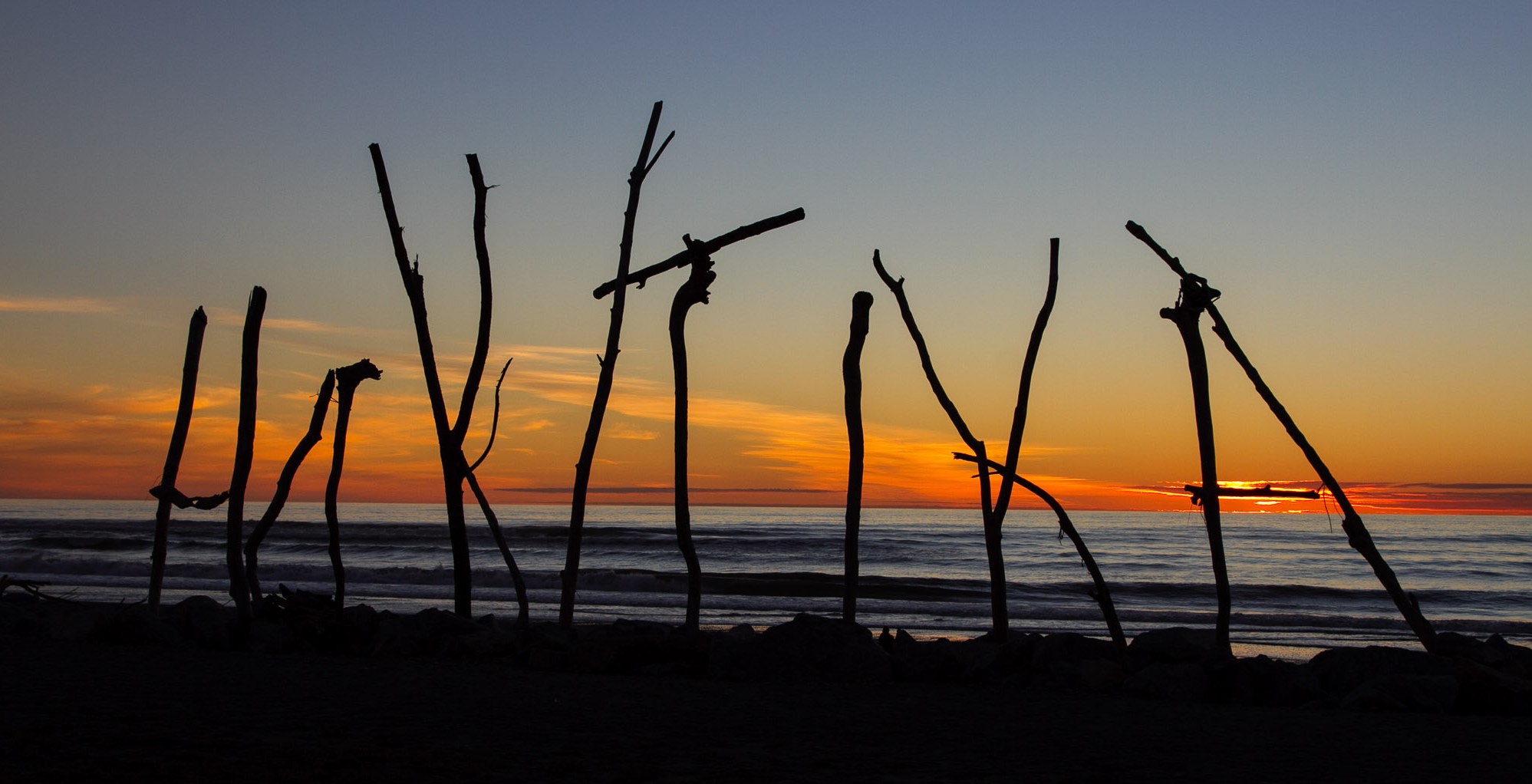 Lake Kaniere
A beautiful lake located 30km southwest of Hokitika amongst lush native bush. Lake Kaniere is steeped in history and is a great place to explore by way of the many trails. From short walks like the Kahikatea Forest Walk, the trees here are known as 'Giants of the Forest' and are New Zealand's tallest forest tree and have been around since the Jurassic period. Another trail delivers you to a magical place featuring Dorothy Falls or takes the longer historic Kaniere Water Race Walkway. Whichever way you head, take a picnic and easily amble away the day.
Hokitika Gorge
The Hokitika Gorge can be combined in a scenic loop with Lake Kaniere and Dorothy Falls. The bright turquoise waters make a vivid contrast to the surrounding bush and rocky outcrops of the Hokitika river and are well worth the visit. It's an easy walk from the carpark into the forest to a viewing platform that looks down onto the stunning Hokitika Gorge. From here continue till the track emerges onto a swing bridge and more stunning views. Still, further, the track then continues to another viewing platform or down onto a small beach. It's magical.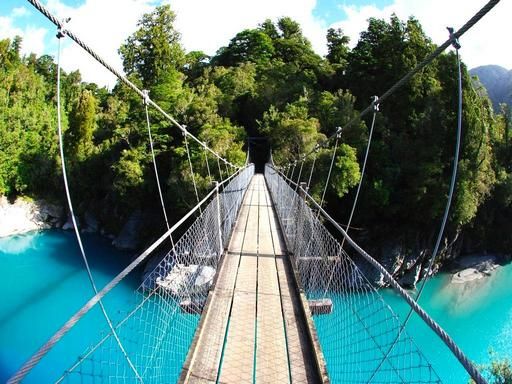 Hokitika Heritage Trail & Township
The heritage trail is an 11km loop around the town that takes in interesting Goldrush sites, buildings, statues and views. There are information panels along the way that bring the history to life.
Hokitika is home to many artisans providing a wide range of arts and crafts. Pounamu (NZ Jadeor was otherwise known as Greenstone) and gold are sourced locally and feature in many of the works. Wander around town and visit these craft shops to watch the artists at work – discover the art of jade carving and glass blowing. Its interesting for all ages. You can even have a go at carving your own jade or bone piece.
Goldsborough
Just as the name suggests Goldsborough is known for its gold-mining history and scenic surrounds. You can get out searching for gold on some of the great little walks in the area. The 20-minute Tunnel Terrace Walk is a great option for kids as it starts and ends through old gold mining tailrace tunnels. The track meanders through a regenerating forest and through old gold workings.
Glow Worm Dell
You should never pass up an opportunity to see glow worms in the NZ bush. Our friends had a wonderful experience. While visiting a local family they were taken through a creek on their property that was dense with bush on both sides. As they waded down the creek at night, apparently they were completely absorbed in the magical fairylike lights of the glow worms whilst the stars twinkled through the canopy of the bush. Sounds amazing!
Hokitika has an easily accessible Glow Worm Dell which is a must see, located just north of the town on the main road. A 50-metre track leads to a natural fern grotto by day and a magical world of glow worms by night. Take a torch and the coolest thing is that is free!!
Treetop Walk & Café
Located 15 minutes south of Hokitika, experience a walk amongst the canopy of the mature rimu forest on a 450 metre long elevated steel walkway, viewing tower and gently swaying cantilever. Spectacular views can be had of nearby Lake Mahininapua, the surrounding forest and the Southern Alps.
Hokitika promotes itself as a Cool Little Town. And we think quite rightly so.