- Take 5, relax and enjoy a read...
Check-in on our New Zealand travel blog for latest news, events and updates - along with a splash of personality from the whole team at Bella Vista!
#TrustBellaVista
Kaikoura Attractions To Fill Your Bucket
---
Posted by Rob Burnell on
---
While our stunning coastline and whale watching excursions are major Kaikoura attractions, there are so many things to do in Kaikoura, you'll be spoilt for choice. Incredible scenic walks, some of the best seafood in New Zealand and dolphin encounters are also hallmarks of our charming seaside village, largely rebuilt following the 2016 Earthquake. Here's our round up of the best things to do in Kaikoura.
Indulge your love of marine life.
Who doesn't love friendly dolphins? One of the most popular Kaikoura attractions are the dolphin encounters, with the tour check in located just ten minutes from the motel. Where else in New Zealand can you get up, close and personal with some of the world's most beautiful sea life? Visitors who book a tour marvel at the pods of dolphin which glide alongside, and you have the option on calmer summer days of swimming with the dusky dolphins right off the boat in a small group. A lifetime memory which most agree, is one of the best things to do in Kaikoura. Booking in advance is highly recommended especially in the busy summer season.
Discover Whale Watching Wow!
Add a whale watching boat tour to the top of your Kaikoura things-to-do list. Around 80% of the world's whale and dolphin species migrate past the town's coastline providing a huge 95% chance of spotting a giant sperm whale on your tour. Whale Watch Kaikoura provide modern catamaran boats with large outside viewing decks and quiet engines to minimise underwater noise. Whale watching is a popular thing to do in Kaikoura, so once again book ahead!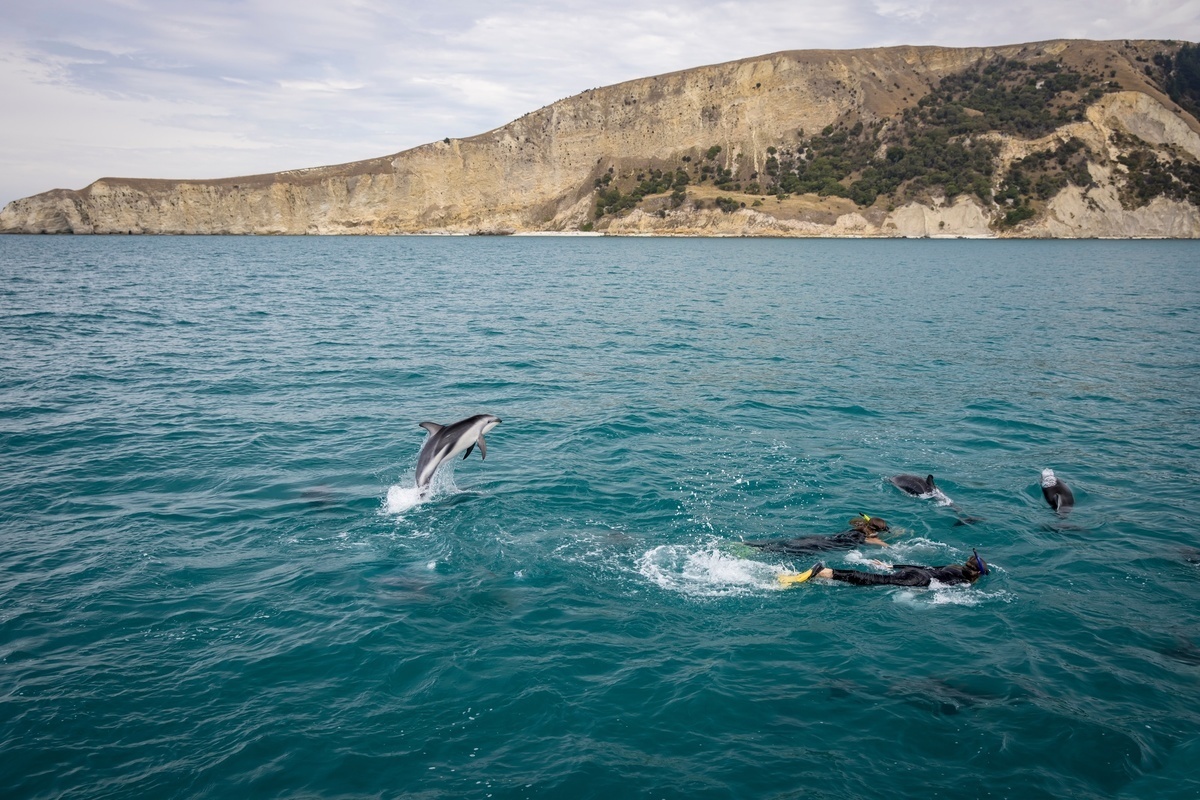 Savour fresh seafood
Kaikoura means 'meal of crayfish' so where better to experience what many believe is the food of royalty than the popular Kaikoura Seafood BBQ stall right by the beach? One of many alfresco places to eat in Kaikoura, choose your crayfish then watch the team grill it to order on the BBQ. With a side serving of rice, garden salad, garlic bread and an outdoor view of the ocean, it'll be hard to beat. Or if crayfish isn't your thing, sample another local delicacy, the mouth-watering whitebait fritters for just $8 a pop or freshly battered blue cod fish and chips.
Visit The Point Kean Seal Colony
One of the best free things to do in Kaikoura is to meet the locals! Which includes the local seals too. You might just encounter a large fur seal lolling on the boardwalk at the entrance to the Point Kean Seal Colony. The ideal time for viewing is at low tide when the seals emerge from the sea, sunbathe and roll around near the car park but please keep your distance and respect the wildlife in this Department of Conservation managed area.
Enjoy the Kaikoura Peninsula Walkway
Feel like a hike? Starting from the Point Kean seal colony main car park, this is one of the best walks in Kaikoura. Take binoculars as you'll be on the lookout for whales and dolphins from the superb coastal vantage points. With informative panels dotted along the route, you'll learn about the history and ecology of the area. The walkway only takes two to three hours to complete so it's a comfortable half-day hike.




Spot an Albatross
High on the list of Kaikoura attractions is the areas' varied birdlife. Nature lovers will relish the diverse seabirds including 12 species of the majestic Albatross, shearwaters, petrel, and several penguins, gulls and protected terns. This is best experienced on an albatross encounter boat cruise with a knowledgeable local guide.
With so many things to do in Kaikoura, ask our guest services team at the Bella Vista Motel for help in deciding, especially when the weather and sea conditions can affect your options. We're only too happy to help and can guarantee you'll have a 'whale of a time' in beautiful Kaikoura.