- Take 5, relax and enjoy a read...
Check-in on our New Zealand travel blog for latest news, events and updates - along with a splash of personality from the whole team at Bella Vista!
#TrustBellaVista
The five best things to do in Whangarei
---
Posted by Bella Vista on
---
Are you staying up north for a while and busy searching for all the best Whangarei things to do? There are dozens of great activities up here in New Zealand's northernmost city – so it was tough to pick our top five! We picked these ones based on all the great feedback we get from happy tourists here at our Whangarei motel.
Visit Kiwi North

Open daily from 10am until 4pm, Kiwi North is one of the best things to do in Whangarei whether you're travelling solo or as a family. At the Kiwi House you can see the endangered Kiwi and Tuatara go about their business; the enclosure is light and climate controlled so that during the day it replicates night time in the wild. If you turn up at the right time you can also see Kiwi feeding take place – this happens daily at 11am, 1pm and 3pm. And that's not all—the Kiwi North 25-hectare property also accommodates the Whangarei Museum and Heritage Park. Here you can learn about the fascinating history of the local area and discover some of Whangarei's oldest buildings including the 1886 "Glorat" Clarke Homestead.
Explore the Abbey Caves
This set of three limestone caves is just a ten-minute drive from our Whangarei motel and is a great option for those looking for something active and adventurous to try out. You'll see stalagtites, glow worms and plenty of native flora and fauna—some explorers even report seeing eels swimming around their feet in the still, clear cave waters. Come prepared for this one—the caves get wet and dark and there's a lot of climbing involved—so a headlamp, torch and suitable footwear are absolute musts! If you're looking for walks in Whangarei with a touch of excitement, this one's for you.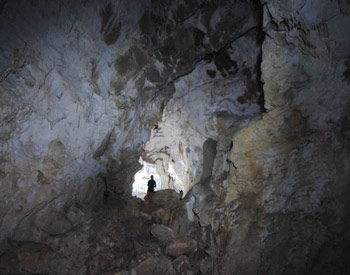 Whangarei Quarry Gardens
Who doesn't love a leaisurely walk around nice garden? This gorgeous subtropical oasis is the result of a mammoth community effort to restore an old stone quarry, and the result is truly spectacular! The Whangarei Quarry Gardens is one of those things to do in Whangarei that's great for all ages. Stroll around camellias, cacti and bromeliads, or take a guided tour on one of the electric golf carts. It's easy to spend hours here; the Quarry Gardens also has its own on-site café serving breakfast, lunch, coffee and treats.
Whangarei Falls
Whangarei Falls is one of the most popular scenic walks in Whangarei. Situated in Whangarei Scenic Reserve, the impressive 26-metre waterfalls are also easily one of the most photographed attractions in the region—and once you get here you'll understand why! The 20-minute loop around the falls is a relatively easy walk, but there are stairs to navigate on parts of the track. Make your way to the two viewing platforms for the very best vantage points to capture the falls in all their glory.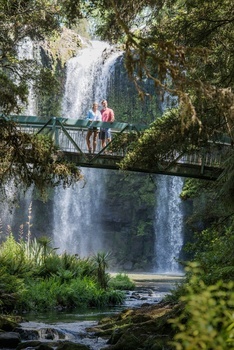 Fishing and diving
In Whangarei, things to do generally centre on the outdoors thanks to our wonderful location. And we believe that but no trip here is complete without getting out on the water! Whether you're an avid diver, a novice fisherman or just keen to take a cruise, there's a selection of local tour companies ready to whisk you out to all the best spots. Poor Knights Island marine reserve has great visibility and an abundance of marine life—so it's perfect for diving and snorkelling. Or let the locals take you to all the best fishing spots and try your hand at hooking a snapper, kingfish, kahawai or trevally. No matter your preference, a day on the water is an absolute must!