- Take 5, relax and enjoy a read...
Check-in on our New Zealand travel blog for latest news, events and updates - along with a splash of personality from the whole team at Bella Vista!
#TrustBellaVista
West Coast Glaciers 101; Exploring Fox and Franz Josef Glaciers
---
Posted by Bella Vista on
---
A few months back we featured a blog post on Glacier Country and what there was to do in this beautiful part of the world. The feedback took us by surprise and we had a number of people contact us asking for further information. As a result of this we've put together a special feature focusing on the various options for those wanting to get out and experience the glaciers first hand, take a read to find out more.
Franz Josef Glacier and Fox Glacier are two phenomenal natural attractions on the West Coast of New Zealand. They are a sight to behold and their presence is awe inspiring to everyone that visits. Here in NZ we are privileged to have these glaciers easily accessible and in our own backyard. It's a fact not many countries get to boast, so make the most of this and embark on a glacier adventure for your next holiday.
First things first, book your Franz Josef accommodation or Fox Glacier accommodation at either of the Bella Vista glacier motels. Bella Vista Motel Franz Josef Glacier and Bella Vista Motel Fox Glacier are both ideally located for glacier adventures, close to the glaciers and guiding companies, handy to the townships and Qualmark 4 star rated to guarantee a quality and comfortable standard of accommodation. Plus there's plenty of safe parking and free WiFi so you can stay connected to the world.
Next you'll need to decide on what kind of glacier experience you want to take part in:
Glacier Walks
Glacier walks are a fantastic option for those wanting to see and learn about the glaciers, but not get out onto the ice itself. Ideal for those with limited time in the area, or those that endure unfavorable weather conditions to partake in one of the helicopter options.
You can venture out on your own, following the Department of Conservation walkways and make your way to the glacier viewing areas. These are easy to moderate walks but do require good footwear and knowledge of the conditions. Your best bet is to call into the DOC office or Westland Tai Poutini National Park Visitor Centre first and get all the information you require.
Alternatively you can join a guided excursion; here you'll learn the history, legends and how these glaciers have changed over time. Your group will follow the glacier path and get close to the terminal face for some fantastic views and photo opportunities.
Options include:
Franz Josef Glacier Guides - Glacier Valley Walk
Fox Glacier Guiding: Fox Trail: Terminal Face Walk
Also check out Glacier Valley Eco Tours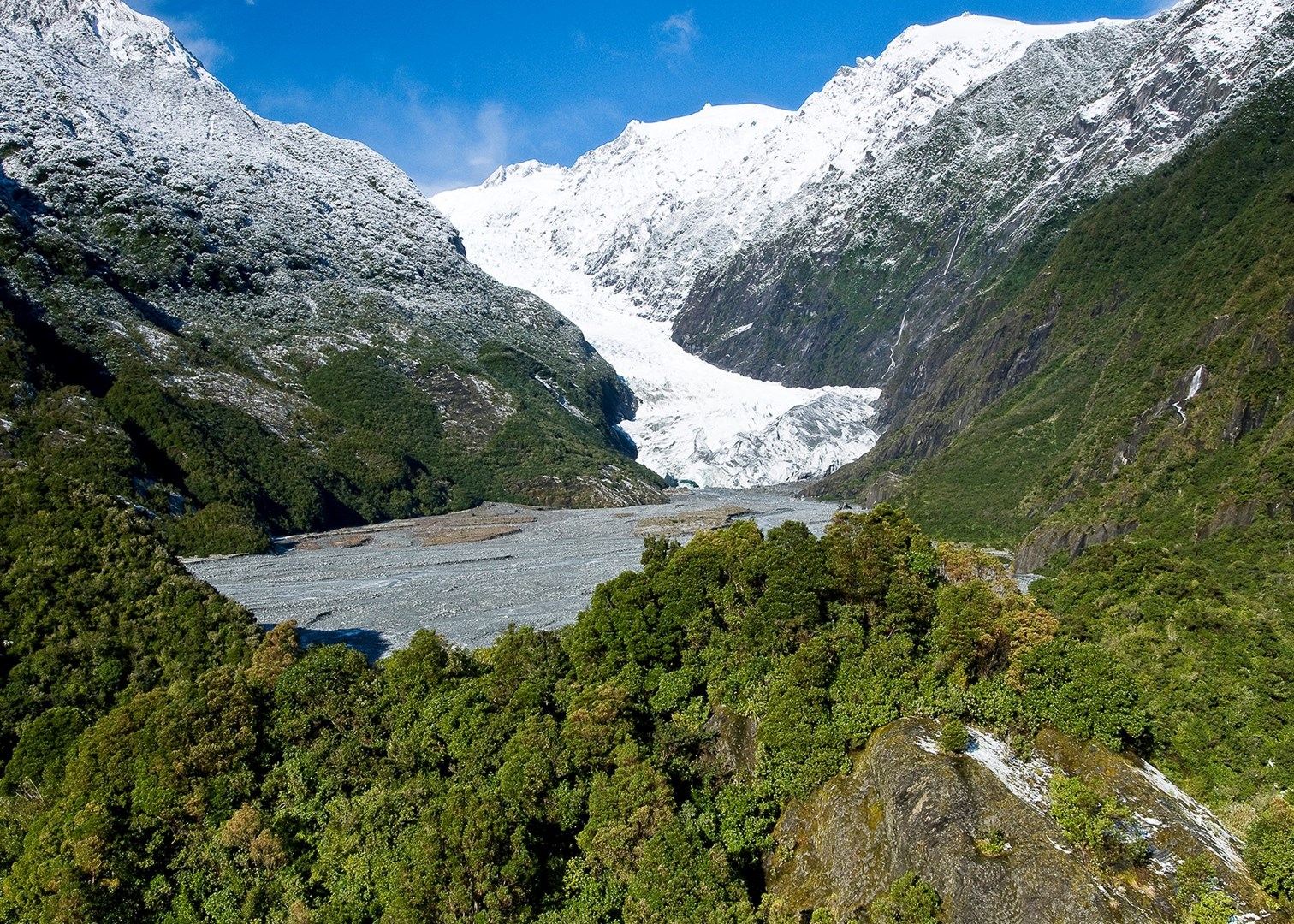 Glacier Heli Hike:
The opportunity to participate in a glacier heli hike is one of those memory keepsakes and something we can't recommend highly enough.
The heli hike sees you boarding the helicopter where you'll fly high above the glacier to get a real understanding of the sheer size and rugged nature of these beautiful formations. The experienced pilot will then complete an ice landing on the glacier, it's here you'll disembark and prepare for your guided glacier hike.
The hike will take you out to some of the most unspoiled scenery you'll ever experience, climbing beneath towering ice peaks, experiencing blue ice, maneuvering through ice caves and crevices and so much more.
This is a once in a lifetime opportunity and if you get the chance (and good weather conditions) grab it with both hands.
Heli Hike options are available on both Franz Josef Glacier and Fox Glacier. Fox Glacier also has a seasonal overnight option.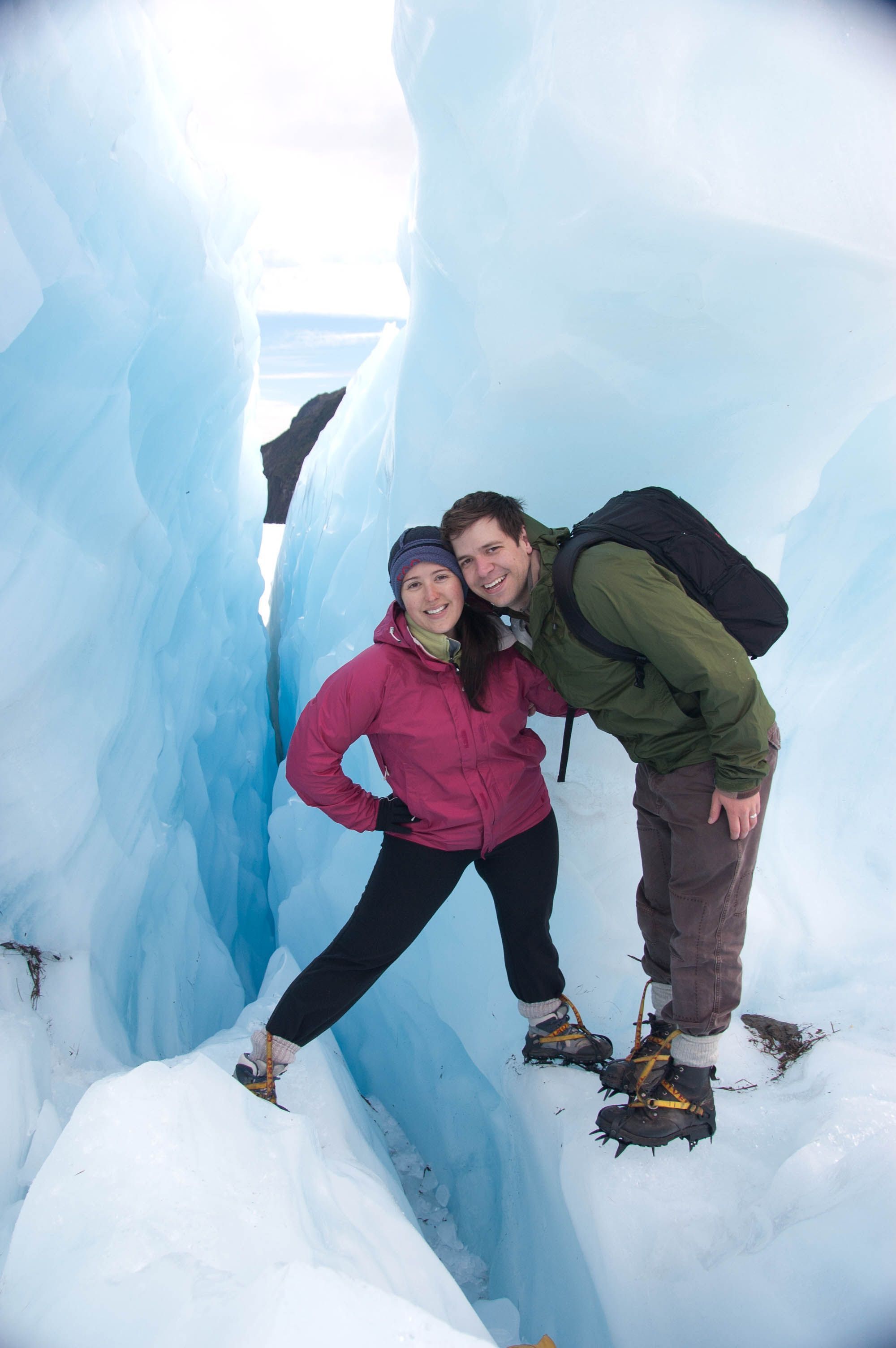 Heli Ice Climb
If you're looking for something that next level challenging, then this is the option for you. A day filled with excitement, exhilaration and an absolute sense of pride once you've conquered some extraordinary climbs and encounters.
Ice Climbing on either Franz Josef or Fox Glacier is as good as it gets, you're in for an adrenaline overload and bucket loads of fun. Believe us if you're this way inclined, you'll not be disappointed with a Glacier Ice Climb.
With the assistance of expert climbers, you'll learn the skills and techniques you'll need to climb this spectacular terrain. All equipment is provided and the climb will be tailored to your skill and level (no experience necessary). The helicopter transfer will take you to the upper parts of the glacier where ice walls and climbing are at their best.
Using crampons, ice axes and other specialist equipment you'll advance quickly, by the end of the day you'll have vertical climbs, overhanging ice walls and pinnacle climbs under your belt.
The Glacier Lowdown
We're undeniably huge fans of the West Coast glaciers and know that you will be too! Here's a little more information that may help you with your adventures.
The safe and responsible way to get out onto the glaciers is by going through a local company with the knowledge, familiarity and the correct equipment. Unless you have exceptional mountaineering skills and local experience we recommend going through Fox Glacier Guiding, Franz Josef Glacier Guides or Glacier Valley Eco Tours.
It can get cold out on the glaciers so we suggest layering up and wearing 2- 4 warm upper body layers. Wool or polypro is ideal for the glacier conditions and layering means you can remove items when you warm up.
But what else do you take? You won't want to take too much up on the ice, the essentials are: camera, sunscreen, sunglasses, water and a light snack.
Insider's tip: If you want to beat the crowds get up early and after a big breakfast at your Bella Vista Motel join one of the first glacier tours (call to book this a day or two before).
There's nothing like seeing Blue Ice for the first time, it's purity and beauty really is something else! You have a very good chance of seeing some if you take part in one of the helicopter options.
At the end of the day you'll feel a real sense of pride and achievement for getting out there on the glaciers, but you'll also have worked up an appetite! Celebrate with a delicious meal at one of the fabulous cafes and restaurants dotted around both Franz and Fox – We're huge fans of Snake Bite Brewery in Franz Josef Glacier and The White Pub Café and Restaurant in Fox Glacier.
We also know that you're likely to be a little tired and achy, the best remedy we have for that is taking some time out to relax at the wonderful Glacier Hot Pools.
For a sneak peak, check out our video below.
For Franz Josef Glacier Bella Vista, contact Adam on 03 752 0008 or use our contact form
For Fox Glacier Bella Vista, contact Bill & Jill or Sue on 03 751 0129 or use our contact form
Otherwise, give us a call today on 0800 BELLA VISTA and we'll get your room ready for you. And remember, it's always cheaper to book directly with Bella Vista's Best Price Guarantee.