---
Posted by Bella Vista on
---
Bella Vista accommodation network takes its corporate responsibility seriously. We believe it is important to pay-forward and offset our business footprint by supporting New Zealand communities within which we operate. Every year a percentage of the Bella Vista motels head office funds are allocated to a worthy community cause, topping up on any activity an individual motel may have undertaken within its community.
In 2016, Bella Vista provided an array of bedding and pillows to the children of a low decile school in the Waitaki region. 'A good night's sleep' is a mantra that Bella Vista follows so being able to extend that opportunity to some deserving children was certainly a worthy exercise.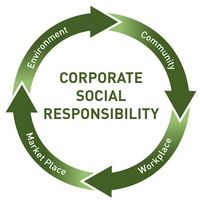 This year, Bella Vista head office extended an invitation to the 27 motels throughout our New Zealand accommodation network asking for them to all pitch for a local cause that they were actively engaged with. After a robust selection process across the entries, it was determined that Bella Vista Franz Josef Glacier would receive the donation.
The Bella Vista Franz Josef motel owner Adam Haugh is very involved with his communities activities and when earlier this year the Franz Josef Glacier Civil Defence team were kitting out a shipping container with supplies and equipment should a natural disaster occur - including everything from tarps, water, fluro paint and power cables, Adam hit upon an idea that once again worked in well with Bella Vista's 'Good Night's Sleep' promise.
No other town faces natural hazard risks quite like Franz Josef Glacier. Not only does the township lie on the Alpine Fault line which snakes through New Zealand's south island, but it is also prone to flooding from both heavy rainfall and also the ever-present risk of the Waiho River that runs adjacent to the town.
Adam proposed that Bella Vista motels could contribute towards the purchase of bedrolls that could be used to make locals and visitors more comfortable in the Community Hall when it is used for emergency accommodation. The need for bedrolls became apparent after the last Civil Defence event in Easter 2016 when visitors and locals had to be accommodated at the Community Hall.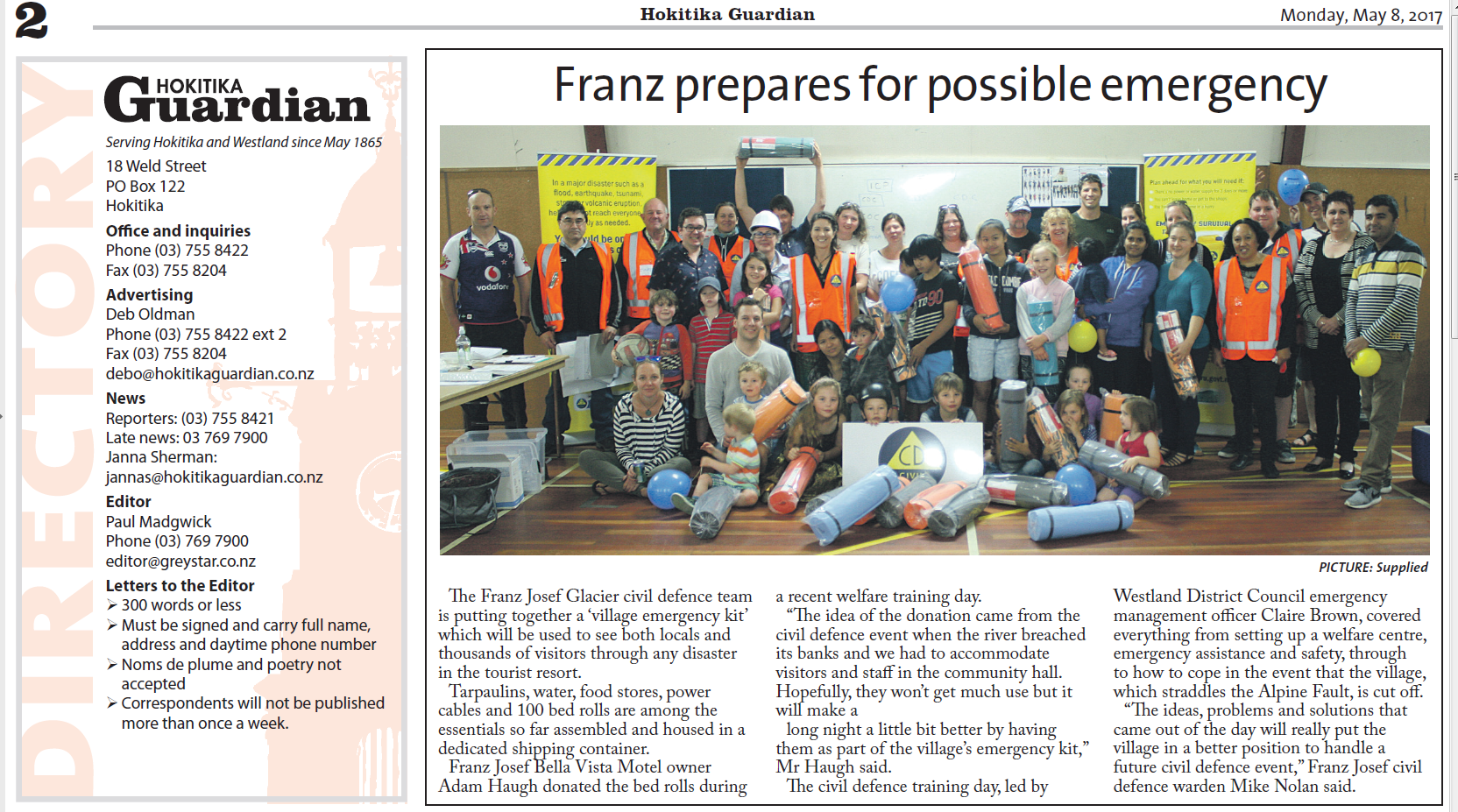 During the height of the summer, Franz Josef holds a few thousand people along with the 350 locals. Anything that can be done to make a disruptive time more comfortable seemed like a great idea. Adam was pleased to present the bedrolls to the Civil Defence team at a training day in April.
Bella Vista was delighted to help with a great cause and, of course, we hope that the bedrolls see very little use!
Bella Vista Franz Josef Glacier is a modern 18 unit motel situated right in the heart of the Franz Josef village and a highly rated Franz Josef accommodation choice. Despite the natural hazards alluded to in this article, Franz Josef Glacier is a fabulous place to visit, a very friendly small village with some great local activities such as the Glacier Hot Pools or the West Coast Wildlife Centre, interesting eateries including the Snake Bite Brewery and of course, the town is the perfect place to explore the glacier from which it takes its name.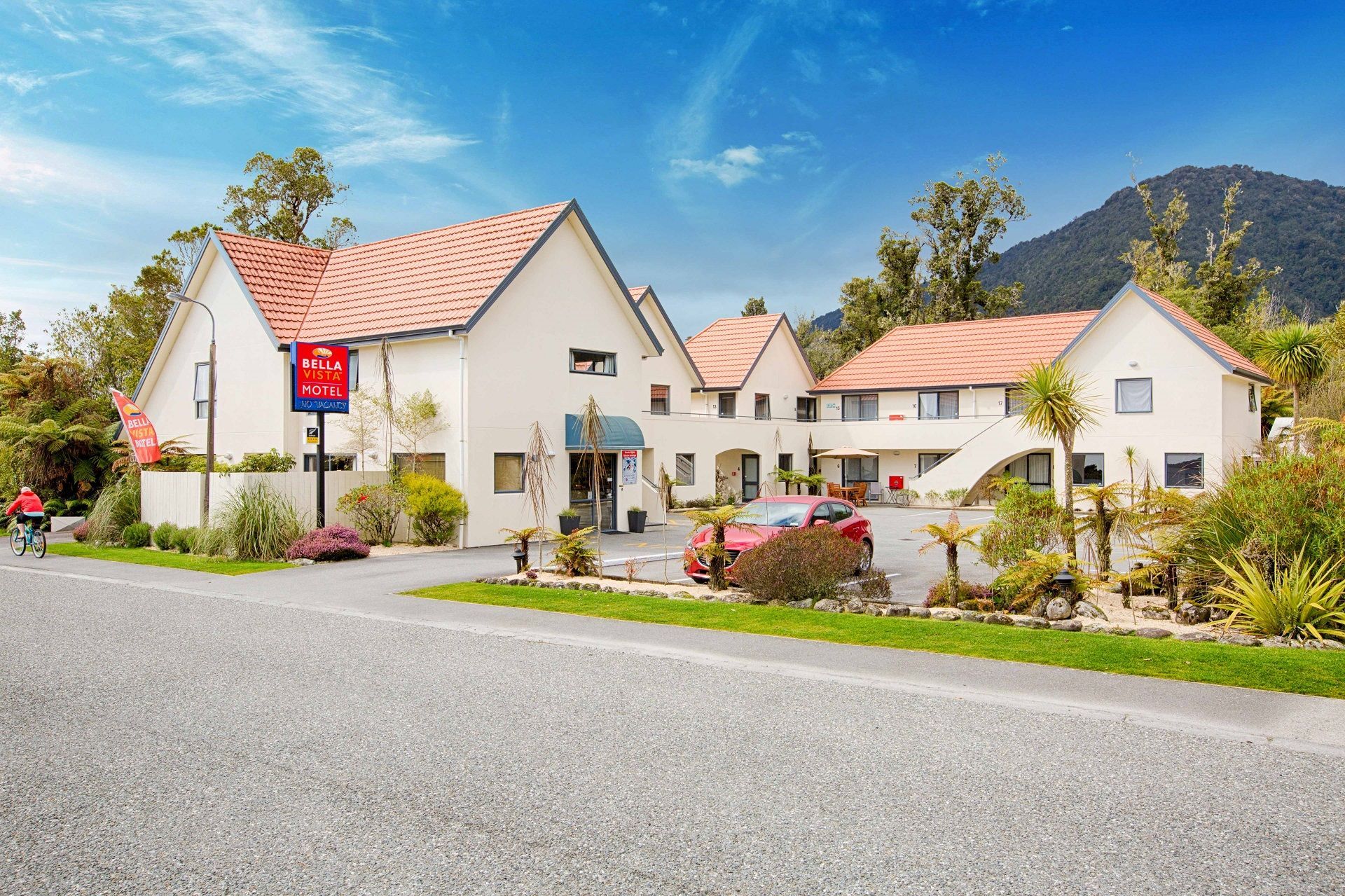 ---