---
Posted by Bella Vista on
---
Come to Ashburton, stay at Bella Vista Ashburton and see 'Ultimate' which showcases one of the world's greatest music legends, David Bowie. If you are a David Bowie fan, an incredible night awaits you on August 18, 2016.
The legacy he left his New Zealand fans is a superb catalogue of music from a stellar 40+ year career and the memories of his many visits to these shores for concerts that have gone down in folklore as some of the biggest ever staged on Kiwi soil.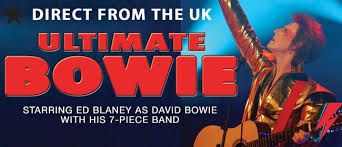 In an authentic celebration and salute to David Bowie, aka Ziggy Stardust and the Thin White Duke, Showcase Entertainment Group and Pacific Entertainment are pleased to present the UK's No. 1 David Bowie tribute show ULTIMATE BOWIE starring Ed Blaney as David Bowie to transport you across the 40 years of Bowie, from Spaceboy to Superstar.
Ed not only possesses Bowie's awe-inspiring vocal prowess but is also the definitive look-alike, commanding the stage and faithfully bringing alive the many sides of Bowie's chameleon personality with precise detail, supported by a seven-piece band.
Ed Blaney's ULTIMATE BOWIE delivers a stunning two-hour show of Bowie classics, from "Space Oddity" to "Let's Dance" to David's latest massive hit "Blackstar".
The Ashburton Trust Event Centre is located a convenient 1.7km away from Bella Vista Ashburton and this one night only showing of 'Ultimate' is already a popular hit and selling out fast! Tickets for this event can be purchased from ticketdirect.co.nz
Ashburton has a lot to offer visitors and we encourage you to explore more. For more information about upcoming events, activities and must do attractions in Ashburton please give Michelle, Paul and the team at Bella Vista Ashburton for more information. Bella Vista Ashburton still has a few rooms available for the 'Ultimate' performance, giving you the opportunity to plan a night or a well-deserved long weekend away from home. Contact [email protected] or 03 307 7505 today for more information.
---