---
Posted by Bella Vista on
---
Wanaka is becoming the must-visit destination for cyclists. Whether you are a mountain bike rider or prefer a road bike, there are plenty of options to choose from. The team at Bella Vista Wanaka accommodation will be happy to host you and lend you their advice during your stay.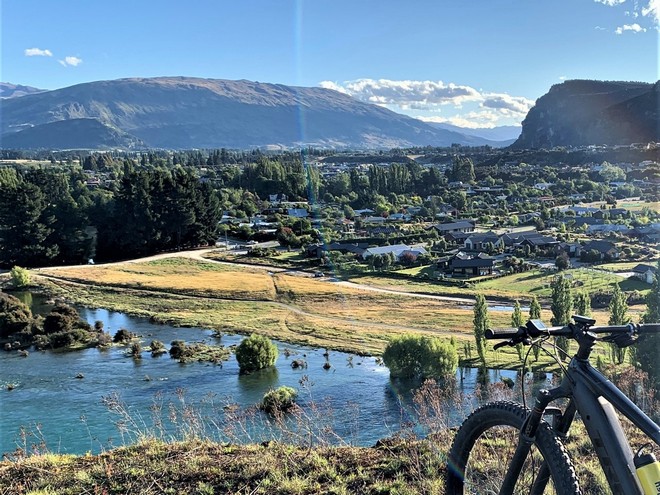 Here's Bella Vista's rundown of the top ten rides in the Wanaka region:
1. Hawea River Track (MTB)
Suitable for all ages and experience, this 12km riverside track is over easy country and links Lake Hawea township to Wanaka, via Albert Town. Plenty of opportunities to stop for a coffee and a treat!
2. Newcastle & Upper Clutha River Track Loop (MTB)
By combining the Newcastle and Upper Clutha River Track you get a great loop circuit of about 35km in length. With stunning views up and down the Clutha River, and plenty of places to stop for a beer or coffee, this is a good track for those looking for something a bit longer. Stop off at the Luggate Hotel, Hook or Pembroke Patisserie and Double Black Café for treats on the way!
3. Glendhu Bay Track & Bike Glendhu (MTB)
For spectacular lake and mountain views, it's hard to go past the 15km Glendhu Bay Track. The first section of the track is quite hilly with some short, steep sections and drops, intended for intermediate riders only. Be sure to watch out for and give way to pedestrians.
Just up the road from Glendhu Bay is Bike Glendhu, Wanaka's newest mountain bike park. The park consists of 1,000 hectares over impeccable trails, designed for specifically for mountain biking. With peaks that drop from sky to water, alpine rocks, roots and remarkable views, it's a paradise for dirt lovers.
4. Sticky Forest (MTB)
This fun network of single tracks makes the best of the pine forest located within the Wanaka township. There are over twenty tracks to choose from for intermediate to advanced riders. To get some practice nailing those jumps, head to Lismore Jump Park.
5. Deans Bank & Hikuwai Loop (MTB)
The Hikuwai Loop is about a 9km circuit depending on where you start and finish the track. Deans Bank is an 11km fast, flowing single track loop for intermediate to advanced mountain bikers with some great banks and berms.
6. Cardrona Valley (MTB & Road Bike)
In the summer months, you can head up to Cardrona Alpine Resort for downhill biking and mountain carting, while across the valley on the Pisa Range are a number of tracks and even huts to stay in overnight. For road bikers, the 90km return ride to the top of the Crown Range offers a great workout as well.
7. Treble Cone Return (Road Bike)
The rolling terrain of Mt Aspiring Road makes for great road riding, with several fast flats that are irresistible for testing your sprinting legs. 45km, 1-2 hours return.
8. Lake Hawea Circuit (Road Bike)
Generally, a flat or gently undulating ride, the 50km loop from Wanaka to Lake Hawea and back via Wanaka Airport is mostly on quiet, rural roads and includes great views of Lake Hawea. Maybe this is why it is a favourite with the locals.
9. The Neck (Road Bike)
This must be one of the most spectacular road bike rides in New Zealand and offers epic lake and mountain scenery. Turn around at The Neck for an 80km return ride from Wanaka, or continue to Makarora and even Haast Pass for even more spectacular scenery and views of Mt Aspiring National Park. Warning: The road does get hillier from The Neck onwards!
10. Tarras & Ardgour Road Loop (Road Bike)
A fast, mostly flat ride through the Upper Clutha River valley and onwards to Tarras where you take a superb section of quiet, rural road and loop back around to Tarras. Luckily, there is a great coffee stop here to help keep you going on this 95km ride.
Bella Vista Wanaka accommodation is located right in the centre of town, just one block from Lake Wanaka. If you are travelling with your bike do get in touch to ensure we can meet all your cycle focused needs. We are looking forward to hosting you.
---