- Tick every box when it comes to seeing the highlights of the south.
New Zealand's South Island is incredibly beautiful but deceptively large, so travellers often underestimate the time needed to explore. This New Zealand self-drive itinerary focuses on the Deep South, starting and finishing in the Garden City of Christchurch. Highlights include the absolutely breath-taking southern lakes district, the infamous Milford Sound, and the historic city of Dunedin. There are some big drives so we would recommend breaking up the journey by booking extra nights at some of the stops!
Starts: Christchurch
Ends: Christchurch
We recommend you book a minimum of 7 nights' accommodation.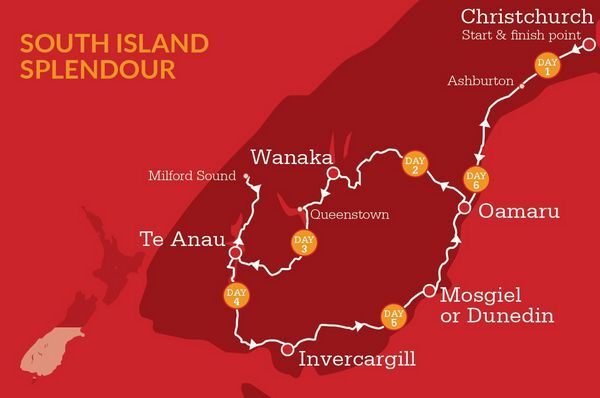 6 Day South Island Self-Drive Itinerary

Day 1: Christchurch to Oamaru
Day 2: Oamaru to Wanaka
Day 3: Wanaka to Te Anau
Day 4: Te Anau to Invercargill via Milford Sound
Day 5: Invercargill to Mosgiel or Dunedin
Day 6: Mosgiel/Dunedin to Ashburton/Christchurch
Detailed Itinerary
Day 1 – Christchurch to Oamaru (3.5 hrs)
From Christchurch you head south and through Ashburton on the way to your first destination, Oamaru. Known for its 19th Century architecture, we recommend a wander around the Victorian Precinct and a visit to the Steampunk museum. Another big Oamaru attraction is the Blue Penguin colony - the popular Penguin Express bus tour is highly recommended and will pick you up from the Bella Vista Oamaru motel.
Day 2 – Oamaru to Wanaka (3.5 hrs)
The drive west from Oamaru to Wanaka is simply stunning, travelling along the canals and through the Mackenzie District. We recommend taking a short detour up to Lake Pukaki, where on a good day you can see across the sparkling turquoise waters to Mt Cook, New Zealand's tallest mountain. On the way back, stop at the High Country Salmon Farm to taste fresh sashimi or feed the fish. Wanaka is a beautiful lakeside resort town and the Bella Vista Wanaka motel is right in the centre, a minute's walk to the lake. There are also many good restaurants all metres away from the accommodation.
Day 3 – Wanaka to Te Anau (3.5 hrs)
Take the morning to explore Wanaka. There's skydiving and jet boating for the adrenalin junkies, and hiking enthusiasts may wish to stay an extra night or two to experience one of the area's many amazing walks. In the winter, the town is overtaken by snow bunnies keen to make use of the nearby ski fields, Cardrona and Treble Cone.  
After departing Wanaka, take the Crown Range road (the highest in the country) and be rewarded with breath-taking views coming into Queenstown. If time permits, we recommend stopping here for a night or two. Otherwise continue on to Te Anau, the gateway for Fiordland National Park and Milford Sound.
Day 4 – Te Anau to Invercargill via Milford Sound (8 hrs)
We strongly recommend a day trip to either Milford or Doubtful Sound before driving onwards to Invercargill, New Zealand's southernmost city. Many visitors use Invercargill as a pit-stop for the Catlins and/or Stewart Island and there is a good selection of eateries, shops and interesting mix of architecture from the Art Deco, Victorian and Edwardian eras. You can catch a ferry to Stewart Island from the nearby town of Bluff, famous worldwide for its oysters.
Day 5 – Invercargill to Mosgiel or Dunedin (3 hrs)
Take a leisurely drive through the Catlins region, famous for its rugged coastlines, podocarp broadleaved forests, lakes and waterfalls. There are plenty of opportunities to stop and take in the expansive deserted beaches and wildlife. Tonight you have a choice of staying in central Dunedin (the 'Edinburgh of the South') or on the city fringes in quiet Mosgiel. Our Dunedin motel is only 1km from the Octagon where you can find many great bars and restaurants.
Day 6 – Mosgiel/Dunedin to Ashburton/Christchurch (5.5 hrs)
Before leaving Dunedin we recommend a tour of the Albatross Colony on the Otago Peninsula, a visit to the Speight's Brewery or Cadbury's Chocolate factory (depending on your tastes!), and/or a turn in the botanical gardens.
On your way north, make a stop at the Moeraki Boulders, large mysterious spherical boulders formed over millions of years that now litter the beach and cliff edge. In the evening you have a choice of returning to Christchurch or staying overnight in Ashburton, only an hour from Christchurch International Airport.
Please note, this is a sample itinerary only providing an illustration as to how a South Island self-drive holiday using Bella Vista accommodation might look. Driving times are shown in brackets and are estimated using AA Travel calculations.