- A truly fantastic journey, following the coast to the capital.
New Zealand's South Island is incredibly beautiful but deceptively large, so travellers often underestimate the time needed to explore. This South Island road trip takes you from the Garden City of Christchurch and meanders north to our 'coolest little capital in the world' Wellington, with natural hot pools, vineyards and golden sand beaches along the way!
Starts: Christchurch
Ends: Wellington
We recommend you book a minimum of 7 nights' accommodation.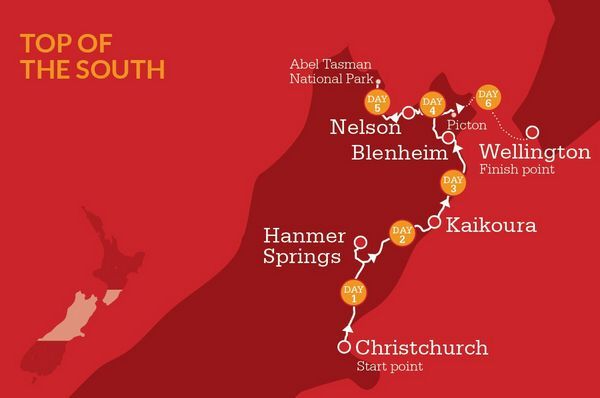 6 Day New Zealand Self-Drive Tour

Day 1: Christchurch to Hanmer Springs
Day 2: Hanmer Springs to Kaikoura
Day 3: Kaikoura to Blenheim
Day 4: Blenheim to Nelson
Day 5: Abel Tasman National Park Day Trip
Day 6: Nelson to Wellington



Detailed Itinerary
Day 1 – Christchurch to Hanmer Springs (2 hrs)
Hanmer Springs is a popular destination for New Zealanders and international visitors alike, all travelling to experience the natural hot springs and spa. The alpine resort town sits just 90 minutes' north of Christchurch and is any outdoor enthusiast's paradise, with hiking, mountain biking, jet boating, bungy, skiing and even golf. Our Hanmer Springs motel is an easy walk to the thermal pools as well as local restaurants and boutique shops.
Day 2 – Hanmer Springs to Kaikoura (2 hrs)
Another short drive takes you north and along the beautifully rugged coast to Kaikoura. The ocean here is as deep as the mountains are high, with a deep sea trench bringing an assortment of wildlife close to the shore, including dolphins, whales, seals and albatross. Start with a walk over the Kaikoura peninsula down to the seal colony, where you can find many lazy seals basking on the rocks and in the grass. In the summer there is often a local seafood cart nearby which makes a great lunch or afternoon snack!
Day 3 – Kaikoura to Blenheim (2 hrs)
Start the day with either dolphin swimming or whale watching – two great activities that get you out onto the ocean and up close with these amazing animals. The Bella Vista Kaikoura motel is just a few minutes' walk from the Dolphin Encounter base. Afterwards, head north to Marlborough, world famous for its wines – in particular, the sauvignon blanc. Most wineries allow tastings and many have informal restaurants perfect for a bite to eat. Take a wine tour and let someone else do the driving – ask your hosts at the Bella Vista Blenheim motel for recommendations.
Day 4 – Blenheim to Nelson (1.75 hrs)
On the way to Nelson, we suggest you break up the drive with a lunch stop at Havelock, known for its mussels.
Nelson is a region of beaches, markets, gardens, crafts, and a wonderfully relaxed pace of life. It has some of the highest sunshine hours in New Zealand, and the Bella Vista Nelson motel is minutes from Tahuna beach, the perfect place to enjoy a summer's afternoon.
Day 5 – Abel Tasman National Park Day Trip
Many visitors come to Nelson to experience the Abel Tasman National Park, just an hour's drive from the city. With lush green rainforest, golden sand bays and sparkling oceans, you may wish to extend your time here. The walk is not a circular track so it is a good idea to arrange a water taxi to either drop you off or pick you up (or both).
Day 6 – Nelson to Wellington (6 hrs)
On your final day you cross the Cook Strait on the inter islander ferry, which leaves the pretty port town of Picton. The ferry journey is 3 hours and takes you through the Tory Channel in the beautiful Marlborough Sounds – endless rolling hills covered in native New Zealand bush. When you arrive in Wellington you are only a 10 minute drive to the Bella Vista Wellington motel, a great base for exploring the city and close to the international airport.
Please note, this is a sample itinerary only providing an illustration as to how a South Island self-drive holiday using Bella Vista accommodation might look. Driving times are shown in brackets and are estimated using AA Travel calculations.