- Soak up all that is special and unique about New Zealand's West Coast.
New Zealand's South Island is incredibly beautiful but deceptively large, so travellers often underestimate the time needed to explore. This self-drive trip itinerary begins in the Garden City of Christchurch and makes its way down the West Coast to Queenstown. Along the way you'll experience some of the country's most dramatic landscapes, including Arthur's Pass, Pancake Rocks, and the Franz and Fox Glaciers.
Starts: Christchurch
Ends: Queenstown
We recommend booking 6-7 nights' accommodation for this trip.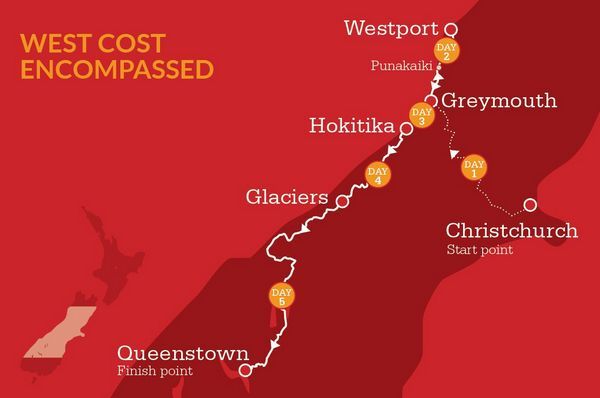 5 Day South Island Self-Drive Tour

Day 1: Christchurch to Greymouth (TranzAlpine Train)
Day 2: Greymouth to Westport via Punakaiki
Day 3: Westport to Hokitika
Day 4: Hokitika to Glaciers
Day 5: Glaciers to Queenstown
Detailed Itinerary
Day 1: Christchurch to Greymouth (TranzAlpine Train)
Your South Island adventure begins on one of the world's most spectacular rail journeys, The TranzAlpine, which will traverse the Canterbury Plains before cutting through the majestic Southern Alps through Arthur's Pass. Even on wetter days, the scenery is breath-taking. The train takes around 5 hours and brings you to Greymouth on the West Coast. Here you can pick up your rental car and check in to the Bella Vista Greymouth motel, centrally located close to the rail station. If required, there is a free transfer to the accommodation.
Day 2: Greymouth to Westport via Punakaiki (1.5 hrs)
The South Island's West Coast is wild and rugged, covered in lush rainforest and reminding you of a time before civilisation. The stunning drive to Westport takes you through Punakaiki, home to the famous Pancake Rocks, named after their strange-looking formation. After taking time to see the rocks and blowholes (best at high tide), you carry on to Westport. Our Westport motel is easy to find near the river on Palmerston Street.
Day 3: Westport to Hokitika (2.25 hrs)
Westport was a town formed from gold mining, but now it is coal that's mined. Visit the seal colony nearby at Cape Foulwind, where there can be up to 100 New Zealand fur seals. Outdoor enthusiasts will be satisfied with the range of adventure activities, including caving, underground rafting, kayaking, jet boating and white water rafting. From Westport you return south to your accommodation in Hokitika and if the evening is fine, we suggest a stroll along Hokitika beach to enjoy the amazing sunset.
Day 4: Hokitika to Glaciers (2.5 hrs)
Another gold town, Hokitika was first settled in 1860. The town is also home to some galleries specialising in pounamu jewellery (greenstone) and you can usually view the carvers at work. Before setting off south, we recommend the West Coast Treetop Walk as a great activity for all that gets you immersed high in the rainforest in the ancient Rimu and Kamahi tree canopy.
This evening you have a choice between accommodation in Fox or Franz Josef Village. Both are close to their respective glaciers, which you can experience with a heli-hike either that afternoon or in the morning.
Day 5 (or 6): Glaciers to Queenstown (6 hrs)
The glacier heli-hike can be very weather dependent, so you may wish to allow two nights in Fox or Franz to ensure you aren't disappointed. After your hike, enjoy a well-earned dip in the Franz Josef hot pools. The drive to Queenstown is reasonable, so allow enough time and break it up with some of the many viewpoints and short walks along the way. Close to Fox Glacier is Lake Matheson, famed for giving a picture perfect reflection of the Southern Alps. On arrival, the Bella Vista Queenstown motel offers a warm welcome just 300 metres north of the town centre.
Please note, this is a sample itinerary only providing an illustration as to how a South Island self-drive holiday using Bella Vista accommodation might look. Driving times are shown in brackets and are estimated using AA Travel calculations.