- Head to Napier for a fab weekend getaway
"Head to the Bay" they say. Well now we know why and maybe you should find out for yourselves. Napier and Hawkes Bay is a magical weekend destination.
Jimmy & Wendy look forward to hosting you.
#TrustBellaVista
It's time to check out what is so great about the sunny Hawke's Bay city of Napier! 
With a warm and relatively dry Mediterranean climate, it boasts a lively entertainment scene and vibrant café culture that includes many outdoor and indoor activities such as city tours, swimming, golf, sports, restaurants, excellent cuisine, theatres, a thriving nightlife scene, and an established wine industry.
Napier is also host to many events such as the Tremains Art Deco Weekend event, a celebration of its Art Deco heritage and history; F.A.W.C! Food and Wine Classic events; and the Mission Estate Concert at Mission Estate and Winery. There's enough to keep you entertained for a weekend or more!
Friday Afternoon
Whether you are flying into Napier Airport, driving up from Wellington or over the Napier-Taupo hills, arriving into this seaside resort-like town has an air of difference to other New Zealand towns. You will find your Napier accommodation easily as the Bella Vista Motel Napier is centrally located, nearby to shops, restaurants, Art Deco buildings and just metres from one of Napier's most famous highlights - Marine Parade. This famous boulevard is lined with majestic Norfolk Pines and fronts onto a sweeping stretch of the Pacific Ocean.  Your accommodation is one block back from Marine Parade so you're amongst the action.
After checking in, it's time to take a take a leisurely stroll down the ocean-side walkway,  where you will encounter a playground mecca for all ages. The National Aquarium of New Zealand, children's bike track and play area, skate park, Sunken Gardens, Ocean Spa Swimming Complex and Mini Golf, the Soundshell, an ocean viewing platform and the Pania of the Reef statue can all be found within a short walk.
The National Aquarium of New Zealand is located on the south end of Marine Parade. Nowhere in New Zealand can you experience a large and diverse range of aquatic animals and wildlife. Feeding piranha, penguins, swimming with the sharks and close encounters with Kiwi, Tuatara or an alligator are optional extras that allow you to intimately experience what goes on behind the scenes.
Friday Night
Tonight, head out to Ahuriri, an historic marina and waterfront area of Napier, 5 minutes from the CBD, and popular with both locals and tourists for its sandy beach, convenient boardwalk and a vibrant nightlife. In Ahuriri you could eat something different every night for two weeks, and still not be bored! We recommend watching the sunset on the harbour while you enjoy a cocktail at the Gin Trap in West Quay before treating yourself to a cosy, romantic dinner at the European style bistro Three Doors Up. A firm favourite with locals so best to book. After dinner head to the end of the citrus grove pathway, leading alongside the Restaurant and relax in the intimate 4th Door Lounge Bar – a chic New York style Lounge Bar with its own covered courtyard. A great end to an exquisite evening!
Saturday Morning
After a leisurely breakfast either in your Bella Vista motel or in one of Napier's many nearby café's, head to the Art Deco Centre for a morning guided walking tour of Napier's Art Deco highlights. In 1931 Napier was levelled by a dramatic and devastating earthquake but was remarkably rebuilt within 2 years in the Spanish Mission / Art Deco style. Today, the city's major tourist attraction is its architecture and is now recognised as the most complete Art Deco city in the world.  Your tour begins with a viewing of the 1931 earthquake film, then you will embark on a 1 hour walk with a professionally trained Art Deco Trust guide.  Alternatively you can relive the glamour and style of the jazz era with a luxurious vintage car tour.  Whatever you choose, you'll hear the story of the earthquake that devastated Napier in 1931 and be introduced to the Art Deco style and hear stories of the characters involved in rebuilding this city.
Saturday Afternoon
This afternoon its time to explore and savour some of Hawke's Bays world famous wines and take in the stunning views along the way.  Take a guided wine tour or download the Wine Trail Map and plan your own self-drive tour to visit some of the 72 wineries in Hawke's Bay.
Make sure you taste a fabulous winery lunch at one of our top 3 picks: 
Mission Estate Winery is New Zealand's oldest winery and the views over Napier city and beyond will blow your mind. The building, its location and the overall feel are hard to beat and eating lunch on the outdoor dining terrace will be the highlight of your trip with the waiting staff all trained to provide the best wine match option for each dish on the menu, it really is a winery sent from heaven.
Black Barn is a boutique vineyard and their bistro is in the midst of the vineyard, with an emphasis on freshly grown Hawke's Bay produce. There's something here for everyone including those stopping for coffee or nibbling from the small bites menu.
Clearview Estate Winery & Restaurant is situated on the coastline of Hawke's Bay, in Te Awanga. The 'Red Shed' Restaurant is nestled amongst the vines and seasonal dishes are created using fine local seafood, meat, poultry, dairy & artisan produce. Combined with fresh herbs, olives, citrus & avocados from the estate gardens. Bakery & desserts are baked daily on the premises & coffee is locally roasted. For wintery days cosy up to the huge fireplace.  There is also a heated pavilion.
Saturday Evening Dinner & Beyond
To enhance your Art Deco experience in Napier head to the Emporium Eatery & Bar for dinner.  Located in the iconic Art Deco Masonic Hotel, the restaurant features plush high-backed chairs and the food is contemporary.  With rich wood furnishings and mood lighting that is warm and inviting you'll be transported to the jazz-era days whilst sipping pre-dinner cocktails in the lounge. 
If you fancy sampling more of Napier's nightlife be sure to check out one of the many bars such as Monica Loves, a groovy bar found down a side lane serving local beers, cocktails and tapas.
Sunday Morning
After checking out of your Bella Vista Napier accommodation, there is still time to soak up some sun and enjoy more of what Hawkes Bay has to offer.  
Browse through the high street and boutique stores and wander through the antique shops, art galleries, and studios of potters, wood turners and craftsman.
Tour the historic Napier Prison at the northern end of Marine Parade. It's the oldest prison in New Zealand and visitors can learn about the history of prisons. It is also the only place in Napier where some of the earthquake damage has been left in place
View the Seawalls street art, a project created to help bring the beauty and the plight of the world's oceans into streets around the globe via art and activism. Download and print a location map so you can see where to find them.
Take a drive up Bluff Hill for tremendous sweeping views from Mahia Peninsular across to Cape Kidnappers or take a stroll along the boardwalk to Bay View.
Or maybe you could finish your weekend off with a round of golf or a relaxing treatment at the Ocean Spa.  
Whatever your needs the friendly team at your Bella Vista Motel will be happy to help arrange activities or provide you with some local top tips!  Peak summer months and the Art Deco events can book a long way in advance so get in early if you wish to stay.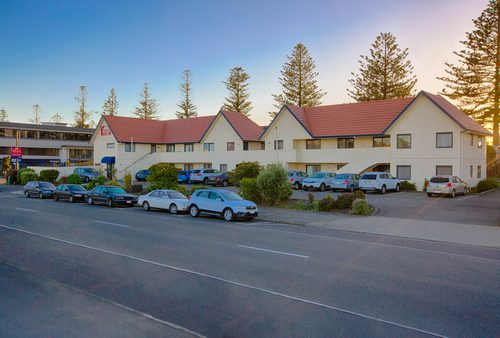 Bella Vista Motel Napier
Centrally located near the heart of Napier's famous Art Deco centre on a quiet street, this property offers the highest quality comfort.