- Rotorua is waiting for you. Why wait?
They used to say 'Rotorua, Where One Night is Not Enough' We'd agree! Book a weekend at Bella Vista Rotorua and enjoy a two night stay.
Dennis & Sirin are looking forward to hosting you.
#TrustBellaVista
Rotorua is an amazing destination to take yourself away to for the weekend.  Not only is it the culture capital of NZ but there is so much to do here that it always leaves you wanting to come back for more. 
From relaxation, food, nature, culture, craft to geo-thermal activities, fishing, boating and thrill-seeking adventure - no matter what you're after in your weekend, Rotorua will excite!
 
Friday Afternoon
The city of Rotorua sits on the south shore of Lake Rotorua, one of many lakes in the area that were formed through volcanic activity thousands of years ago.  You will find your Bella Vista Rotorua accommodation in a fantastic location on Lake Road. Your Rotorua motel is central to all of Rotorua's main city tourist attractions, within walking distance to the CBD, lakefront and 'Eat Street' restaurants, and located across the road from Kuirau Park with its steaming lake and bubbling mud pools.
This afternoon, once you've settled into your Rotorua motel spend the afternoon exploring by foot.  Just across the road from your accommodation in Rotorua is Kuirau Park, a world-renowned thermal park with bubbling mud pools, boiling water and steam plus magnificent gardens. It's a public park and walking tracks lead to numerous areas of vigorous geothermal activity.
From here, continue across the road from the Bella Vista to Ohinemutu, an historic living Maori Village.  Hear about the history of Te Arawa Tribe, visit the historic St Faiths Church and learn firsthand about its history, culture and traditions. Keep to the paths as you will see why this area was chosen for its rich geothermal energy, used for cooking, bathing and heating.
If time permits, it's a 10 minute walk to downtown Rotorua.  Wander through the picturesque Government Gardens marvel at the architecture of the historic tudor-style bath house or relax in the tranquil setting by the lake.

Friday Night
No trip to Rotorua is complete without gaining insight into the local Maori Culture through one of the amazing cultural experiences that are on offer.  So tonight head out to Mitai Maori Village for an authentic evening in a natural bush setting: feast on a traditional hangi meal, cooked in an earth oven known as a 'hangi pit'; be spellbound as you see warriors by night in traditional dress paddling a waka, an ancient warrior war canoe; feel the emotion and power of the cultural performance as you learn the tales of their past; and be guided on a bush walk to see Rotorua's only glow worms in their natural setting, a magical backdrop to the crystal clear water flowing from the sacred Fairy Spring.  A truly captivating and unforgettable night!
Saturday Morning
What better way to start your day than with a 1-hour scenic lake cruise on board the Lakeland Queen, a Mississippi river-style paddlewheel steamboat.  Enjoy a full buffet breakfast as the early morning light reflects off the waters of the beautiful Lake Rotorua and enjoy the wonderful views of Kawaha Point, Sulfur Bay and Mokoia Island.
From tranquility to adventure, after you depart the Lakeland Queen you'll make your way to Rotorua Canopy Tours for an unforgettable eco-adventure deep into native New Zealand Forest.  Here you'll learn how their conservation efforts are bringing the forest back to life, you'll hear the wonderful bird chorus and have a thrilling zipline ride to create a lifelong memory.
There are two tours to choose from: The Original Canopy Tour that includes swing bridges and a 200m long zipline all from the top of the Canopy; or The Ultimate Canopy Tour that is higher, longer and more spectacular including a cliff walk and spiral staircase – go on I dare you!
The kiwi guides are highly trained, will teach you amazing things and make sure you have the best time ever!
Saturday Afternoon
The thrills don't stop there!  Across the road from Rotorua Canopy Tours base is the Skyline Rotorua Gondola and Luge.  Head on over and take the gentle scenic ride up to the top complex.
At the top of the Gondola you will find Volcanic Hills Winery tasting room. Here you can sample a range of wines from grapes grown in some of New Zealand's prime wine-growing regions. Sit back, relax and enjoy a scrumptious antipasto platter or cheese board while gazing out at the panoramic views.
The rest of the afternoon is spent here where you can experience more adrenaline thrills or a sedate walk around the nature trails.  Zoom down the slopes on the luge, make the 150kph drop on the Skyswing or check out the views while you fly through the Redwoods with Zoom Ziplines.
Saturday Evening, Dinner & Beyond
Tonight, head over to Rotorua's trendy Eat Street for dinner.  The street has been turned into a unique and lively entertainment area with restaurants, cafes and bars and includes a covered central walkway with retractable roofing for those summer days of al fresco dining or the cooler nights for a cosier experience including a thermally heated footpath!
Whether its gastro pub, Indian tandoori, Italian, Thai or some other great New Zealand cuisine, the choice is yours.
End your evening soaking up the live music vibes in the Ponsonby Road Lounge Bar or Sobar.

Sunday Morning
After checking out of your Bella Vista Rotorua accommodation its time for a soak in one of Rotorua's famous thermal hot pools – what better way to end your fabulous weekend than by feeling relaxed and rejuvenated.
Here are a few to choose from:
Waikite Thermal Valley Pools Spring and Spa – situated 25 minutes south of Rotorua you can enjoy the unique 'Living Water's' of the Te Manaroa spring, the largest single source of 100% pure geothermal water in New Zealand.  Check out the different pools and explore the Eco-Trail.  There is also an on-site café.
QE Health Wellness and Spa – Began as a rehabilitation centre at The Bathhouse (now the Rotorua Museum) for returned WWII servicemen and now continues as a treatment centre. From luxurious spa rituals to nourishing mud baths come for a "healing experience" while visiting Rotorua.
Blue Baths – an historic bathhouse with geothermally heated fresh water pools that have been open since 1933.
Polynesian Spa – offers hot mineral bathing and spa therapies that relieve tired and achy muscles and nourish the skin.
If you still haven't booked, head to our Rotorua Bella Vista page and confirm your travel arrangements.   We can't wait to host you on this wonderful weekend.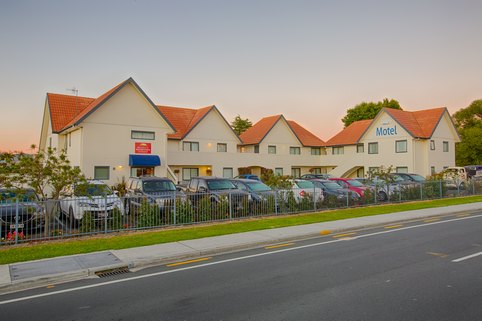 Bella Vista Motel Rotorua
This property is located on the main route in from Auckland or Hamilton and just a few minutes walk from Rotorua's bustling CBD.