- Take some time to Taupo for a weekend break
Taupo is one of those places which are quintessentially 'Kiwi'. Heading to Lake Taupo has long been associated with holidays, weekend breaks and an escape from the norm. Forever a popular destination, why don't you find out why?
Jason and Miyuki are looking forward to hosting you.
#TrustBellaVista
Taupo, surrounded by volcanic mountains, lush forests and nestled on the shores of the beautiful Lake Taupo, is blessed with many activities and attractions from water sport in the summer to skiing in the winter.  There is something for everyone from those seeking an adrenalin rush to those wanting a relaxing break away.  An adventure and nature lover's paradise and an ideal spot for a weekend getaway.
No matter what the weather, there are a number of appealing attractions or pursuits to get you out of your motel room from fishing, kayaking, cycling, golf, geothermal walks, lake cruises, or skiing the Ruapehu Ski fields in winter.  Your friendly Bella Vista Motel Taupo staff can help with all your itinerary needs.
Friday Afternoon
Great Lake Taupo according to Maori legend is the pumping heart of the North Island and this is certainly true when it comes to being a holiday destination, easily accessible from all regions of the North Island.  You will find your Bella Vista Taupo accommodation situated on the fringe of the town centre and only a short stroll from the lake, shopping district, restaurants and cafes making it an ideal base to come and go from.  The Taupo motel offers 1 Bedroom, Studio, and Twin accommodation, safe parking, complimentary wifi, and an activity booking service.
After checking in, it's time to take a take a 5-minute drive to view the mighty Huka Falls, one of the most visited natural attractions in New Zealand and a must-do during your stay!  There are many lookout points at Huka Falls, including the waterfall-viewing walk that is family friendly and easy for all ages. A great way to feel the power and fury of the impressive Huka Falls is to take an exhilarating ride on the Hukafalls Jet Boat.  This is the one and only way of getting to the base of the amazing Huka Falls itself!  The 30-minute experience is a combination of adventure and spectacular natural beauty along the beautiful Waikato River, lined with native bush, sheer rock cliff face and hot water streams.
After your exhilarating ride it's time to check out some of the regions geothermal activity at the otherworldly 'Craters of the Moon' attraction.  With its desolate moonscape and clouds of swirling steam, its a walk with a difference that features boardwalks & gravel paths past steam vents, bubbling craters and colourful soils and plants that have adapted to this constantly shifting, collapsing and reforming hot environment.  Allow around 45 minutes to complete the loop and an additional 15 minutes for the upper lookout.
Friday Night
Tonight, we recommend you walk up to the Lake Terrace for a relaxing pub meal at the Jolly Good Fellows Bar and Restaurant.  With spectacular views across the lake to the mountains, sit back, watch the sunset, and enjoy drinks and a meal in this comfortable, friendly environment.
Saturday Morning
This morning walk straight down Heuheu Street to the 'Spoon and Paddle' Café for a leisurely breakfast and superb coffee that is served with passion in a relaxed, homely setting. 
After a hearty start to the morning a lovely way to get your bearings of the Taupo region is to do the Mt Tauhara Walk.  The mountain sitting on the eastern edge of town can be climbed fairly easily (ask for directions from your Bella Vista motel staff).  From the car park at the bottom of the mountain you first walk through some farmland to get to the base of the mountain.  Then it is a steady climb up to the top, through the trees with lots of birdlife. The track is very narrow and can be slippery at times and winds around the outside of the mountain. It is 3km to the top and takes about 1.5hrs to reach the summit where you'll be rewarded with stunning 360-degree views over Taupo. The way back down is much quicker.
Saturday Afternoon
Early this afternoon we recommend getting out on the water and experiencing Lake Taupo in all its glory. Take a leisurely scenic cruise out to see the Mine Bay Maori Rock Carvings. Only accessible by water, these 14metre high rock carvings are a splendid sight to see. Theses carvings took over 4 years to complete and were finished in 1980. Since then people can't get enough so kick back and relax as your boat cruises and enjoy the idyllic surroundings.
Saturday Evening Dinner & Beyond
Tonight head to the Lakehouse for dinner, a popular gastropub overlooking the lake and mountains, specialising in stone grill meals and gourmet dishes. The place has a lively vibe and welcoming atmosphere buzzing with locals and visitors sipping craft beers from many of NZ's finest breweries.
If you don't want your night to end just yet check out some of Taupo's nightlife options:
Salt Bar is a new stylish lounge and cocktail bar in the heart of Taupo towncentre. With comfortable leather couches, an open fire, a selection of cocktails and a full bar. 
Element bar is the place to go and party with top DJs rocking the decks, epic drink deals, party nights, games nights, and the best bar staff.
Or check out Mulligans Bar for any live music events that are often held here. It's a local favourite.
Sunday Morning
After checking out of the Bella Vista Taupo, there is still time to revitalise your mind, body and soul.  Head for some top notch eggs benedict or other breakfast fare at Café Baku before finishing your weekend with a dip in the therapeutic hot pools of Wairakei Terraces & Thermal Health Spa. 
Bathe in the mineral & silica enriched thermal pools strategically located below the Wairakei silica terraces and waterfall, providing a perfect setting for complete rest and relaxation and a 'feel back in time' sensation.?  Ahhh, you won't want to leave!!
Now that you have had a taste of Taupo, you'll agree it's a destination that you'll have to visit again.  The friendly team at Bella Vista Taupo will be waiting with a warm welcome, happy to assist in planning your next weekend with them.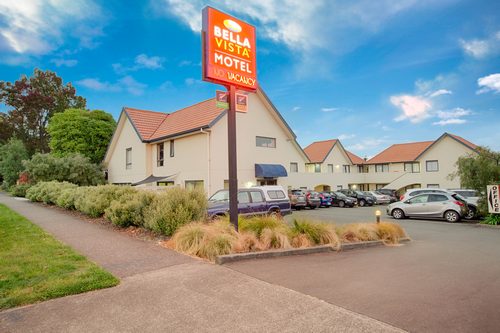 Bella Vista Motel Taupo
Nestled in a quiet location, just 10 minutes' walk from the centre of Taupo and the edge of the lake.