- Wing your way to Wellington for a great weekend.
If it's a city break you are hanging out for, then a weekend away in Wellington has everything you need. Bella Vista Wellington is a perfect base for a weekend of fun activities and excursions.
Barney and Bhagi look forward to hosting you.
#TrustBellaVista
Getting away for a weekend break can produce the same excitement and anticipation as if we were embarking on a lengthy holiday. And this doesn't come much truer than when our ultimate weekend getaway is the best little capital, Wellington. 
This city is full of vibrancy that sweeps us up into its folds of sophistication, quirky corners, cosmopolitan bars and restaurants, lively arts and entertainment scene and its inspiring creative culture.
Wellington offers something for everyone; with so many highlights the weekend is often not long enough.  
Friday Afternoon
You will receive a warm welcome when you arrive at the Bella Vista Motel Wellington.  Situated in the beautiful Evans Bay and just a few minutes' walk to local restaurants and the water just across the road, our Wellington motel is a fantastic option as it provides a quieter location with a bit more space to relax.  Wellington's own slice of beach paradise, Oriental Bay, is just a 5 minute drive away and all you need for a great stay is within close proximity; the Wellington Waterfront, Te Papa Museum, the Ferry Terminal and Westpac Stadium.  It also makes a great option if you are looking for a Wellington airport motel for ease of arrival and departure as its only a 7 minute drive away.
Wellington is easy to explore by vehicle or foot and a great place to start exploring this afternoon is the picturesque Wellington Waterfront.  Full of restaurants, cafes, shops, galleries and, most famously Te Papa, the Museum of New Zealand.  Spend some time exploring the great treasures and stories from New Zealand's past in its many exhibits.
Next, a trip on Wellington's Cable Car will take you from Lambton Quay up through the hillside-terraced houses to Kelburn.  It's a wonderful 5-minute ride that takes you to a lookout with special views out over Wellington and the harbour.
No trip to Wellington is complete without a wee bit of retail therapy and Lambton Quay buzzes with shoppers.  Fridays the shops stay open later and it's a great way to round off the afternoon.
Friday Night
Once you've worked up an appetite pounding the pavements its time to head over to Cuba Street to the Wellington Night Market.  Open from 5pm till 11pm, it is a must do experience all about "food, flavours, fun, friends and family" bringing together artists and local performers with a wonderful array of ethnic food stalls.  Immerse yourself in the delicious smells and the buzzing atmosphere. It's great fun.
Saturday Morning
Just 3 minutes' walk from the Bella Vista Wellington is the award-winning Greta Point Café.  Sit back and relax over a scrumptious breakfast in a rustic atmosphere and watch the ever-changing views of the bay. No need to hurry as you enjoy the start of your Saturday in Wellington.
Saturday 11am
If you can tear yourself away from your umpteenth cup of coffee its time to head to Weta Cave in Miramar.  The Weta Cave screens a first-ever behind-the-scenes look at Weta and interviews with Weta co-founders Peter Jackson, Richard Taylor, Tania Rodger and Jamie Selkirk. From middle-earth to Thunderbirds are Go film set there are a few different tours to choose from if you want to delve deeper into the talent at the Weta Workshop.
Saturday Afternoon
We suggest heading to Zelandia Sanctuary – the world's first fully-fenced urban eco-sanctuary.  This is a ground-breaking conservation project that has reintroduced 18 species of native wildlife back into the area, six of which were previously absent from mainland New Zealand for over 100 years. This is a wonderful hidden gem and a great place to wander and enjoy the birdsong and even spot the Tuatara sunning themselves on the rocks.
Top the afternoon off with a visit to Oriental Bay, popular for walking, cycling or swimming.  Grab yourself an ice-cream and sit on the beach soaking up the view of the harbour. If the weather is calm enough the Carter Fountain, in the centre of the bay will put on a great display and shoot water up to 16 metres into the air. 
Saturday Evening Dinner & Beyond
For dinner tonight head across to the Marrakech Café for an exotic evening. Be transported to Morocco and relax in the authentic atmosphere of gilt lanterns and gentle African music.               
Then its time to hit the city nightlife.  Grab a ticket to a comedy show, a musical or sample some of the best bars in the country.  Whether it's the groovy 'Meow' with its artsy alternative vibe, 'The Malthouse' featuring brilliant artisan brews, or 'The Library' for an exquisite cocktail or cognac Wellington won't disappoint.
Sunday Morning
After checking out of your Bella Vista Wellington accommodation, there is no need to hurry off.  There is still time to take in more of what Wellington has to offer. You may choose to have a leisurely brunch, a long walk or explore the city in more depth.  Here are some great options:
Wrights Hill Fortress.  A surreal network of underground tunnels, operation rooms and three-gun emplacements.
 
Walk to Red Rocks (Seal Colony)  An easy half day coastal walk to Red Rocks and a fur seal colony on the south side of Wellington.
 
City Gallery Wellington. A wonderful art gallery showcasing artists from around the world including Wellington artists, Maori and Pacific arts, and the future programmes. Well worth a visit.
 
Visit Island Bay a lovely community where you can stroll around the village, enjoy the shops, cafes, hit the beach for a swim and snorkel around the rocks to spot some marine life.
Wellington ticks all the boxes for an exciting weekend away that will leave you craving for more.  So come back and visit us soon at the Bella Vista Motel Wellington.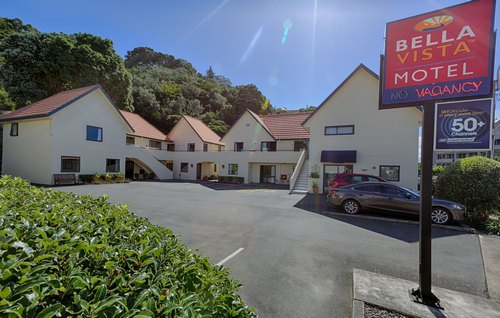 Bella Vista Motel Wellington
Bella Vista Wellington offers a great location on Evans Bay Parade, approx. 7 minutes from Airport and Central City or 13 minutes to ferry terminals.