- Enjoy a Wonderful Weekend out West
New Plymouth Weekend Break
We've got a real soft spot for New Plymouth. Set out there by itself in Taranaki, it's a western outpost that misses the tourist hoards and sits quietly minding its own business. Just how the locals like it! If you make the effort to visit, New Plymouth can always be relied to turn on a very special weekend. Here's how...
Gary is looking forward to hosting you
#TrustBellaVista
Head out west for a wonderful weekend away with Bella Vista New Plymouth.  Your accommodation is set right in the heart of the town centre and being only a block away from the waterfront, you'll be ready to go and explore as soon as you check-in.

Friday Afternoon

Ease yourself into your weekend by getting out for some fresh sea air this afternoon. The fabulous coastal walkway track is just a few minutes stroll from the motel and is a great introduction to New Plymouth.  You can hire a bicycle or just wander along the 12.7km stretch of track that offers spectacular picturesque views and outdoor art displays.  Grab a coffee at one of the many cafes and while away some time exploring rock pools, walk past sculptures, and check out the popular beaches such as Fitzroy and Back Beach.  But be sure to visit the iconic Te Rewa Rewa Bridge and Wind Wand.  At almost 50 metres tall the Wind Wand is a kinetic sculpture located on the waterfront. This iconic landmark bends in the wind and lights up at night. 
Friday Evening

This evening we recommend dining at the Snug Lounge just down the road from your Bella Vista Motel accommodation.  It's an old historic colonial pub and courtyard that has been converted into a fab eatery offering Japanese yakitori grill menu items that are delicious.  Try the infamous pork belly baos, chicken dumplings or go for the Chow-Down, an 'all you can eat' dining experience that lasts for the whole night.  The atmosphere is relaxed with a very stylish lounge bar for pre-dinner drinks.  It has live music evenings in the summer and a great outdoor area with an open fire for cooler nights.  If Japanese fare is not for you, the Snug Lounge shares the courtyard with Ms White serving traditional wood-fired Italian pizza and more than 40 varieties of craft beer from their outdoor kitchen.  

Saturday Morning

This morning head over the road from your New Plymouth accommodation to Monica's Eatery, an art inspired café that offer leisurely breakfasts. We've been told that the Eggs Benedict are the best in town!  Once you've refuelled you only need to step next door to visit New Zealand's celebrated and only contemporary art museum – the Govett-Brewster Art Gallery / Len Lye centre.  The centre is an impressive piece of architecture in its own right with its curved exterior walls of mirrorlike stainless steel.  You can't miss it.  The exhibitions change throughout the year, presenting artworks by contemporary artists as well as showing the collection of the pioneering filmmaker and kinetic sculptor, Len Lye.  Besides the exhibitions, the gallery offers regular talks about the art, tours, workshops, kids' programmes and art-making sessions. And the 62-seat Len Lye Centre Cinema screens Len Lye's films, experimental, art-house and cult films, artists' moving image and regular film festivals. You can book your tickets online or at the Govett-Brewster Shop.

Saturday Afternoon

If you are now feeling like a seriously good coffee to see you through the afternoon you can't look past the close at hand Ozone Coffee Roasters. It's a funky cafe with onsite roastery also offering homemade food.  Sit inside or on the patio or take your brew away and head over to Pukekura Park for a picnic. The Park is a garden of national significance containing a diverse range of native and exotic plants and features the picturesque Poet's Bridge, a man-made cascading waterfall and Fountain Lake.  Lose yourself in this New Plymouth gem, meandering the easy walking trails and along the lake edge, or hire a row boat and take yourselves out on the lake. On the way back, swing past the iconic Clock Tower that plays a melodious tune every hour. There is no access to climb to the top, but you can appreciate it from ground level.
Saturday Evening

Tonight, book a table at Social Kitchen, one of New Plymouth's newest restaurants that has quickly established a loyal following of food buffs.  The cosy bistro has a laid-back atmosphere with a shared dining menu. The chefs use an authentic mibrasa charcoal oven, enabling the tender meat dishes to retain their natural flavour. Melt-in-your-mouth slow-cooked lamb shoulder, creamy blue cheese gnocchi and hearty charcuterie are just a few items to tempt you on your way!
Sunday Morning

After a lazy sleep in, check out of your Bella Vista motel and head down the coast to the seaside suburb of Oakura, for brunch at the Black Sand Pizzeria and Bistro. It's perfectly located on Oakura beach with stunning sea views and delicious food.  A great way to top off an amazing weekend in Taranaki!  If you prefer to make the most of your Sunday morning, consider a walk in Egmont National Park, home to Mount Taranaki.  There are more than 300 kilometres of walking tracks, ranging from ten-minute nature walks to a three-day trek around the mountain. If walking isn't your thing, take a scenic flight over Mount Taranaki.  Alternatively you can cruise Surf Highway 45 visiting other top spots or book yourself a surf lesson with a local expert.  Also head out to Sugar Loaf Marine Park, home to seals, seabirds and other marine life.  You can snorkel, dive, swim, kayak or take a tour.  There is also the option to hit the shops before a must do visit to Giles Chocolatier to indulge in artisanal chocolate tastings or a decadent hot chocolate – we hear the Star Anise Hot Chocolate is yummy!
Whatever your fancy, the 'Naki' and Bella Vista New Plymouth, has your weekend covered.  And if you don't manage to visit everything on our list – no matter, it's a good excuse to make a return visit.  We look forward to hosting you.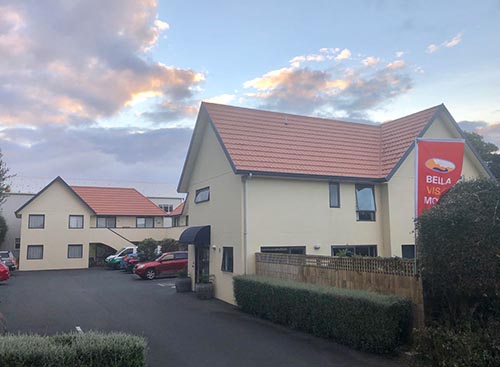 Bella Vista Motel New Plymouth
This immaculately presented 18-room motel featuring executive, family and studio units is located in the Central Business District of New Plymouth.