- Take 5, relax and enjoy a read...
Check-in on our New Zealand travel blog for latest news, events and updates - along with a splash of personality from the whole team at Bella Vista!
#TrustBellaVista
Bella Vista Rotorua Weekend Winners!
---
Posted by Bella Vista on
---
Rotorua Bella Vista recently ran a Facebook competition to win a free weekend in Rotorua as guests of Bella Vista Motel. This included two nights accommodation in a Superior Studio complete with full complimentary continental breakfasts.
Tom Parkin, the winner generously gifted the prize to his daughter Dani and her husband Gordon. The winners had a fabulous time and hit the ground running immediately upon check-in. Here's an account of their amazing Rotorua weekend.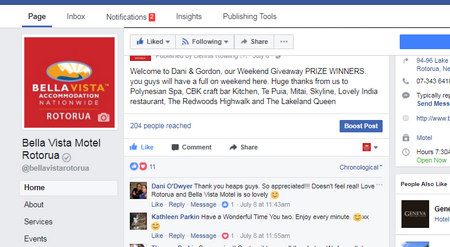 From their Bella Vista Rotorua accommodation it was time to start; first on the list was a peaceful and scenic cruise along the shores of Lake Rotorua aboard the Lakeland Queen. They relaxed into the spectacular scenery of Ohinemutu, Mokoia Island and the summit of Mount Tarawera while the chefs prepared them a meal, so they dining in luxury with a delicious lunch.
It was then time to amp things up a bit and off they went to the Famous Redwood forest where they had a complimentary entrance into the Redwood Treewalk. The Redwoods Treewalk is a 553-m walkway that consists of a series of 23 suspension bridges traversing the gaps between 22 majestic 115-year-old Redwood trees. The bridge sections gradually incline from 6-m in height to a stunning 12-m at its peak. Rain or shine, The Redwood Treewalk is a must do activity. From there it was back to Bella Vista Motel.
Time was pressing as they returned to Bella Vista to freshen up before they were collected and whisked away to be hosted by the fabulous Mitai Maori Village. They were met with a warm and personalized meet and greet from one of the beautiful Maori Maidens dressed in the traditional attire.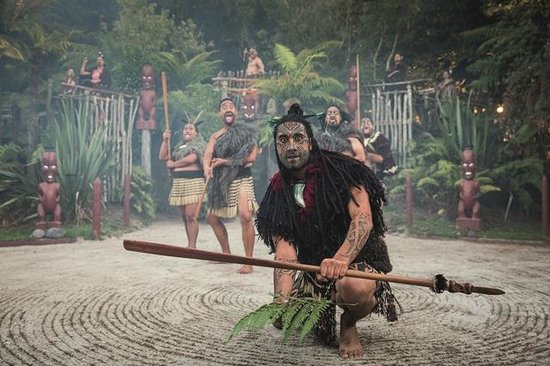 During the evening they experienced warriors in traditional dress paddling an ancient warrior canoe (waka) down the Wai-o-whiro stream. They were entertained with captivating songs, dances, and games in a rich powerful entertaining cultural concert, complete with the spine-tingling "Haka" Maori war dance. Then they got to view the uplifting of the hangi from the earth cooked oven (Hangi Pit). The authentic hangi dinner includes a hot selection of succulent New Zealand meats and poultry, delicious vegetables and fresh salads, topped off with tempting dessert buffet style. At the close of the evening, they were delivered home to Bella Vista Motel for a deep and peaceful sleep.
The next morning after a good sleep and a full complimentary continental breakfast at Bella Vista Motel Rotorua, it was off to Te Puia for The Day Tour Experience. This kicked off with Te Puias' famous Haka/ cultural performance and then they came face to face with the P?hutu Geyser, jumping mud-pools, and live kiwi birds. They got to watch master carvers and weavers at work, and hear the guides share stories passed down from their ancestors.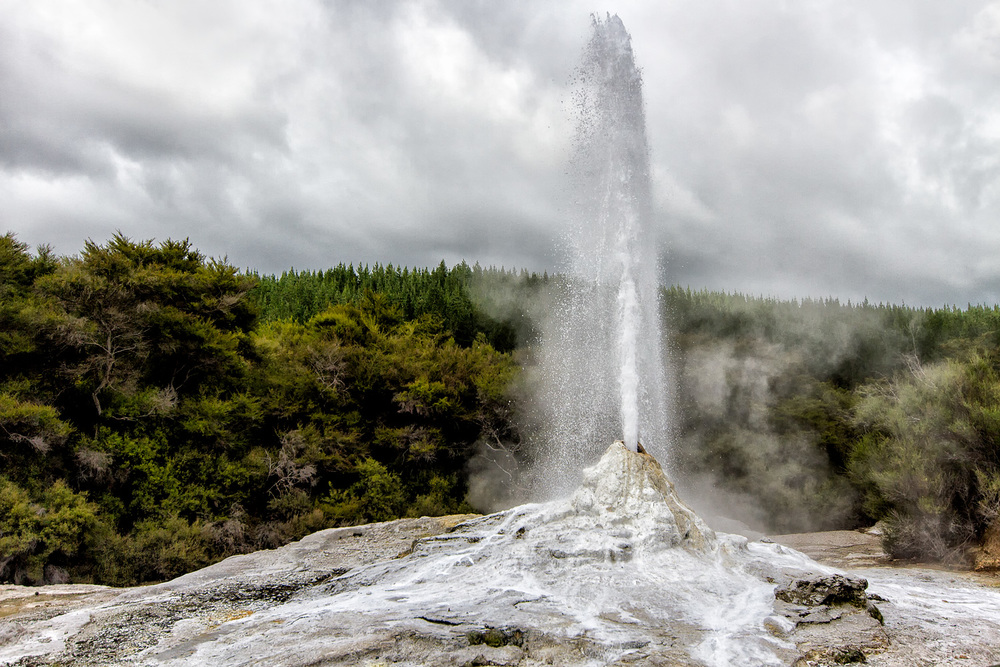 Now it was time for a late lunch compliments of Lovely India Restaurant where they got to try a selection of traditional Indian food from the menu. How to describe this restaurant? Well, we'd recommend you go there and be treated to delicious Indian fare from the entrees/ starters and work your way through the menu options. They cater to the traditional vegetarian through to meat and seafood eaters.
After lunch, Dani and Gordon enjoyed some free time to themselves for the afternoon to explore Rotorua a little more.
That evening it was time to be welcomed by CBK (Craft Beer & Kitchen) renown as a cosy neighbourhood retreat. CBK brings the best of New Zealand craft beers, ciders, and culinary delights because when you enter CBK, it's all about you. Home to 60 Craft Beers & stonegrill. Their menu features the best cuts on a 400°C volcanic hot stone, juicy burgers, sensational smoked dishes, amazing steaks, and sensational small plates. Dani and Gordon will remember CBK as a lively and unpretentious sanctuary, where the service is brilliant, the food as exceptional and the craft beer was just for you.
On their last morning and following another complimentary continental breakfast from Bella Vista Motel it was time for the last of their activities…. Polynesian Spa for an early morning relaxing dip in the geothermal therapeutic mineral water pools. There are 28 different hot pools that come from two different natural springs: The Priest Spring is named after Father Mahoney, a Catholic Priest who was 'cured' of his crippling arthritis from bathing in the waters in 1878. The slightly acidic water from the Priest Spring relieves tired muscles, aches, and pains. The Rachel Spring is a source of alkaline water, which features the antiseptic action of sodium silicate nourishing the skin. It was historically said that those who bathe in the waters of the Rachel Spring are blessed with ageless beauty.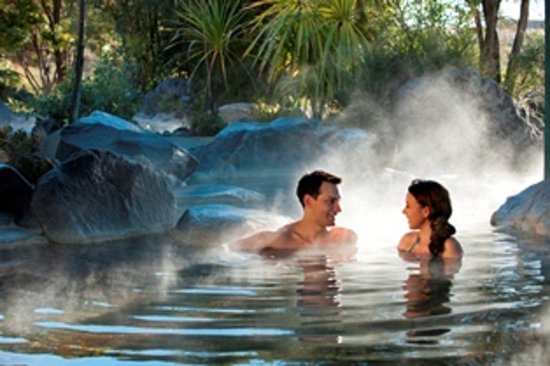 Finally, it was back to Bella Vista Motel for a pre-arranged late checkout and then as they left Rotorua one last treat. Skyline Rotorua Gondola is the most spectacular way to take in the 180-degree views of Lake Rotorua, the city, and surrounding district. And no visit would be complete without a ride down one of Skyline's luge tracks. With three different track options and over 5kms of a track to ride, once is certainly never enough! Riders have full control, over the 3 wheel, gravity-based luge cart.
As this was the guest's last complimentary activity, we can all say, visit completed! There is never enough time to touch, taste, see, hear and do when it comes to Rotorua. Our guests had a full on weekend and barely scratched the surface.
Bella Vista Motel was happy to have hosted our first competition winners and we would like to thank all of the above-mentioned businesses and activity operators who contributed to making this a success.
Come and stay and play with Bella Vista Rotorua - we'd love to host you.