- Take 5, relax and enjoy a read...
Category Archives: Bella Vista Whangarei
Check-in on our New Zealand travel blog for latest news, events and updates - along with a splash of personality from the whole team at Bella Vista!
#TrustBellaVista
---
Posted by Bella Vista on
---
When these cold temperatures head our way there is nothing quite like soaking our bodies in a heaven sent hot pool. Easing away all our aches and pains and taking some time out to relax from our busy lives.
We've searched high and low to put together our pick of the top ten hot pools in New Zealand using the best recommendations of our Bella Vista moteliers. For all you need to know of the best places to soak, where to stay and how to get there – take a read below!

Kerosene Creek – Rotorua/Taupo
We're going to let you in on a bit of a secret with this one, located on the road between Rotorua and Taupo is a very special place – Kerosene Creek. To get there head south from Rotorua, about 0.5km past the Murupara turnoff is Old Waiotapu Rd, it's approximately 2.2km down this road.
Waiting for you when you arrive is an unbelievable hot springs experience, a basic corrugated iron shed has been built to accommodate bathers changing and once you're all sorted you'll jump into a natural hot pool in a surreal bush setting. It doesn't get much better than this, so relax and take in the raw back country beauty of this little gem.
When heading to Kerosene Creek, take your pick of either our Taupo accommodation or Rotorua motel accommodation. Or perhaps make a weekend out of it book into both! Check out Bella Vista Motel Taupo and Rotorua Bella Vista for some fantastic deals.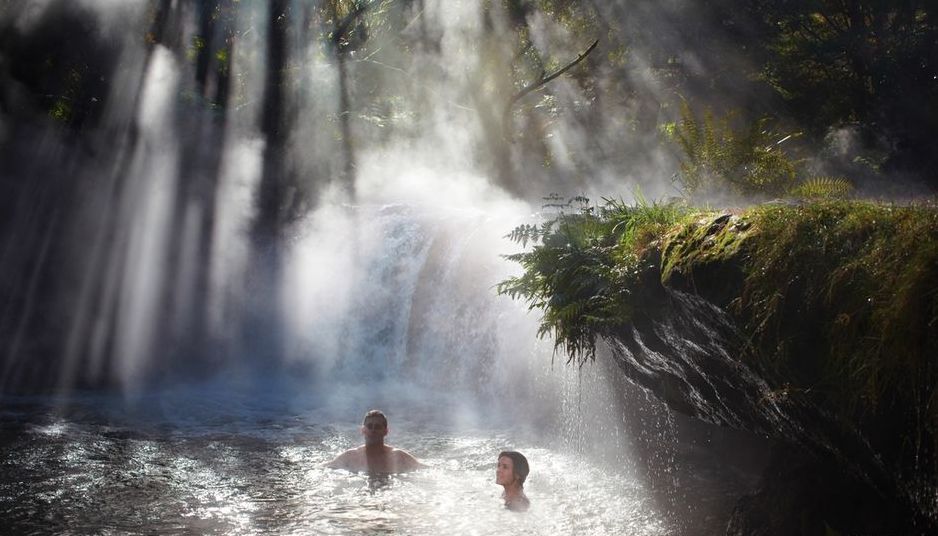 Polynesian Spa – Rotorua
Treat yourself to some luxury and indulgence at Polynesian Spa. Two natural springs feed into the 28 hot mineral pools at Polynesian Spa. Allow the thermal properties of this water to work its wonder on your skin, aching muscles and body.
This is also the place to go for a spot of pampering, with the Polynesian Spa offering a comprehensive spa therapy menu including geothermal mud wraps, massages, facials. Take some time to unwind and let Polynesian Spa work its magic.
Book into Bella Vista Motel Rotorua when you're thinking of visiting the Polynesian Spa, its central location sees you only 7 minutes from the spa complex.

AC Baths – Taupo
This one is ideal for the whole family, in fact, AC Baths are almost a rite of passage for kiwi kids young and old. AC Baths offers an awesome all-weather, family-friendly pool complex. There are hours of fun to be had with a large outdoor pool, two toddler areas, two 25-metre lane pools, an indoor learn to swim pool, two hydroslides, a Tarzan swing, four private thermal mineral pools, a sauna and a delicious café. All of the pools in the complex are thermally heated using natural hot water. It's a wonderful day out for all, so put this one on the to-do list for sure.
The perfect place to book your Taupo motel is Bella Vista Taupo, it's an easy 4 minute drive to the AC baths and wonderfully central to Taupo activities and dining.

Te Aroha Mineral Springs – Te Aroha
The waters of Te Aroha have played a famous role in health and healing for over 100 years. The mineral spring flowing from beneath Mt Te Aroha provides the source to these magical hot springs, and this relatively unknown hot pools complex offers a quieter, more intimate soak. The mineral salts in the natural spring water are therapeutic, and for bathing, you have the choice of porcelain claw-foot baths or one of the many traditional wooden tubs. If you have a special occasion check out the romance packages, massages and beauty therapy treatments are available here.
Staying at Bella Vista Hamilton allows you to make a day trip out of a visit to Te Aroha Mineral Springs, pack a picnic and be there in less than an hours driving. Bella Vista Motel Hamilton offers a superb choice, positioned slightly out of the CBD in a quiet neighbourhood.

Glacier Hot Pools – Franz Josef Glacier
If you're looking for something that's next level memorable, you'll need to visit the Glacier Hot Pools in Franz Josef Glacier. This has to be one of the most unique hot pool experiences you can get, set in a rainforest on New Zealand's West Coast these pools are a haven of tranquillity. Three pools weave their way through the lush forest where nature has set the temperature between 36 – 40 degrees centigrade. Buy a single entry or a day long pass depending on your mood and head along to discover Te Puna Mahaki – The pool of calmness, Te Puna Makoha – The pool of tranquillity and Te Puna Marino – The pool of serenity, all named by the local Maori tribe.
Bella Vista offers two great options in this part of the world - the wonderful Franz Josef accommodation just a short stroll from the hot pools and Fox Glacier accommodation if you want to be based further south. Try either Bella Vista Franz Josef or Bella Vista Fox Glacier and book your home away from home.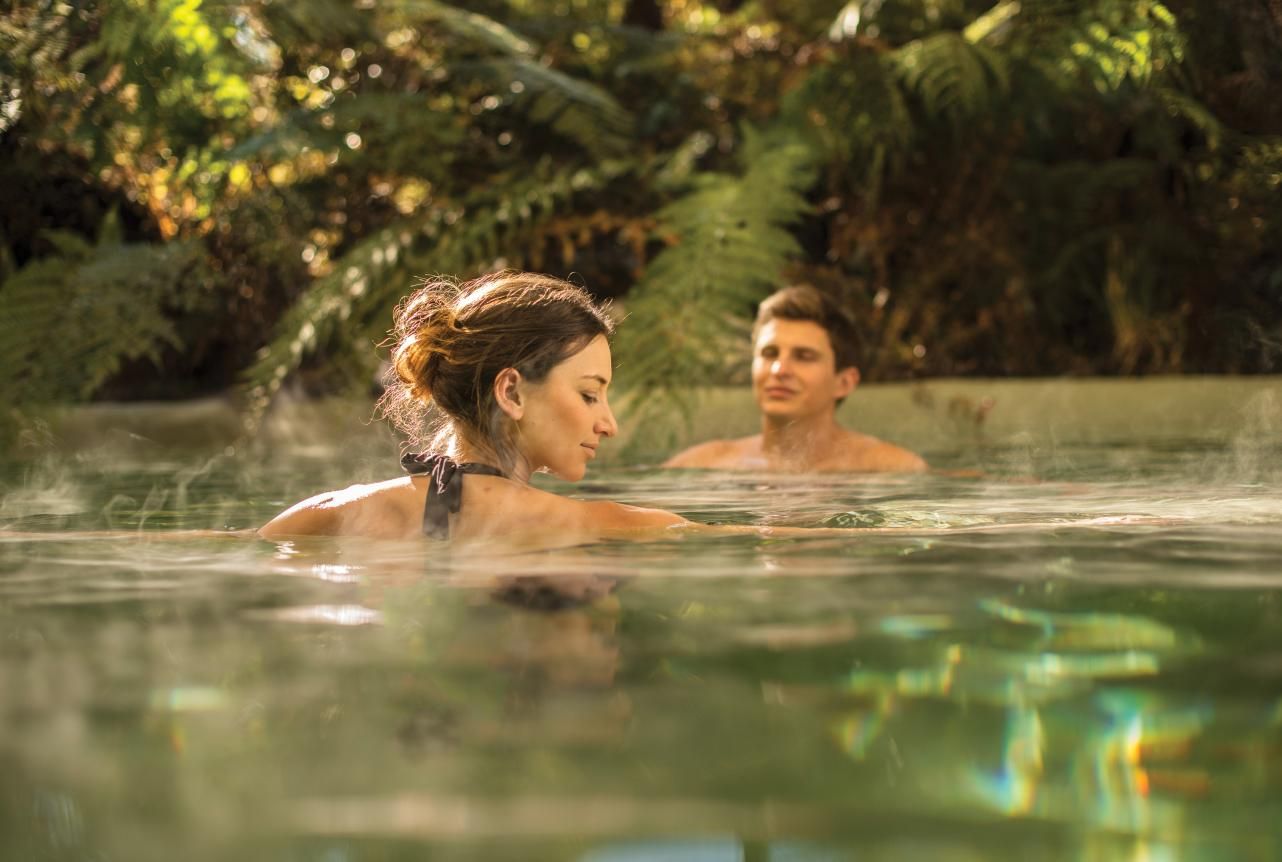 Hanmer Springs Thermal Pools and Spa
People come from near and far to relax in this beautiful setting. Take some time to appreciate the views around you, as every which way you turn it's postcard like mountains or native forest. Hanmer is the epitome of relaxation and these pools go a long way to contribute to this. There's something for everyone here with private pools, rock pools, sulphur pools, kids pools, hydroslides, you name it!! The natural beauty of this location allows you to escape from reality and enjoy the healing waters of these pools.
When you're on the lookout for Hanmer Springs accommodation, book into the Qualmark 4 star rated Bella Vista Motel Hanmer Springs for an exceptional stay - it's as good as any Hanmer Springs hotels!

Morere Hot Springs – Gisborne
Soaking in the heated ancient seawaters of Morere Hot Springs is something pretty magical. Set amongst 364 hectares of lush rainforest, the hot springs are piped to a series of private and public pools for all to enjoy. Therapeutic, medicinal and unforgettable, make sure you BYO BBQ food to make a day of it and don't forget to try out the spectacular rainforest walks in the area when you need a break from the water.
When looking Gisborne motels, our recommendation is the friendly and welcoming Bella Vista Motel Gisborne - a very highly rated Gisborne accommodation option.

Onsen Hot pools – Queenstown
Queenstown has exceeded itself yet again with an out of this world hot pools facility in a breathtaking location, with views out over the Shotover River Canyon. You'll find true relaxation calling, as you take a break from the hustle bustle of exploring and partaking in Queenstown adventures, or perhaps it's an evening trip to the pools after a day skiing on the Queenstown mountains. The cedar hot tubs at Onsen each comfortably seat four people, and once you're in you'll not want to get out ever again! Don't forget to book in advance for this one to ensure you don't miss out.
There are many Queenstown accommodation options; if you're looking for one that's central to town and highly ranked on Trip Advisor, Bella Vista Queenstown is for you.


Ngawha Springs Hot Pools – Kaikohe
Another well-kept secret that only a few are privy to is the tranquil Ngawha Springs in the Northland region. Located in an area rich in culture, kind locals and peaceful surroundings, the hot springs in this area are top notches. Slightly acidic and rich in ammonia, bicarbonate, boron and mercury (which is not typical of other springs in New Zealand) every one of the 15 pools is sourced by an individual spring, dictating its own temperature (some hot, some cold). The pools also vary in colour and clarity, determined by the mineral composition and individual underground source. When one of the pools is called 'The Doctor' you get a real understanding of the health and well-being properties available here.
If you book in and stay at Bella Vista Whangarei you can be changed and sit in one of the Ngawha Springs Hot Pools in just over an hour.

Maruia Hot Springs – Lewis Pass
As far as boutique hot pools are concerned, this one's got it in the bag. Utilising the 100% pure geothermal spring water of the area and generating all of their own hydro-power, the mind and body will slip away into utter relaxation. Maruia offers views of the surrounding Southern Alps and an eco-wellness experience like no other. With 19 Wellness Stations situated across both the indoor and outdoor areas to enjoy, for a complete 'wellness journey' allow at least 2.5 hours.
Take your pick of Bella Vista accommodation options for a visit to Mauia Hot Springs – Bella Vista Nelson, Bella Vista Christchurch, Bella Vista Hanmer Springs or Bella Vista Greymouth are all within driving distance.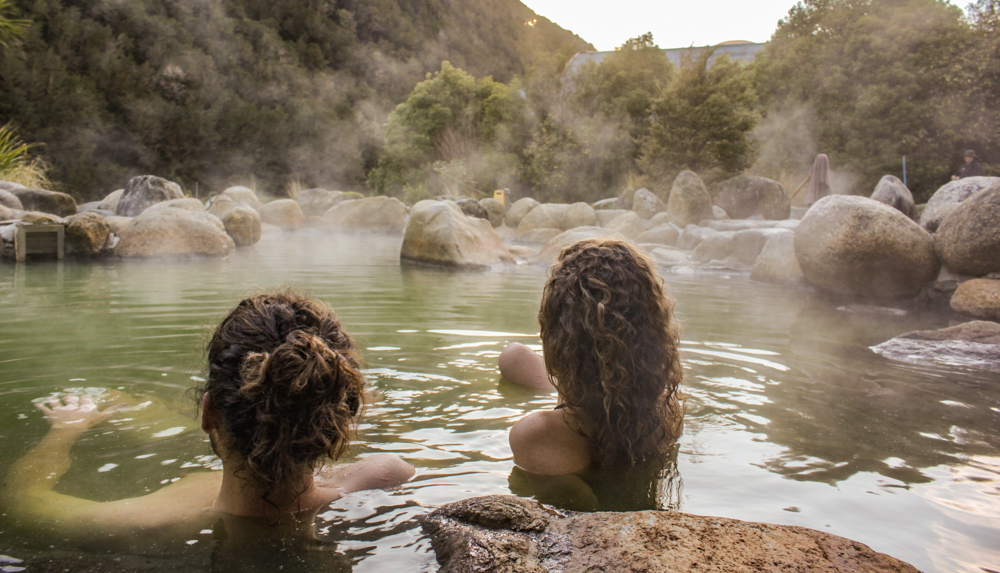 For further information about hot springs and thermal pools refer to a terrific website called NZ Hot Pools which we found. It offers smart facts about every hot pool and thermal spring in the country. Or check out our latest video update below.

---