---
Posted by Bella Vista on
---
When the majority of us think of Christchurch our minds are automatically drawn to the devastating earthquakes of 2010 and 2011. So much has happened since then, Christchurch is well and truly back and ready to share its story with the world. We've put together the perfect 48-hour tour to help you get the most out of the Garden City.
Christchurch is a fascinating, vibrant and as we know resilient city, it's a place that you could and should spend many days exploring, but if you're only here for a couple of days, try and tick off as many of these as you can.
Day One:
9.30 a.m. Brunch
Start the day off at a leisurely pace with the best coffee in town. We suggest The Caffeine Laboratory. The food selection at The here is top notch, and you'll be hard pressed to choose only one item off their brunch menu. Once your meal has been delivered to the table you'll understand our recommendation, as the food is beautifully presented and seriously delivers on taste.
11.00 a.m. Reflect on the Quake
For many New Zealanders visiting Christchurch is bitter sweet, there's a genuine sense of sadness and loss for what was, but also true admiration and hope both for the city and it's locals. We've selected a few options for those that want to learn and understand more about the earthquakes.
Quake City – Here you will discover all there is to know about the Christchurch earthquakes; the destruction caused, stories of bravery and locals working together, you'll view images of the wreckage, see up close many iconic objects that have been salvaged and learn about the plans for the city's future. Re:Start Mall, 99 Cashel Street, daily 10am – 5pm.
Christchurch Rebuild Tour – This 90 minute bus tour will highlight the damage caused by the earthquakes, talk of the transitional projects that were required and learn of the plans for the future. It's a good way to get your bearings and see for yourself the areas that were worst hit. Daily departure, outside Canterbury Museum, 11.30am.
185 Chairs – Earthquake Remembrance Art Installation. While still on the hunt for a permanent location, 185 Chairs is a public artwork and memorial to the 185 victims of the Christchurch earthquake. It's a moving place to visit and really puts into perspective the sadness of the lives that were lost. St Paul's Trinity Pacific Presbyterian Church site, corner of Cashel and Madras Streets.
2.00 p.m. Head to the Botanic Gardens
We've allocated 90 minutes to stroll along to the Christchurch Botanic Gardens and appreciate this true oasis in the middle of the city. It's not long enough but hey, you're on a timeframe! Here you'll view the well-planned collection of different gardens, exotic plants, trees, and indoor varieties. You'll no doubt want to spend a while checking out the gardens, but once you've had your fix, make your way to Cambridge Terrace for a river punting experience.
3.30 p.m. Punting on the Avon
It's about as Christchurch as it gets! You'll sit back and relax in the hand crafted flat bottom boats, as your Edwardian dressed punter in full attire (stripes, blazer and boater hat) points out the landmarks and highlights of the city. This is such a fabulous option any time of the year, with blankets, umbrellas and even hot water bottles available if needed.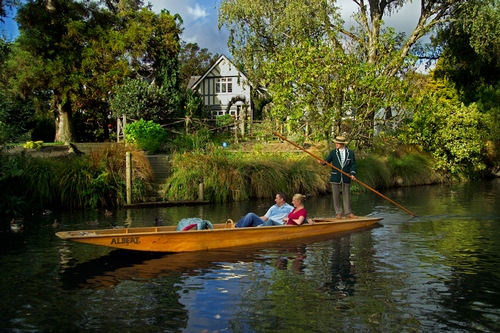 7.00 p.m. Christchurch Tramway Restaurant
You'll no doubt have worked up quite an appetite by now, so tonight enjoy a unique and completely 'Christchurch' way to dine. The Tramway Restaurant sees you seated in a colonial style dining tram, where you're served up the very best in local cuisine and wines, plus experience an after dark sightseeing tour. It's a must do on a visit to Christchurch, but remember to book in early to make sure you don't miss out.

Day 2:
10.00 a.m. Christchurch Gondola
Have a light breakfast before you leave your Christchurch motel and then make your way out of the city to the Christchurch Gondola. The ride up is enjoyable and sees you ascend Mt Cavendish in the Port Hills, once you reach the top the uninterrupted 360-degree views over the city, port, Southern Alps, and beyond are spectacular.
There's plenty to keep you busy at the top, the Time Tunnel ride will teach you about the history of the region, a café for your morning coffee, and perhaps take the opportunity to explore the Mountain Bike or walking trails. If you don't have your own transport the Gondola Shuttle operates daily from the Canterbury Museum.
1.00 p.m. International Antarctic Centre
Now's time for something a bit different and we think pretty special! And this city is the only place you can do it - unless of course you're planning a trip to Antarctica. The International Antarctic Centre is a fun and interactive experience that will make you feel like you're really there. View Little Blue Penguins, experience an actual Antarctic storm (appropriate clothing provided), and learn facts and stories about what life's like in Antarctica, plus no Antarctic experience is complete without a Hagglund ride.
4.00 p.m. Hagley Park
By now you'll probably need a bit of a break from playing tourist. Head over to Hagley Park to breathe in some fresh air and appreciate this wide-open space in the middle of the city. Hagley Park has been part of Christchurch lives since the 1850's, gifted to the city for the enjoyment of the residents. The beautifully maintained park offers so much for all - a lake, tennis courts, sports fields, walking and running tracks and picnic spots, plus much more. From there make your way back to Bella Vista Christchurch to freshen up before dinner.
7.30 p.m. Café Valentino
Sadly your time in Christchurch is coming to an end, and perhaps the most fitting place to finish up is at the Christchurch institution, Café Valentino. This buzzing restaurant hotspot serves up mouth-watering dishes, pizza, pasta and a Torte di miele to die for. It's the ultimate in Italian food and is all packaged up in a fun atmosphere with food prepared to perfection. Mama Mia!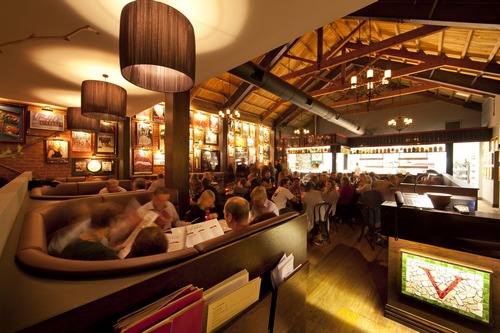 Christchurch Accommodation
If you've only got 48 hours in this city location is key, so book yourself into Bella Vista Motel & Apartments Christchurch, and enjoy the close proximity to town, dining and all the attractions.
Bella Vista Christchurch offers some fantastic accommodation options including studios, one, two and three bedroom units – so there's something to suit everyone at this brilliant Christchurch motel. Graeme and Janice are always happy to share their local knowledge and assist with any questions or booking requests you may have. Call them on 03 377 3363 for some first-hand advice.
---