- Take 5, relax and enjoy a read...
Category Archives: Bella Vista News
Check-in on our New Zealand travel blog for latest news, events and updates - along with a splash of personality from the whole team at Bella Vista!
#TrustBellaVista
---
Posted by Bella Vista on
---
Bella Vista accommodation network takes its corporate responsibility seriously. We believe it is important to pay-forward and offset our business footprint by supporting New Zealand communities within which we operate. Every year a percentage of the Bella Vista motels head office funds are allocated to a worthy community cause, topping up on any activity an individual motel may have undertaken within its community.
In 2016, Bella Vista provided an array of bedding and pillows to the children of a low decile school in the Waitaki region. 'A good night's sleep' is a mantra that Bella Vista follows so being able to extend that opportunity to some deserving children was certainly a worthy exercise.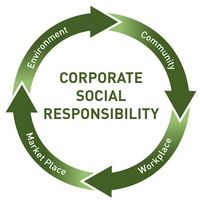 This year, Bella Vista head office extended an invitation to the 27 motels throughout our New Zealand accommodation network asking for them to all pitch for a local cause that they were actively engaged with. After a robust selection process across the entries, it was determined that Bella Vista Franz Josef Glacier would receive the donation.
The Bella Vista Franz Josef motel owner Adam Haugh is very involved with his communities activities and when earlier this year the Franz Josef Glacier Civil Defence team were kitting out a shipping container with supplies and equipment should a natural disaster occur - including everything from tarps, water, fluro paint and power cables, Adam hit upon an idea that once again worked in well with Bella Vista's 'Good Night's Sleep' promise.
No other town faces natural hazard risks quite like Franz Josef Glacier. Not only does the township lie on the Alpine Fault line which snakes through New Zealand's south island, but it is also prone to flooding from both heavy rainfall and also the ever-present risk of the Waiho River that runs adjacent to the town.
Adam proposed that Bella Vista motels could contribute towards the purchase of bedrolls that could be used to make locals and visitors more comfortable in the Community Hall when it is used for emergency accommodation. The need for bedrolls became apparent after the last Civil Defence event in Easter 2016 when visitors and locals had to be accommodated at the Community Hall.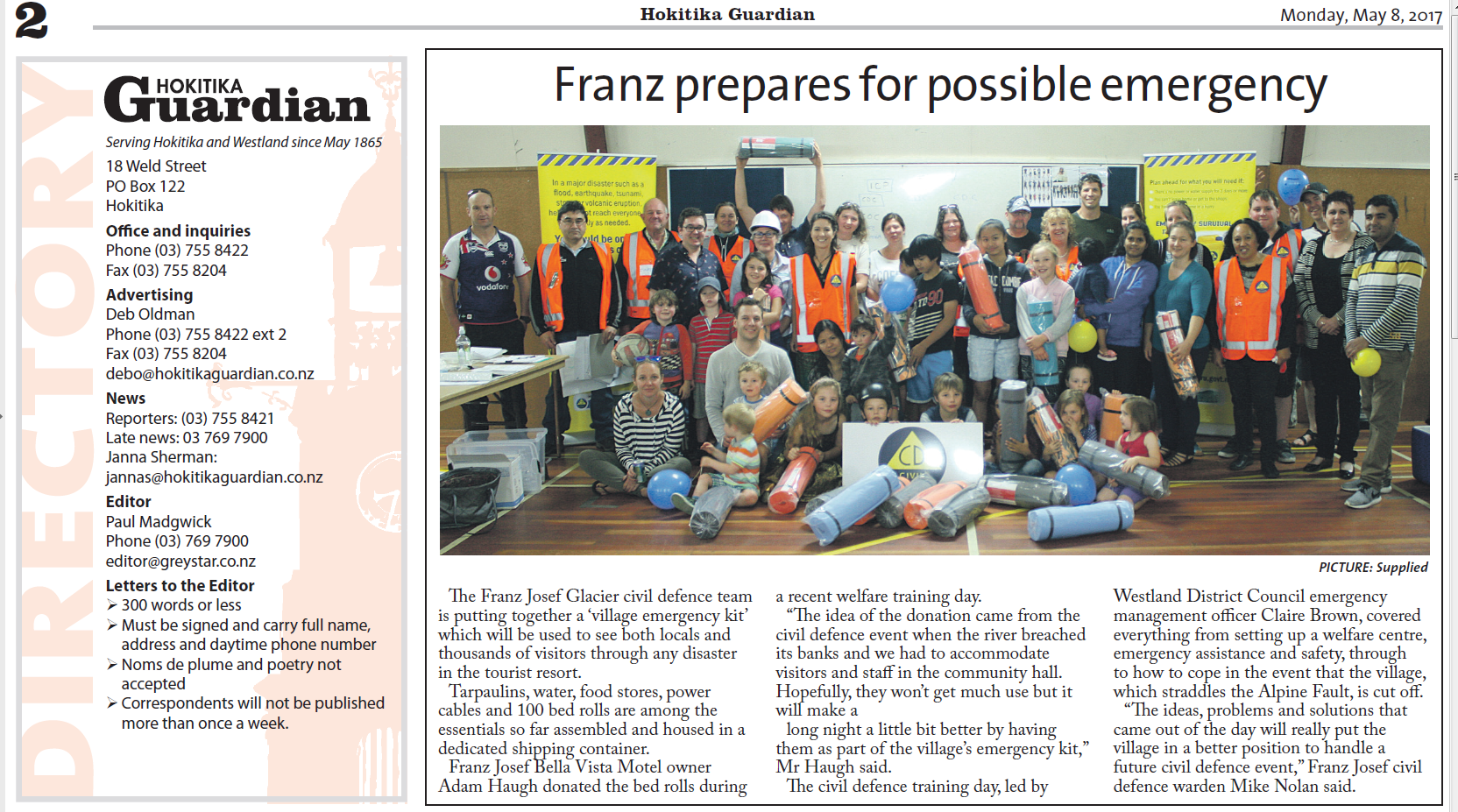 During the height of the summer, Franz Josef holds a few thousand people along with the 350 locals. Anything that can be done to make a disruptive time more comfortable seemed like a great idea. Adam was pleased to present the bedrolls to the Civil Defence team at a training day in April.
Bella Vista was delighted to help with a great cause and, of course, we hope that the bedrolls see very little use!
Bella Vista Franz Josef Glacier is a modern 18 unit motel situated right in the heart of the Franz Josef village and a highly rated Franz Josef accommodation choice. Despite the natural hazards alluded to in this article, Franz Josef Glacier is a fabulous place to visit, a very friendly small village with some great local activities such as the Glacier Hot Pools or the West Coast Wildlife Centre, interesting eateries including the Snake Bite Brewery and of course, the town is the perfect place to explore the glacier from which it takes its name.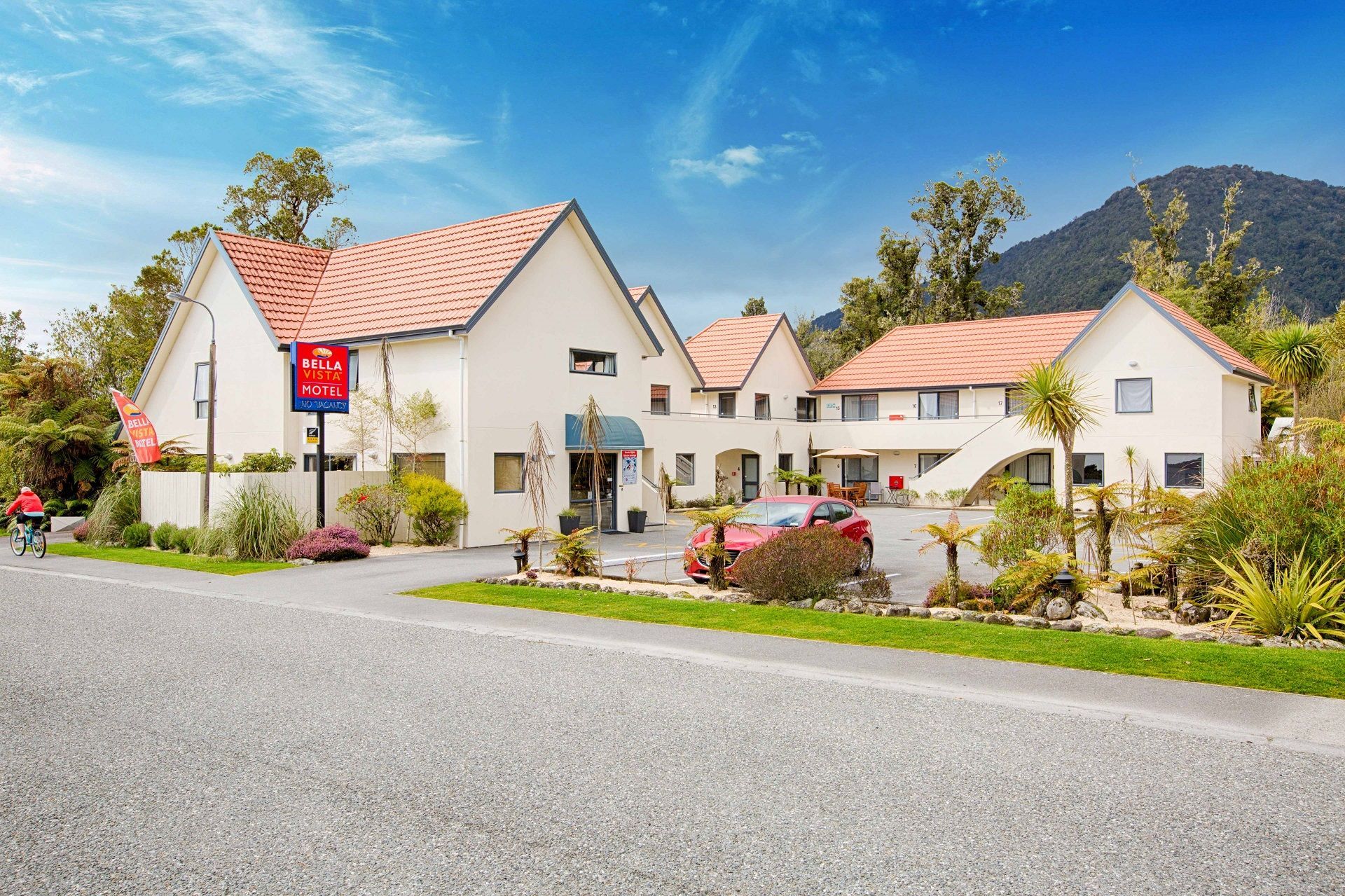 ---
---
Posted by Bella Vista on
---
Bella Vista network is unique amongst New Zealand motel providers in that every one of our 27 locations across New Zealand provides a similar, consistent design, guaranteeing our customers piece of mind that you know what you are going to get.

What you may not know is that many of our Bella Vista accommodation locations are happy to host meetings, gatherings, interviews, showcases and alike. Fully equipped apartment units with kitchenette's can easily be set up to match whatever style event you are holding. Full catering options are provided and rooms can be hired as part of a package for overnight stays.
Bella Vista Christchurch
With a set of five town-house style apartments as shown in the photo below, there is endless opportunity to operate a small numbered delegate meeting on-site. Situated a short stroll from the historic CBD and set amongst a significant choice of eateries on and around Bealey Avenue, this is a great Christchurch accommodation option to consider using if you need to meet.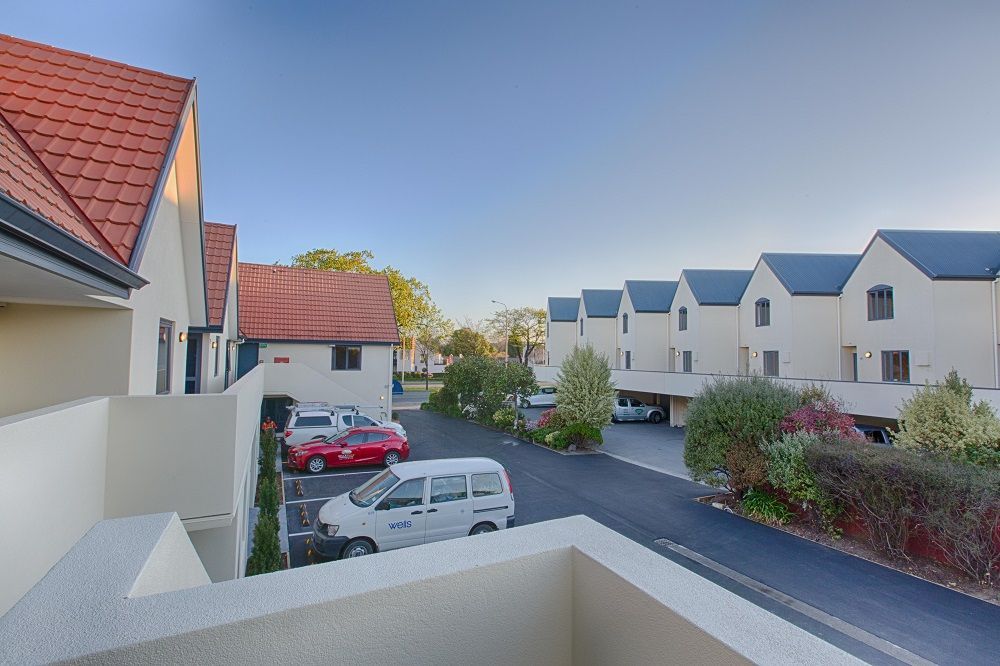 Bella Vista Motel & Conference Centre Palmerston North
Unique to the Bella Vista motel network, Palmerston North Bella Vista has an onsite conference room. All the relevant details can be found on the Palmerston North accommodation page. Shown below is the dedicated meeting space which can accommodate up to 30 people in theatre style or 18-20 people in boardroom style. The room is available to hire on a daily rate of $150.


Bella Vista Ashburton
Bella Vista Ashburton is very active in the meeting space. Located at the north end of the township, Ashburton is one hour's drive from Christchurch Airport. Ashburton Bella Vista corporate customers come from across the region to hold team meetings, board meetings and consultations. The meeting spaces are welcoming, modern, meticulously clean and can be configured to your requirements whether it is a boardroom, U shape or lounge style. The rooms are accompanied with kitchen facilities and if your team need to take a break from time to time during a meeting head out to the gardens.
Ashburton Half-Day Meeting - Duration: 4 ½ hours, max 10 people | $120.00 includes complimentary WiFi, tea, coffee and orange juice on arrival, pads, pens, mints, whiteboard and fruit. Morning tea with 2 food 3 choices is $8.00 per person.
Ashburton Full-Day Meeting - Duration: 8 ½ hours, max 10 people | $160.00 includes complimentary WiFi, tea, coffee and orange juice on arrival, pads, pens, mints, whiteboard and fruit. Morning tea and afternoon with 2 food choices is $8.00 per person per setting. A light lunch is available -$15.00 per person.
Ashburton Overnight Meeting - Pricing as per the full day option. | Accommodation starts from $125.00 per room.

Paul & Michelle pictured below would be happy to host your meeting so we encourage you to make contact and book your next meeting in now.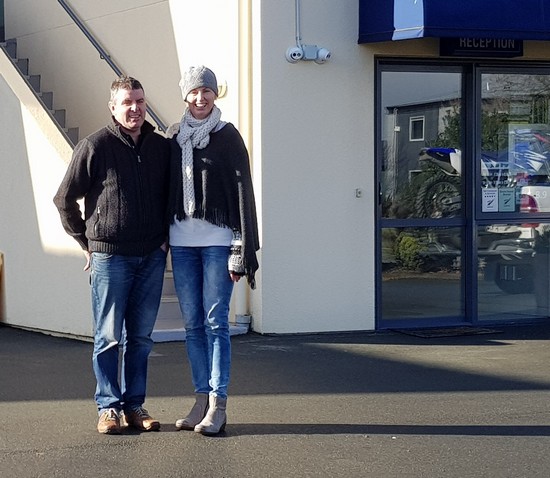 So why waste important time running between your hotel and the meeting space? Bella Vista Accommodation Nationwide can offer you and your team well appointed meeting spaces, affordable accommodation plus breakfast options. Contact any of our 27 locations for more information or call 0800 235 528 to speak to one of our team about your requirements. We look forward to hosting you.
---
---
Posted by Bella Vista on
---
As New Zealand becomes more accustomed to a future that will be dominated by electric powered vehicles (EV), Don & Sharon Macmillan at Bella Vista Whangarei have taken note and installed the first electric charging point of any Whangarei accommodation provider.

The Government's target of 64,000 Electric Vehicles by 2021 will mean growth in EV usage across all travel sectors including Private, Corporate and Leisure travllers. Furthermore, it is understood a number of leading New Zealand car-rental companies are now considering introducing EV's into their fleets. Those vehicles will need accommodation providers who are able to offer, at the minimum, an overnight charging station.

"It was a little bit of a no-brainer" said Mrs Macmillan. "There was very little hassle involved and we are now able to offer charging facilities for two EV's every night." "Health and safety legislation has effectively ensured, and quite rightly, that you couldn't take shortcuts to offer this service"

Mrs Macmillan commented that whilst take-up has been limited to date, they wanted to stay ahead of the game and future-proof their business. "Our corporate booking agents in Auckland and Wellington are already asking if we have EV stations, so it is only a matter of time" When asked about the cost to her customers, Mrs Macmillan said "We'll be applying a nominal amount on top of our room rate to ensure any overnight charging covers our cost. It's primarily about service and added value for our customers."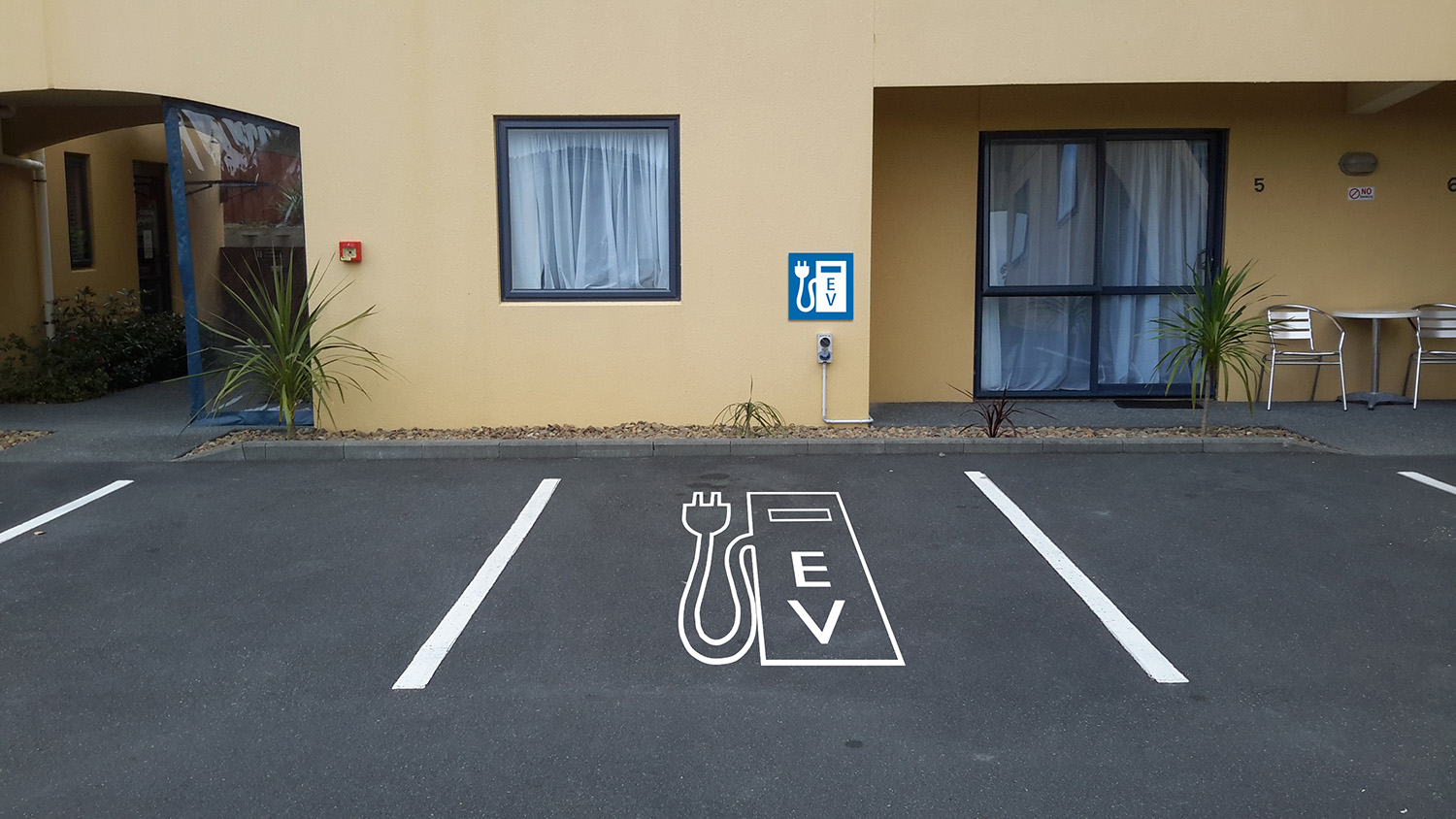 ​Whangarei Bella Vista is a Qualmark endorsed four star plus rated motel. The property offers 18 superior units, is conveniently situated close to the CBD and the main Auckland-Northland highway and caters to every type of traveller needing an overnight break in Whangarei and to those using the town as a base to explore other local destinations.

Bella Vista General Manager Rob Burnell said he was delighted that Bella Vista Whangarei have taken this step. "Bella Vista Accommodation Nationwide will be extending the provision of overnight EV charging across its network of 27 motels in the coming year. We've been encouraging our business owners to think ahead in all areas of their business to ensure they are meeting the needs of an ever evolving market place"
For further information contact Bella Vista Whangarei on 09 438 6990