- Take 5, relax and enjoy a read...
Category Archives: Bella Vista Napier
Check-in on our New Zealand travel blog for latest news, events and updates - along with a splash of personality from the whole team at Bella Vista!
#TrustBellaVista
---
Posted by Bella Vista on
---
Hot cross buns, Easter egg hunts, oodles of chocolate and catching up with friends and family are likely on everyone's calendars this Easter. But how about making it extra special by combining all these things with an Easter getaway.
Our 4 top pick destinations in the North Island this year will have you hopping mad with excitement.
And remember once you are there ask around and see if there's any local Easter Hunts, special music or other events happening over the weekend that you can join in on.
Take the hassle out of getting away by staying at our Bella Vista motels where you and the kids will enjoy a relaxed and enjoyable stay. Your Bella Vista hosts are friendly and will enjoy giving you some great local tips and there's free parking so you can get out and explore by foot or bicycle.
Be the first to see the sunrise on Easter Sunday on the sun-kissed East Cape. Gisborne is well known for its wineries and beautiful beaches and makes for that perfect escape for the Easter break. Take the family for a surf lesson, find some time to hide some Easter treats and before they are totally exhausted from catching waves, send the kids to go hunting for eggs amongst the dunes or under driftwood. While they are occupied you can relax, listen to the waves crash and soak in the last days of warmth before the cooler months settle in.
A great place to go for a wander at this time of year is the Eastwoodhill Arboretum, its only 30mins out of Gisborne and a popular must-see attraction. It's at its most magnificent in Autumn and the trees put on a spectacular show of colours from oranges to purples to bronzes and reds. You can take a guided tour or walking tour. There's a Visitor Centre and Gift Store and Discovery Centre along with a playground with some of the biggest swings in the country. And if you begin to get a little peckish visit the Homestead Tea House that's open Wednesdays to Sundays from 10am to 3pm where you can get a warm cuppa with scones, jam and cream or delicious cake whilst listening out for the Kereru or Tui.
Besides the beaches, there are numerous walks both historic and nature based. Or check out the Morere Hot Springs. These natural mineral pools are one of New Zealand's off-the-beaten-track thermal bathing sites.
At the end of each day you'll come back to the comfort of the Bella Vista motel. Your Gisborne accommodation is an easy walk to the town centre, shops and restaurants and the nearby beach.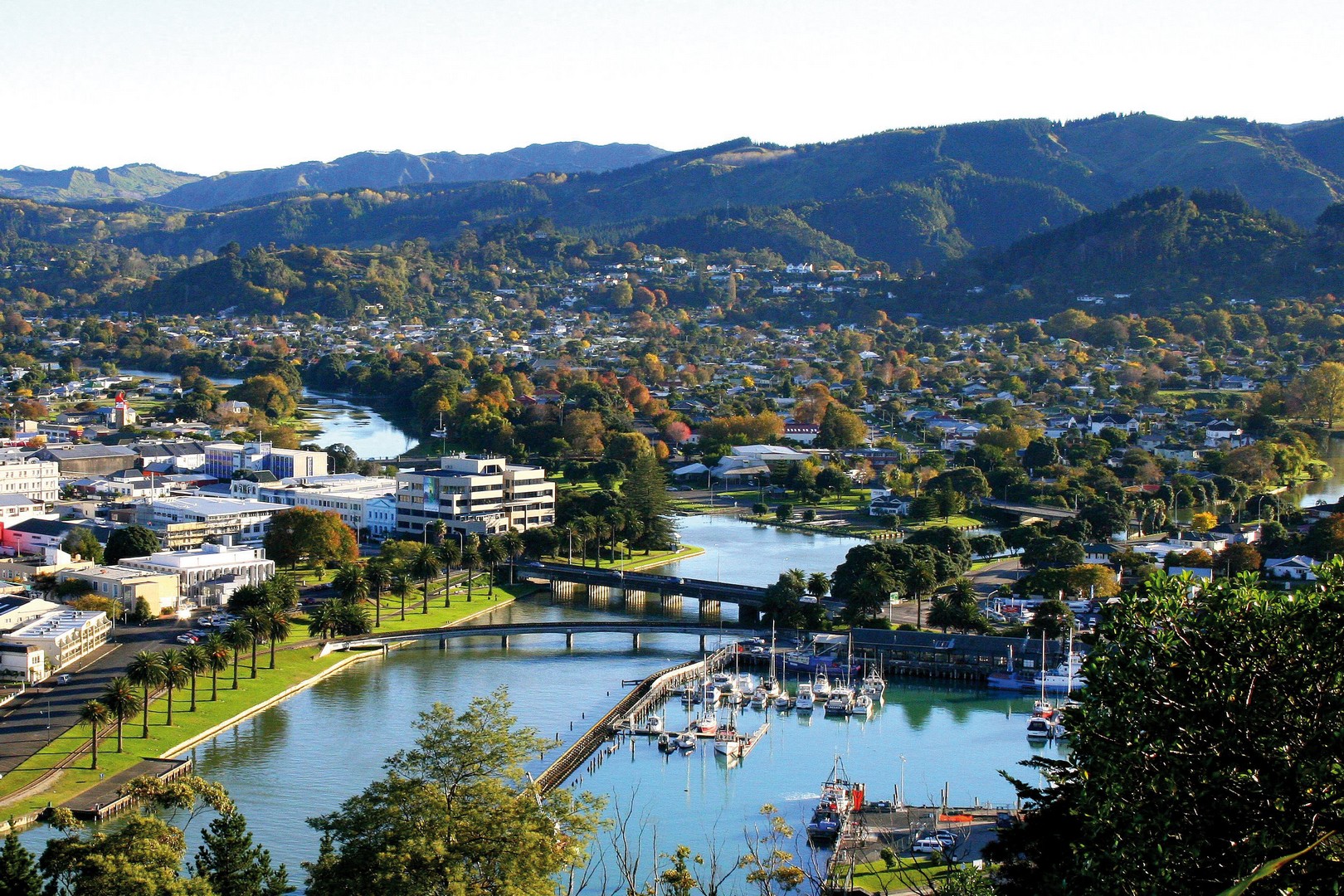 Napier, the self-proclaimed Art Deco Capital of the World, is strikingly different from other towns in New Zealand. After the devastation of the 1931 earthquake Napier was rebuilt in the Spanish mission style architecture that we see today. Step back in time as you wander in and out of shops, browsing 1920's style costumes and paraphernalia. Do a walking tour around the historic buildings and hear some stories of characters of that time.
Napier has a fantastic boardwalk that meanders around the coastline. It's loved by locals who make the most of the amazing sunshine! You can hire bikes and ride along to Westshore or amble along past the port to Ahuriri. Ice-cream stops are a must along the way, along with playgrounds, skateparks, restaurants, cafes and New Zealand's National Aquarium. It's a great way to while away a day. The Marine Parade is a bustle of activity over the weekends but whether you want to beat the family at mini-golf or laze in the sunken gardens for a picnic, there is something for everyone.
Your Napier accommodation is perfectly located on Hastings Street that runs parallel to Marine Parade with its majestic Norfolk Pine Trees. The Bella Vista motel is within walking distance to the shops and restaurants, the art deco buildings and of course the ocean-side walkway. They have plenty of parking so there's no excuse to get out and explore by foot!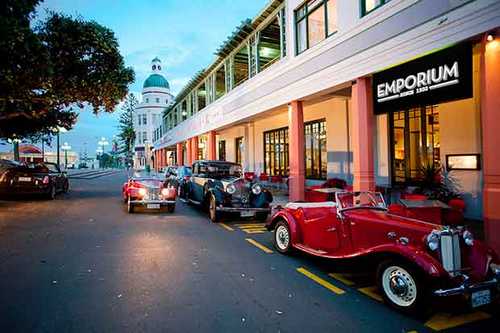 Taupo sits nestled on the edge of the mighty Lake Taupo looking across to the Tongariro National Park. It owes its beautiful scenery to the active volcanic zone that it lies within. Adrenaline and adventure-based activities are plentiful making it a fantastic location for the kids to let off steam and the adults to forget about their daily routines and get amongst it. Start with a thrilling Hukafalls Jet Boat ride along the Waikato river, past nature bush, sheer rock cliff faces, hot water streams and feel the power of the Huka Falls as you get up close to it. From here visit one of the regions top geothermal attractions like Craters of the Moon or wander the 'Hidden Valley' of Orakei Korako exploring the bubbling mud pools and gushing geysers along some of the largest and most amazing silica terraces in the world.
Take a cruise or kayak out to see Mine Bay Maori Rock Carvings. These 14m high carvings took 4 years to complete and are only accessible by water. And finish off your weekend with a hot soak in hot pools at Debretts Hot Springs, the Wairakei Terraces and Thermal Health Spa or the AC Baths and Thermal Hot Pools.
You Taupo motel accommodation at the Bella Vista is situated on the fringe of the town centre and just a short stroll to go out for dinner, browse the shops or wander along the lakefront at sunset.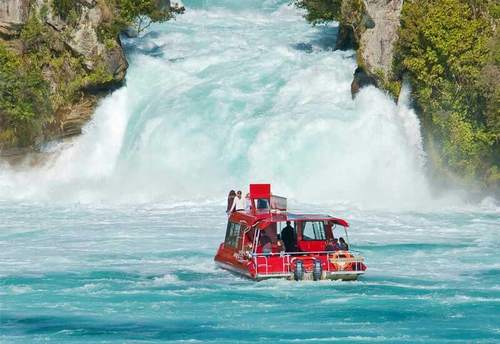 And last but not least of our Easter Getaway locations in the North Island, is Rotorua, a place of wealth for Maori history and culture amidst New Zealand's most lively geothermal area. But let's not forget that Rotorua is also home to many adventure activities including Rotorua Canopy Tours – an eco-adventure deep in to the forest including a zipline ride that will have the whole family squealing with delight - an experience not to forget!!
Take in a farm show at the Agrodome, see the sheepdogs in action and feed the animals. Kids and adults love the interaction with the cute and cuddly baby animals. At Rainbow Springs the interaction with nature continues as its home to the Kiwi Burrow and the National Kiwi Hatchery Aotearoa, the world's largest kiwi hatchery! Once you've finished discovering about the birds and the bugs take a thrill ride on the "Big Splash".
In the evening make sure that you visit one of the fantastic Maori Cultural Villages and shows and enjoy the return journey back to your Bella Vista Rotorua accommodation.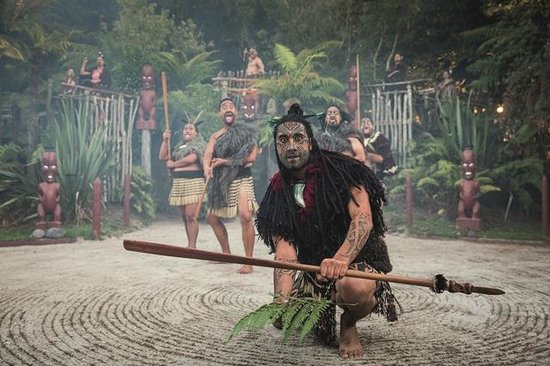 It's not too late to book now at www.bellavista.co.nz for the best rate and instant availability and secure your Easter break.
---