---
Posted by Bella Vista on
---
Beat the wintertime blues this year and explore one of New Zealand's best visitor locations, Rotorua, during the winter months!
When the calendars move to June, July and August and the temperatures drop, Rotorua turns up the charm and offers something very unique to visitors. Gone is the chaos of the summer months, the activities and attractions are less crowded and you can spend your time taking it all in. The highlights of Rotorua are still as fantastic as ever, with the geothermal activity, tourist attractions, spas, relaxation and Maori culture ready and waiting to impress you.
If you're thinking of travelling to Rotorua this winter, pack your merinos and warm jackets and book your Rotorua accommodation at Bella Vista Motel Rotorua. The motel location is ideal for a Rotorua getaway, close to town, great restaurants and all the activities you could wish for and it's directly across from Kuirau Park – NZ's only geothermal public park. Bella Vista rooms are all wonderfully heated and available in a range of room options and all guests enjoy FREE Wifi.
We've taken all the hard work out of planning your winter escape and put together some ideas for your Rotorua winter holiday.
A Geothermal Good Time
There's something about a chill in the air that draws you towards the warmth of geothermal activity– Whether this be to take in the geothermal sights, a bubbling geyser or treating yourself to a relaxing mud spa treatment. There are not many places in the world where the geothermal activity is as good as this, so come and be awed by what nature has gifted upon the city of Rotorua. Check out a few of these options:
Wai-O-Tapu
A wonderland of geothermal activity thousands of years in the making, Wai-O-Tapu is a comprehensive and diverse geothermal sightseeing attraction where you'll be amazed by the bubbling mud pools, geysers, sulphur pools and of course, the hero of the park, Lady Knox Geyser erupting at 10.15am each day.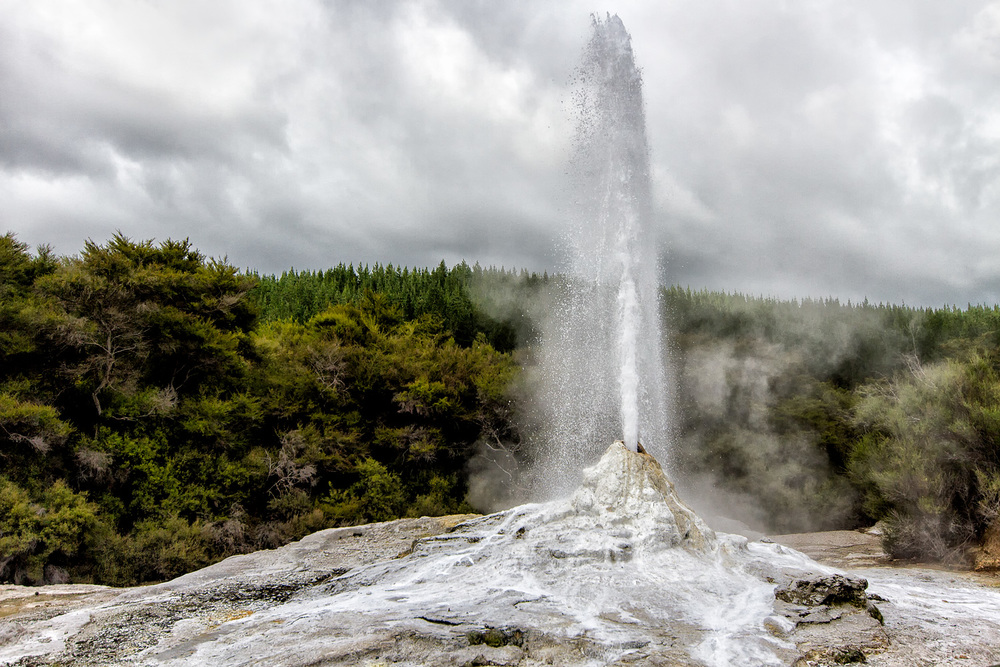 Hells Gate
One of Rotorua's most famous attractions, Hells Gate offers a geothermal overload. Boiling hot pools, erupting waters, 100+ degree temperatures, hot water lakes and even a hot waterfall. Appropriately named by Irish Playwright, George Bernard Shaw "Hellsgate" he truly believed he had arrived at the gates of hell when he first laid eyes on the area. You'll see for yourself a wealth of geothermal delights and if time allows book into one of the mud bath or spa options and lets nature work its wonder with its health and healing properties.
Whakarewarewa
For over 200 years this living Maori Village has opened its arms and welcomed visitors to experience and view the phenomenal geothermal activity in the area. You'll be in awe of the geysers, hot springs and mud pools all working in harmoniously with the village way of life. This is rightly one of Rotorua's most popular attractions and offers a unique combination of geothermal activity and a traditional Maori living.
Polynesian Spa
There's nothing quite like warming up on a cool winter's day in a naturally heated hot pool. Polynesian Spa offers geothermal wellbeing benefits at their best! From bathing in their range of pools to treatments utilising the geothermal properties for health advantages - mud wraps, massages and facials are only a few of the options available. If a bit of pamper time is in order, you won't go wrong here!
Rotorua Attractions
The winter months are the perfect time to visit Rotorua's attractions. The experiences on offer are always top class; winter just has the added benefit of avoiding the busyness often associated with Rotorua's peak season. There's so much on offer in this tourist town: Zorb, Rotorua Luge, Redwoods Whakarewarewa Forest, Agroventures, Paradise Valley, we couldn't possibly list everything, but wrap up warm and get out to try a few of these:
Warm up on a mountain bike
Rotorua is quickly developing quite a reputation for being one of the best mountain biking locations in the world, Red Bull Magazine recently named Rotorua in the top 8 Mountain Biking Destinations on Earth. The winter seasons bring in an array of beautiful colours and layers to the forest areas and there's nothing like feeling the crisp air on your face as you're zooming along the tracks. From family friendly tracks through to expert trails and the New Zealand Cycle Trail – there's something for everyone. PS if you don't have a bike or the gear, it's no problem as there are many places to assist with rentals.
Agrodome
Wintertime on the farm, you'll experience the life of a NZ farmer with a visit to the world famous Agrodome. This working farm offers so much to those that visit, a baby animal nursery (about as cute as you'll ever see), climb aboard an all-terrain vehicle for a farm tour where you'll feed animals, explore fruit orchards and learn about the land, and not to miss are the sheep dogs and sheep in action at the legendary farm show. You'll come away with a wealth of farming knowledge and the desire to get your very own Swandri and Red Band gumboots!
Skyline Rotorua – Gondola
The best view on a cool, winter's day is undoubtedly from the top of Mt Ngongotaha. Take the leisurely gondola ride up and watch the sights of Rotorua and all its beauty stretch out in front of you.
Once at the top you have numerous options to explore, many opt for the thrilling luge ride back down (and do it again and again) other choices include zipline, Skyswing, mountain biking, star gazing (night) or one of the many walking tracks. If you are looking for dining, you'll enjoy Stratosfare Restaurant or Market Kitchen and something newly added for the adults is the Volcanic Hills Winery and Tasting Room.
Tamaki Maori Village
An authentic Maori cultural experience that will surprise and delight everyone that attends. Tamaki offers an insight into the traditional ways of life, ceremonies, and of course the traditional dances, haka and waiata (songs). The night concludes with a belly warming hangi (meal from an earth oven). It's a great way to get an insight into New Zealand's Maori culture and heritage.

Rotorua is a year round destination, however visiting this marvellous city over winter can introduce a completely different side. The fresh weather conditions only add to the experience, making you want to rug up and get out to explore. Plus when you've decided what you want to do you'll find the staff are relaxed, the queues are nonexistent and you might be lucky enough to come across one or two 'winter specials' for the activities and attractions.
For us, Rotorua in winter is a winning combination, so make Bella Vista your first choice for Rotorua accommodation option, stay a couple of nights and see for yourself!
---