- Take 5, relax and enjoy a read...
Check-in on our New Zealand travel blog for latest news, events and updates - along with a splash of personality from the whole team at Bella Vista!
#TrustBellaVista
Queenstown is Calling!
---
Posted by Bella Vista on
---
Bungy Jumping, Queenstown Hill, Shotover River, Coronet Peak, Ziptrek, Canyon Swing, Fergburger, Gibbston Valley, the list literally goes on and on.
If you're after a memorable trip, something more than just your average weekend away, then Queenstown is your place. With its picture-perfect setting, breath-taking views, combined with fun and adventure all year round, it's a hard place to fault. Queenstown was recently voted the 2017 Trip Advisor Travellers' Choice Award as the Number One place to visit in New Zealand for the second year in a row, and when you join us down here you'll see why.
One blog post is never going to do Queenstown justice, there's just so much to see and do. So take a read below and see just a few of the ways to pass your time in Queenstown - Staying of course at the modern and comfortable Bella Vista Motel Queenstown.

Adrenalin Junkie?
Being the adventure capital of the world we thought here was a good starting point.
AJ Hackett Bungy Jumping
Kawarau Bridge, The Ledge or The Nevis, you'll find yourself with sweaty palms, a racing heart and a feeling of "what am I thinking??" But the adrenaline kick you get in return is out of this world. So 3,2,1 lets bungy!!
Shotover Jet
Extreme speeds, 360-degree spins, and venturing into the narrow and spectacular canyons – are you sold yet? This jet boat ride dusts off the cobwebs for sure and gives you Queenstown from a different perspective. The Shotover Jet is the only jet boat operator permitted to operate in the Shotover River Canyons, you'll be holding on tight for this one!
Ziptrek Ecotours, Queenstown Zipline Tour
One for the memory bank, see yourself flying down through the Queenstown forest on the world's steepest tree-to-tree zipline. This 3-hour (or 2-hour option) adrenaline overload leaves from the top of Queenstown Gondola where you plunge the equivalent of 30 stories down. Now all you have to do is relax and take in the views of Lake Wakatipu, Queenstown and the Remarkables mountain range.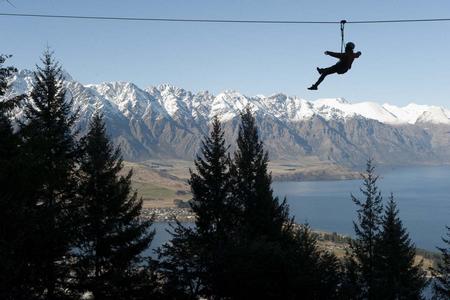 Wining and Dining
The food and wine culture in Queenstown and surrounding areas is about as good as it gets.
Amisfield
Book into this highly respected and awarded winery for the Trust the Chef menu. Your taste buds will not be disappointed and the wine matches are spot on. It's one of a kind and there's nothing better than watching the world go by with a glass of Central Otago Pinot in hand.
Botswana Butchery
Relax after a hard days sightseeing beside the roaring fire (either inside or out) and taking in the lake views. Botswana Butchery is one of Queenstown's most stylish and well-respected restaurants and the food and wine selection is top class. Book this one in for sure!
Fergburger
Ok so it's not 5 star Michelin, but it's about as Queenstown as it gets. This burger bar that started life as a hole in the wall joint, has a cult like following with nightly queues down the road. Burger choices include: The Codfather, Cockadoodle Oink and Sweet Bambi. DO NOT leave town without trying out one of their burgers.


Sightseeing
Now, you said you wanted to see the sights– where shall we start? Everywhere you look it's like a postcard. Simply breathtaking.
Queenstown Skyline Gondola and Restaurant
Located an easy walk from town, this spot hands down has the best views in town. Take your seat on the gondola and while you're there pat yourself on the back for making it down to Queenstown. Once you've reached the top the world is your oyster: choose to dine at the Stratosfare Restaurant for lunch or dinner, enjoy a Kiwi Haka Maori Cultural performance, luge your way back down, bring your mountain bike and explore or try star gazing at night.
Lake Wakatipu
A serious time waster (as in you could waste away the day staring at the stunning views). The Maori Legend of Lake Wakatipu involves love, a hero and murder, creating the gorgeous lake, as we know it today.
The heart and soul of Queenstown is Lake Wakatipu, surrounded by its beautiful snow capped mountains. It's often the meeting place for visitors to gather, whether it is for lakeside dining, a morning walk, the TSS Earnslaw, a spot of fishing or even a semi-submerged shark.
Milford Sound Day Tip
We couldn't write this blog without highlighting the Milford Sound day trip that many visitors to Queenstown partake in. Renowned for being one of the most stunning wilderness regions in the Sothern Hemisphere, Milford Sound is located in the Fiordland National Park. Impressive whatever the weather (in fact the rain can help magnify the visual effects), take in the peaks, cliffs, waterfalls - some up to 1000m and surrounds. Boat Cruises are a popular way to experience Milford Sound where you will learn all the information, history, myths and legends to do with this popular spot.
Skiing Queenstown
Skiing The Remarkables, Cardrona, Treble Cone or Coronet Peak is a feeling like nothing else. With the ski season nearly upon us, stay tuned for a ski Queenstown feature. Telling you all you need to know plus all those hidden secrets only the locals know about.
Lake Hayes
On the main road to Arrowtown from Queenstown there is a beautiful smaller lake called Lake Hayes, which on a still day will offer you endless photographic opportunities - the calm water silently reflecting the surrounding mountains. Another picture postcard view, Lake Hayes is a popular stop for budding photographers and a very popular wedding venue. Have a look at this picture below and you'll know what we mean.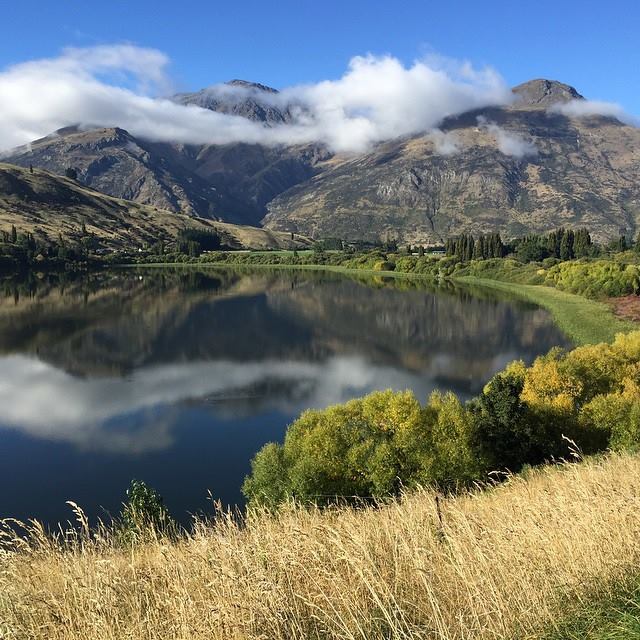 There are many Queenstown accommodation options available; however being one of the closest motels to central Queenstown gives Bella Vista Motel Queenstown the edge. This Queenstown motel is only a flat 5 minute walk from everywhere you need to be and with ample parking! Let Lee, Rachel and the team take care of you and all your accommodation needs.