- Take 5, relax and enjoy a read...
Check-in on our New Zealand travel blog for latest news, events and updates - along with a splash of personality from the whole team at Bella Vista!
#TrustBellaVista
Ski Queenstown this Winter. 10 Local Tips
---
Posted by Bella Vista on
---
We're rapidly approaching that time of year when you need to think about how your going to fill the long winter months. If you think you need some added excitement this season, you must consider a ski holiday in Queenstown.
With some of the very best skiing in New Zealand available at work class fields such as The Remarkables, Cardrona and Coronet Peak, there's something to keep everyone happy from novices through to seasoned pros.
Queenstown accommodation can start to get a little crazy over the ski season, but there's a room with your name on it at Bella Vista Motel Queenstown. This terrific motel has just been recognised by Trip Advisor as the number one motel in Queenstown, it's central to town, modern, well priced, includes a ski drying room and storage, and offers studios, one, two and three bedroom unit options. So book in early and secure your pick of dates for the upcoming skiing season.
Whether it is on-piste runs or after dark, Queenstown provides endless opportunities for all – dining, entertainment, sights and some of the best scenery in New Zealand.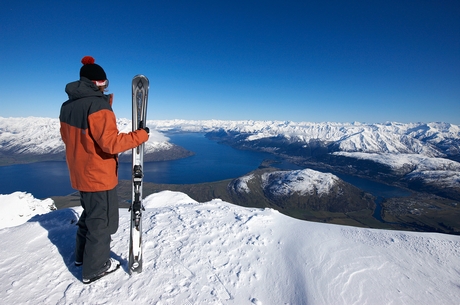 Below is everything you need to know about skiing in Queenstown, but first let's do our quick fire tips.
Queenstown Skiing -10 Local Tips

#1 – Best Ski Breakfast? Bespoke Kitchen. The best pancakes in town and then some!
#2 – Snuggle up by the Open Fire? We struggle to go past Queenstown's iconic Eichardt's Bar and there's some Tapas on hand along with mulled wine.
#3 – Ultimate way to warm up? Onsen Hot Pools. Just ease those aches away.
#4 – Après Ski? The World Bar's famous Tea Pot cocktails are a must.
#5 – Worked up an appetite? Stratosfare Restaurant and Bar up at the Skyline Gondola. A buffet, but not as you know it.
#6 – Top ski season tip? Try out the in-house ski fitting by Snopro. They'll come to your Bella Vista accommodation and you'll miss the mountain queues.
#7 – First Timer, what do you recommend? First timers are covered at each of the mountains, with package options including lessons, ski rental and lift passes, starting from $150.
#8 – Best Ski recommendation: Night skiing at Coronet Peak, Friday & Saturday and also now Wednesday's for the first time this season!
#9 – Help I need ski chains! Head down to Green Toad in Queenstown, they'll sort you out.
#10 – Paper, Scissors, Rock - Which mountain to ski? Check out below the terrain and pick which is best for your level.
For those unfamiliar with the Queenstown ski-fields, here's the low-down:

The Remarkables
35 minutes from downtown Queenstown, this ski field offers something for all – from beginners and families through to expert skiers.
Mountain Stats:
· 3 terrain parks
· 385 hectares - 30% beginner, 40% intermediate, 30% expert
· 1943M high 468M vertical drop
Getting there:
Getting to The Remarkables is a 35 minute drive from Queenstown. You can drive yourself and park in one of the many car parks available (you'll need snow chains). Alternatively you can catch a ride on the Remarkables transport service, Snowline Express this offers return trips from the Queenstown Snow Centre – too easy!
Kids Options:
Taking your children to the mountains can sometimes be a challenging prospect, if you would prefer to explore the mountain without kids in tow, The Remarkables offers two fantastic kids clubs that will see your children progress with their skiing, make new friends and ensure they are fed and happy!
Mini Kea (4 – 5 year olds) includes lift pass, lesson, ski hire, lunch and a full-day program. Drop off starts at 9am and pick up at 4pm. You'll collect tired, happy children that are ready for dinner and bed.
Kea Club (5 – 15 year olds) a full day group lesson program includes lift pass, lesson and ski or snowboard hire and lunch. Children can join group ski lessons from the age of five and group snowboard lessons from the age of eight.
Equipment Hire: Everything you need for ski, snowboard or clothing hire (with the exception of gloves, hats and goggles for health reasons) is available on the mountain. Plus if you hire off the mountain you can store overnight for free.
There are also various other locations around town to rent your gear, including one that will visit you in the comfort of your accommodation, fit you and see you ready for the mountain while you sip on a wine!
Mountain Secret Tip: For all you backcountry lovers, the 1.5km Homeward Bound is about as good as it gets!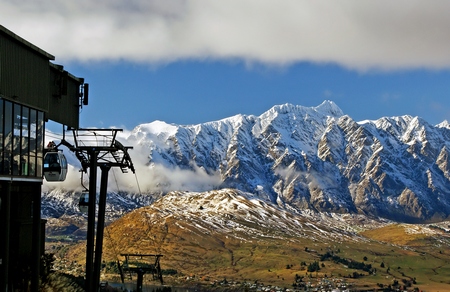 Cardrona
A great mountain to explore and enjoy- only a 55 minute drive over the Crown Range.
Mountain Stats:
• Base Area Elevation: 1670m
• Highest Lifted Point: 1860m
• Vertical Rise: 600m
• 345 hectares – 25% beginner, 25% intermediate, 30% advanced & 20% expert
Getting there:
Getting to Cardrona is a 60 min drive from Queenstown, if you choose to drive yourself, please remember the weather can be changeable and to always carry chains. There is a drop off zone at the top, then you can park in the lower carparks and catch a free shuttle back to base area.
Alternatively park 1km up Cardrona Mountain and catch the Pine Tree Shuttle Service, or take all the stress out of it and use the shuttle service from Queenstown.
Kids Options:
There is a range of children options at Cardrona. From Ski Kindy from 3months, through to Children's lessons, the Cardrona Kids Adventure Programe, and Ride Tribe, which teaches over 10 year old intermediate skiers a range of snow disciplines, venturing both on & off piste.
Equipment Hire:
You can rent everything you need on the mountain; a great value of money option is renting a clothing and accessories bundle – as this gets you sorted. As per The Remarkables, there are many other rental places around town that can help.
Mountain Tip: If booking children into Ride Tribe get together with a few of their mates and book in early, then they'll have their own private group. The kids will love it!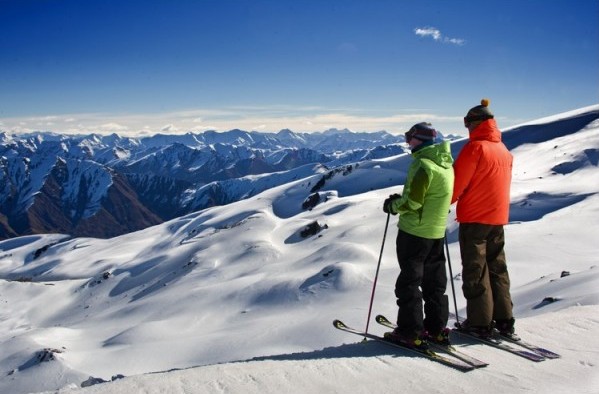 Coronet Peak
Only a 25-minute drive from downtown Queenstown, this mountain has it all. Plus the added benefit of night skiing Wednesdays, Fridays and Saturdays.
Mountain Stats:
· 2 Terrain parks
· 1649M highest point, 481M vertical drop
· 280 hectares – 32% beginner, 41% intermediate, 27% advanced
Getting there:
Jump aboard the Snowline Express bus and catch a ride to the mountain – departs from Queenstown Snow Centre or drive yourself but remember to carry chains.
Kids Options:
Skiwiland is where it's at for your kids - with options from 3 months – 15 years there's something to suit everyone. Mini Kids, Kiwi Kids and Skiwi Kids, lessons, entertainment and a heap of fun.
Equipment Hire:
Hire on the mountain or skip the queues and sort it all in town. See The Remarkables for further rental information.
Mountain Tip:
Check out the Night Skiing on offer Friday and Saturday evenings. Coronet Peak is the only mountain in New Zealand that offers a night skiing option, and it's a fabulous experience.
We're lucky enough in New Zealand to have some of the best skiing right here in our own backyard. People travel from near and far to ski and board on our beautiful mountains. If you've never been skiing in Queenstown before, we challenge you to join us down here at Queenstown Bella Vista this winter and see what all the fuss is about.