- Take 5, relax and enjoy a read...
Category Archives: Bella Vista Queenstown
Check-in on our New Zealand travel blog for latest news, events and updates - along with a splash of personality from the whole team at Bella Vista!
#TrustBellaVista
---
Posted by Bella Vista on
---
New Zealand is blessed with an abundance of beautiful lakes that have been picture perfectly set amongst lush green native bush or with a backdrop of rugged snow-capped mountains. Many have been carved out by glaciers or created through volcanic activity, some offer awe-inspiring views and others are so blue they take your breath away. Together they provide a playground for fresh water recreation throughout the country. Whether for boating or fishing, walking or photography, swimming or pondering, a trip to a lake will inspire anyone.


Check out our top 5 fabulous lakeside destinations, combine with a few nights at Bella Vista accommodation, and create a wonderful getaway experience.
Rotorua

What better place to start than with the North Island Lakes District surrounding Rotorua. The region has around 20 lakes mostly formed due to volcanic activity, with Lake Rotorua being its largest. The city of Rotorua sits on the south shore where you will find your Bella Vista accommodation. Your Rotorua motel is central to all of Rotorua's main city tourist attractions, within walking distance to the CBD, lakefront and 'Eat Street' restaurants, and located across the road from Kuirau Park with its steaming lake and bubbling mud pools.
The area is well known for its thermal hot springs such as Whakarewarewa and cold springs of Hamurana, Rainbow and Fairy. Famous for trout fishing, it's also a popular resort for boating, swimming and picnics. Cruise the lake on the spectacular Lakeland Queen paddle steamer or have some family fun on a WWII amphibious vehicle. From your Rotorua accommodation you can explore further afield to Lake Tikitapu and Lake Rotokakahi (The Blue and Green Lakes), two small lakes lying between Lake Rotorua and Lake Tarawera and nick-named for their brilliant blue and green hues; or to Lake Rotomahana, the deepest of the Rotorua lakes, featuring steaming rock walls and the purest strain of rainbow trout in the world.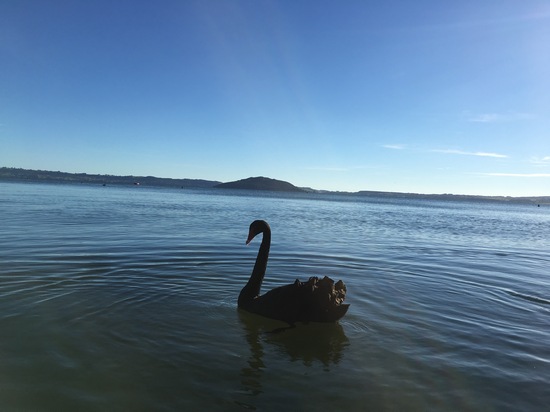 Taupo
The Rotorua region is also part of the Taupo Volcanic Zone in the North Island which has been active for over 2 million years and continues to be highly active. The zone was named after Lake Taupo, a flooded caldera that was created by an ancient eruption to become the largest freshwater lake in New Zealand. Lake Taupo, according to Maori legend, is the pumping heart of the North Island and this is certainly true when it comes to being a holiday destination. Taupo is popular for fishing, kayaking, cycling, golf, geothermal walks, lake cruises and many other outdoor activities. Your Bella Vista Taupo accommodation is situated on the fringe of the town centre only a short stroll from shops, restaurants and cafes and a 5-minute drive from the mighty Huka Falls, a must-do during your stay! Your Taupo motel is also a great base for exploring the Tongariro National Park and after a day exploring or adventure you can relax and soothe your body in one of the natural mineral or hot thermal pools in the town.
The Southern Lakes region of the South Island New Zealand, as the name suggests is home to three stunning lake settings: Lake Wanaka, Lake Wakatipu, and Lake Te Anau.
Lake Wanaka
Lake Wanaka is spectacular. Set amongst mountains the resort town is the gateway to Mt Aspiring National Park in the Southern Alps and close to Treble Cone and Cardrona Ski fields. Wanaka Bella Vista is only 150 metres from the lakes edge, a perfect location for you to safely park and explore on foot. Stylish shops, restaurants & cafes, galleries, and wine bars are just a minute's stroll from your door making it the most perfect Wanaka accommodation choice. If fishing, tramping and other adventure activities are not your thing then meander along the waterfront, pick your spot, settle in with a good book or contemplate the wonder, beauty and serenity you find yourself in.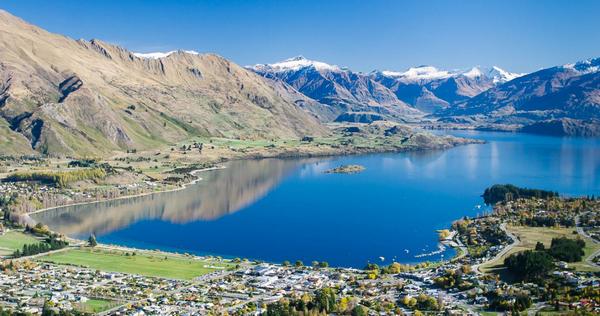 Queenstown
Lake Wakatipu, z-shaped like a lightning bolt, was carved out by a glacier more than 15,000 years ago during the last ice age. It's said to have its own 'heartbeat' – the phenomenon called a lake seiche, whereby the water rises and falls about 20cm every 27 minutes. Make sure you find out about the Maori explanation for the seiche, the 'Legend of the Lake' and why the beautiful Manata, daughter of a local Maori chief was at the centre of the cause. Nestled on the shores of Lake Wakatipu is the alpine and resort town of Queenstown. The vibrant energetic town draws in backpackers and adventurers to filmmakers and stars from around the globe. With warm summers and spectacular winters, it's a year-round holiday destination offering unlimited adventure. Your Bella Vista Queenstown motel accommodation is in the heart of Queenstown and only 5 minutes' walk to the town centre or the mesmerising lake where you have many options to get out on and explore including the TSS Earnslaw steamship, jet boating, cruising, fishing or a thrilling and ultimate ride in the Hydro Attack.

Te Anau
Te Anau is the hub of the Fiordland region, nestled on the outskirts of Fiordland National Park, a World Heritage area and the 'Walking Capital of the World', and lying on the shores of Lake Te Anau against a backdrop of dramatic and wild scenery. Lake Te Anau is open all year round for fishing and there are experienced guides who can take you to some local hot spots. The lake is also great for cruising - take a 2 ½ hour guided trip to the caves and glow-worm grotto on the lake's edge. Bella Vista Te Anau, located in a quiet street, adjacent to a park, is the closest motel to the town centre and just a few minutes stroll to the lakefront. It's a great base to explore lakes further afield and is high rates as an excellent Te Anau motel choice. Take a twilight walk on Fraser's Beach or stop in at the pub for a drink and soak in the breath-taking views of Lake Manapouri or venture along the road to Milford Sound to Mirror Lakes, a short walk of the road takes you to a set of lakes with lovely reflections of the Earl Mountains.
Your friendly Bella Vista hosts can help book any of your lakeside activities or provide you with local tips to help you have an enjoyable stay. So head to the lake this summer with your Bella Vista motel accommodation all booked for some unbeatable fun.
---